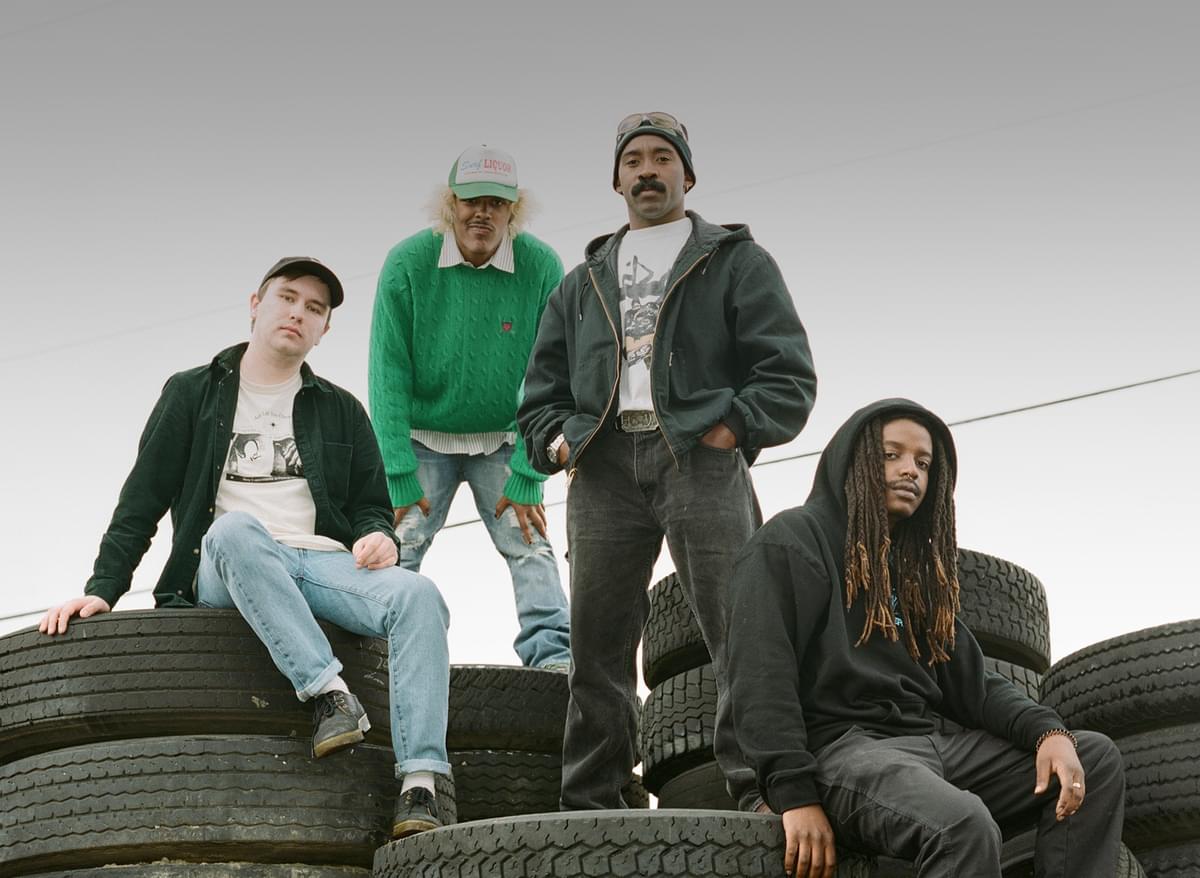 Wrestling, Recording, and Knowing When to Stay Quiet
05 October 2022, 09:00
As Enumclaw – the self-proclaimed "Best Band Since Oasis" – reveal their debut album, Cailean Coffey hears their story.
Aramis Johnson, the lead singer of Washington band Enumclaw, is gearing up for the release of what he calls his band's "debut pop album". And he's getting tired of it.
"It's been fun, it's been exciting but also a little boring," Johnson tells me, smiling from his car in hometown Tacoma. "It's going to be so weird that the songs are going to technically be brand new but I'm kinda over them. I like playing them live, but it doesn't feel new or exciting to us anymore."
"We just played a show last week where we didn't even put '2002' in the setlist," guitarist Nathan Cornell laughs, as he Zooms in from the couch of his sitting room, with sunlight from the surrounding windows bouncing off the array of photographs and flags, supporting his local football team, that hang from the walls. "We were just like fuck it, we've played it so many times."
"They say when the record comes out it breathes new air into them," Johnson notes, seemingly trying to persuade himself as much as anyone more, "so I'm trying to give myself some space from it."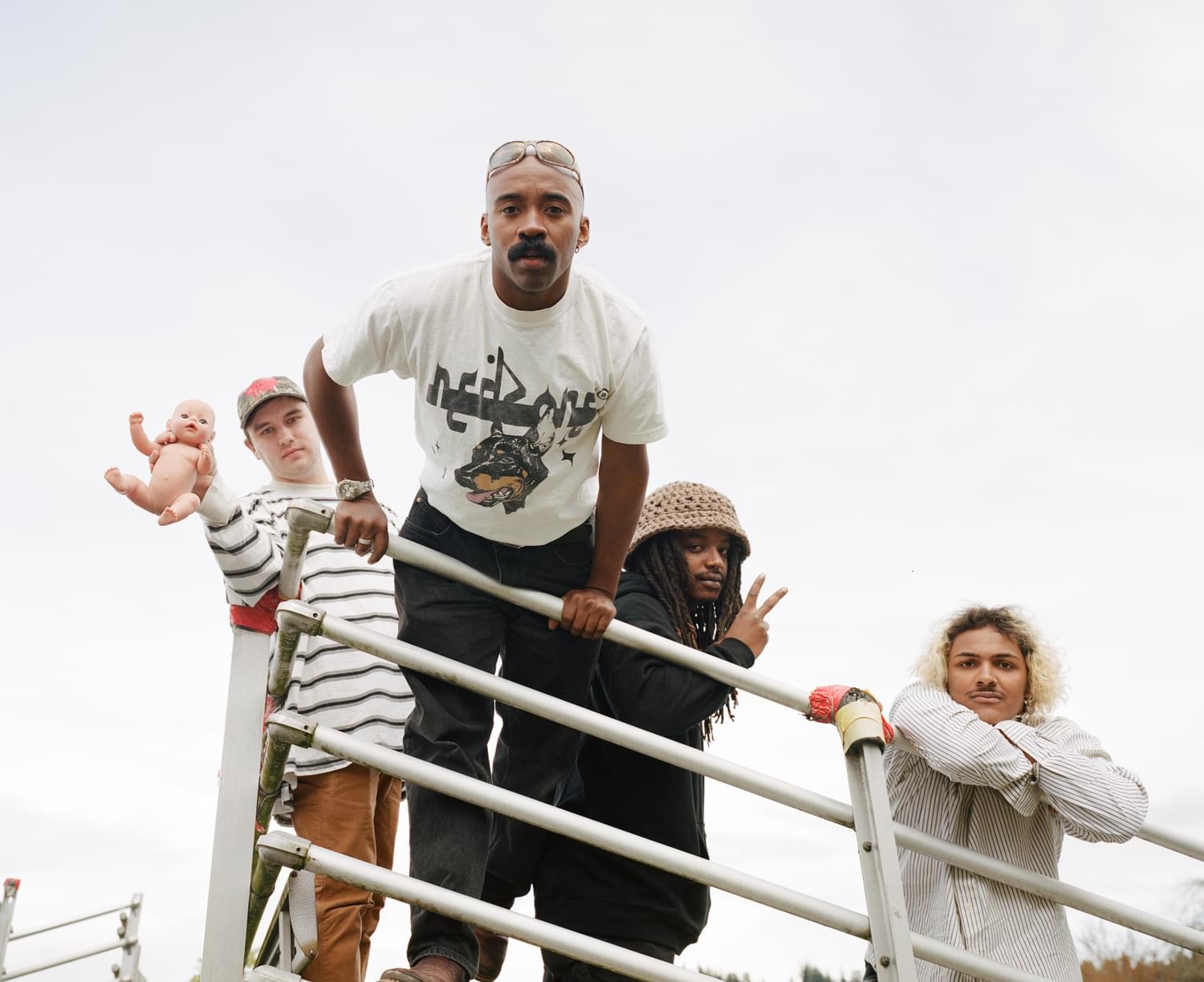 Regardless of how you look at it, a year is a long time. Enumclaw finished writing and recording the tracks that became their debut Save The Baby in late 2021, before mixing and mastering came to a close back in March this year. Since then, the band have been juggling their time playing shows, writing new material and trying to find a way to fall in love with the music once more. As such a personal songwriter it's been tough for Johnson to get himself back into the headspace that drove the emotion of the album's songs. "Trying to revisit things I've moved past is hard and I sometimes find it difficult to articulate how I was feeling in those moments the songs were written," he explains of the process. "I write from such a direct place of 'this is where I'm at right now in my life' and it can be difficult to go back to that at times, especially if you've heard the song so many times."
Enumclaw's roots began in the small port town of Tacoma, Washington. With a population of just north of 200,000 inhabitants, it's the birthplace of generations of talent; including the likes of NBA star Isaiah Thomas, Dune author Frank Herbert and none other than one of the world's earliest superstars, Bing Crosby. Johnson was raised in the Lakewood area of Tacoma, somewhere he himself describes as stereotypically America: "There's a good side of town and a bad side of town and I flip-flopped between the two," he recalls of his childhood. "Nobody was super rich and nobody was painstakingly poor."

It was somewhat of a melting pot of cultures, with Asian and Pacific Islanders making up valuable members of the community. "White people are just as big a minority as black people," Johnson notes, smiling, "everyone felt welcome."
It was sports, rather than music, that the community leaned on throughout the year, with the football team in particular doing remarkebaly well, once ranking as high as eleventh in the entire country.
A four piece, made up of Johnson and Cornell, as well as Ladaniel Gipson (drums) and Eli Edwards (bass), Enumclaw first came together as a band in July 2019, in Bob's Java Jive, a live music venue in the city. They bonded over a shared love of '90s rock and began throwing ideas together on how to create music. Both Johnson and Gipson have previously admitted learning their instruments for the sole purpose of being in a band.

As individuals, the band's members each have unique tales to tell and came into the Enumclaw with varying musical tastes, styles and influences. Johnson's, however, may be the most intriguing of the lot. Growing up, it wasn't music at all that caught his interest but high school wrestling. It's an interest that began with his uncle, who taught the young Aramis the art and beauty of the sport before he really got up to speed with it in sixth grade. "It was one of the first things that was ever part of my identity," he admits, of its influence. "I liked the infrastructure and schedule around it, you got to practice, you have individual bouts and then almost every Saturday you'd have big competitions; weigh-ins start at 6AM and doesn't finish until 7pm."
Growing up, Johnson was be a walking wrestling encylopedia, able to name each district's winner from any year you could think of. "There's a joke in wrestling that experts were called Bracket Whores," he laughs. "I was one of them. I was on all these crazy archive pages, I was the Wikipedia of wrestling back in the day. It was only as I grew up and got bigger that music came into my life."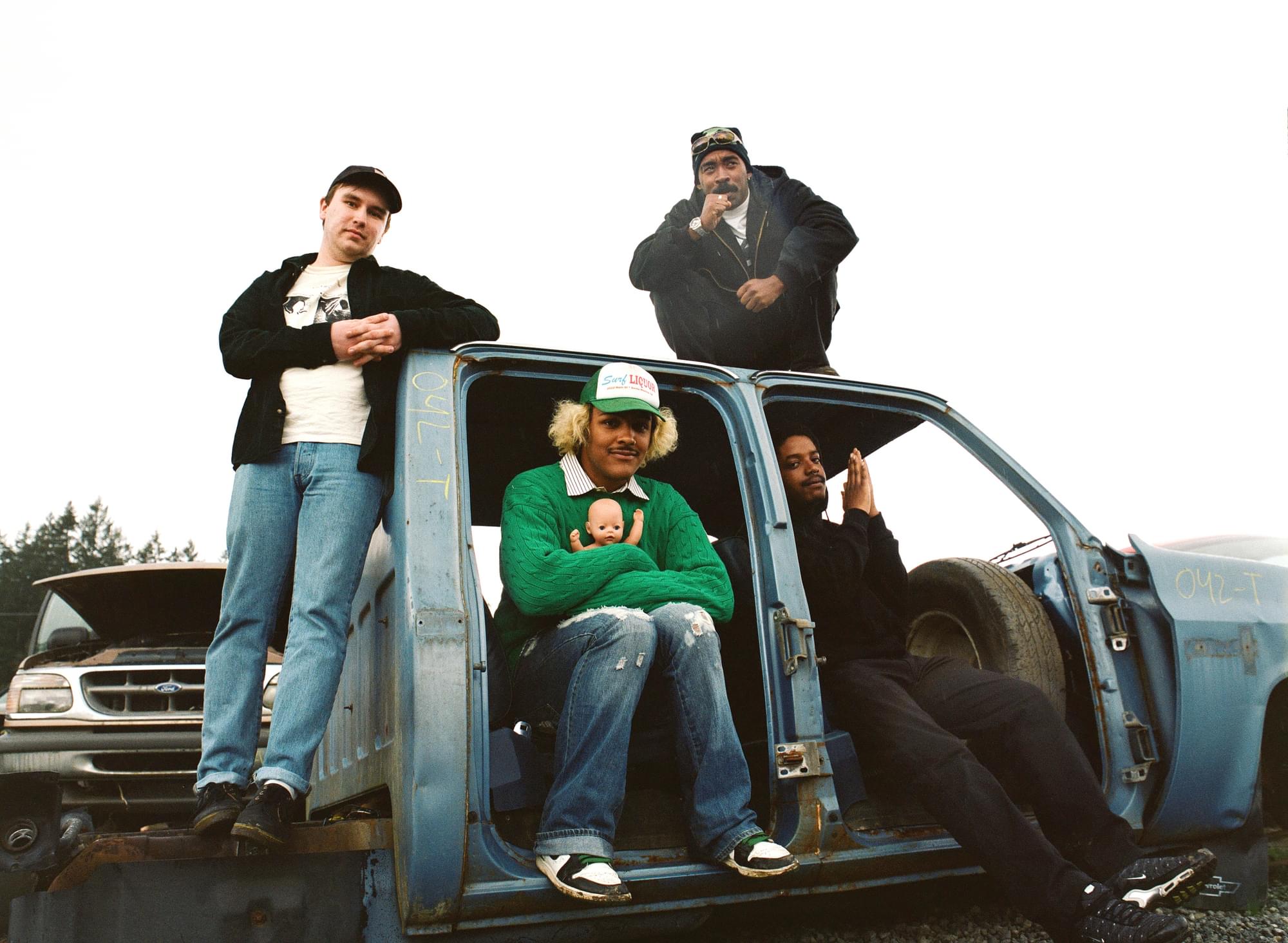 As his hours of wrestling practice dwindled as he grew older, Johnson began learning how to DJ and would find himself producing tracks for some of the local rappers and groups in the area. By junior year of high school, rock caught his interest and he can pin down to the exact moment when his intrigue in the genre took over: "I remember one day going in to look at the magazines at Barnes & Noble and there's was this skinny ginger kid on the front of FADER and it was King Krule and that changed everything," Johnson remembers. "My life is split into before King Krule and after King Krule."
In particular, he was obsessed with the London singer-songwriter's debut self-titled EP and first album 6 Feet Beneath The Moon. "At that point I was already so deep into the rap thing and all my friends wanted to be rappers that I had no one around me who wanted to be in a band with," Johnson remembers. "The more I tried to keep going with the rap thing the more I realised it just wasn't fulfilling me the way I wanted it to".
At that point that he made the decision to call together a few of the musicians he'd share the bill with at local shows about starting a band.

"We wanted all those poppy elements and hip-hop elements to come together but in a really hard, rock way" Cornell recalls of the early Enumclaw meetings in the bar, "we didn't want to just be a clone of all that, all of us are into rap and we really wanted to combine all of those influences in a way that made sense".

"My life is split into before King Krule and after King Krule."
(A.J.)
Following a pandemic-induced break, the group began taking their music to the studio in late 2020 and first caught eyes with the release of their debut single "Fast N All" in February last year. Within days the track had spread across the state of Washington and was ultimately the track reviewed on Pitchfork. "That was when I really knew things were serious," Cornell adds, with Johnson noting he often would have searched the very same website for new music.
2022 started off with a bang as the band released "2002": "It felt like the biggest moment yet," Johnson recalls of the track's release. "The music video itself, going and shooting it in New York, none of us had ever been there before; so when it came out things started to really kick-off after that." From then on, writing went into hyperdrive and before long they realised that they weren't writing another EP, but an entire debut album.

"I think we all had it in our head that after the EP we wanted to go straight into the album," Cornell recalls of the early days of writing. "I think there was one practice where Aramis came in and played a few songs on the acoustic guitar saying 'this is what I have so far from the album' and we just went with it."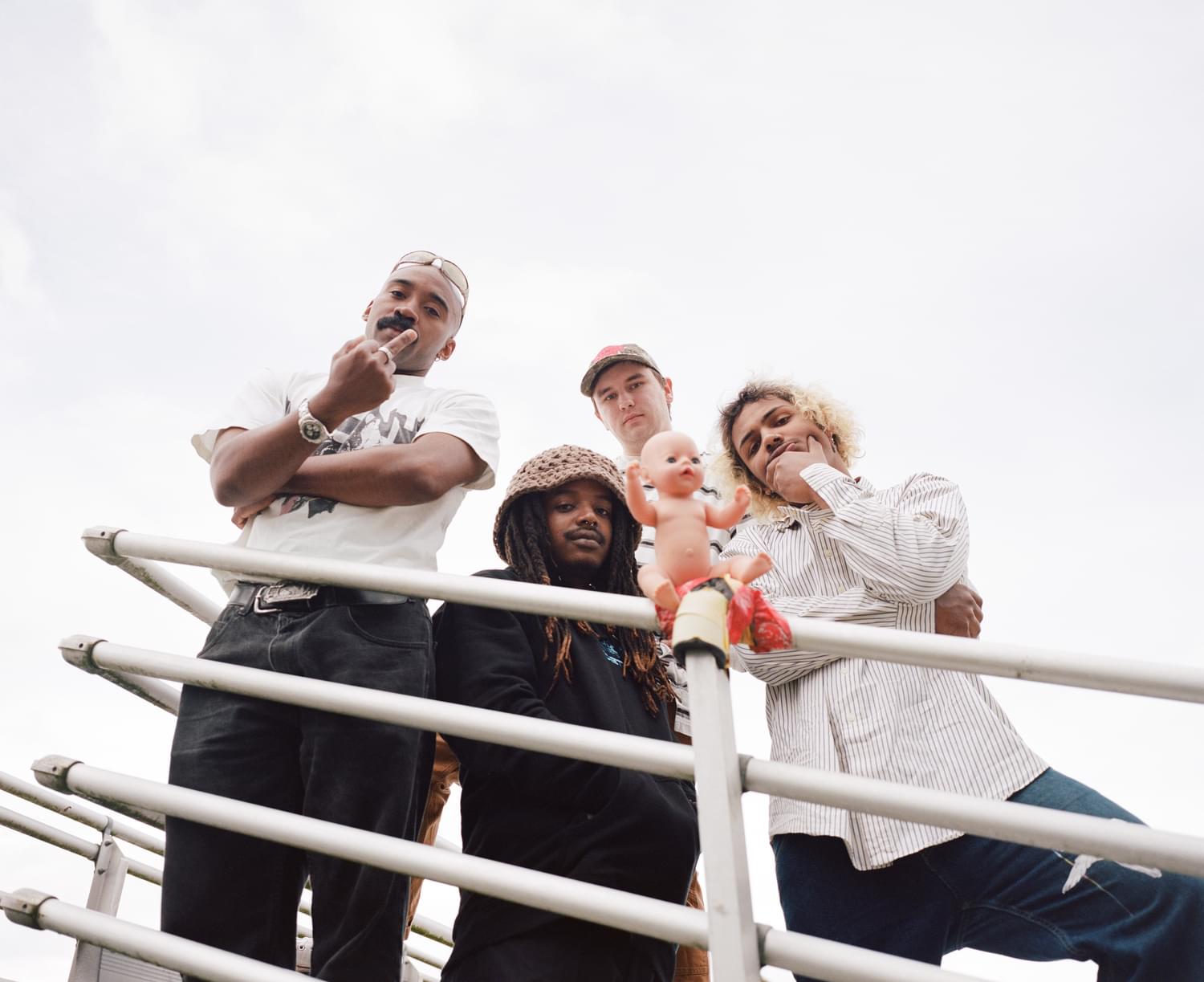 Save The Baby is an eleven track insight into the world of relationships, trauma and the importance of friendship, soundtracked by a distinctly '90s, indie-rock, grungy accompaniment. "I think it's a pop record," Johnson smiles, "because all the songs are pop for the most part."
One of the most striking elements of the album is its contrasting depth. There are times where the chorus breaks into driving guitar lines, cutting through everything it meets in its path whilst on the very next track, and sometimes even the same song, the band strip it all back to just a simple acousting accompaniment. It shows incredible sensitivity to know when to go full pelt and when to dial things down, and one wrong move can hamper an entire career. Nowhere is this skill of knowing when to step back more evident than the album's mid-way point "Somewhere".

"That was the last song I wrote for the record," Johnson recalls. "I thought the album was done but then I wrote this and thought we had to find a way to fit it in.That song kinda encapsulates the whole album for me."
The song originally stemmed from where Johnson's mind had been for the last two years and trying to process all the things that had happened in his young life, and the relationships that had come and gone. "It was about trying to manage all that and holding myself accountable while also being able to address my past trauma that have happened in my life and finding a way to move forward," he notes. "To let go and – like a butterfly bursting out of my own cocoon – fly away into the world.
"It's the only song we never tried with a full band... somehow I already knew how it was meant to sound.

Save The Baby is released this month, and the band couldn't be more excited for people to hear it. "I think the album is going to change all of our lives and it'll be a special record to look back on" Aramis replies when asked of how he feels. "I'm super excited, it's been a super long process and it's crazy that the album is going to be out there in the world. It's really in the homestretch". "This whole album is really about being yourself and knowing it's okay to be working things out" Aramis notes, "and at the end of the day that's all any of us can do. Overall, I just hope it inspires people and helps them realise that you can make something beautiful out of what's right in front of you. There's always a way".
Get the Best Fit take on the week in music direct to your inbox every Friday