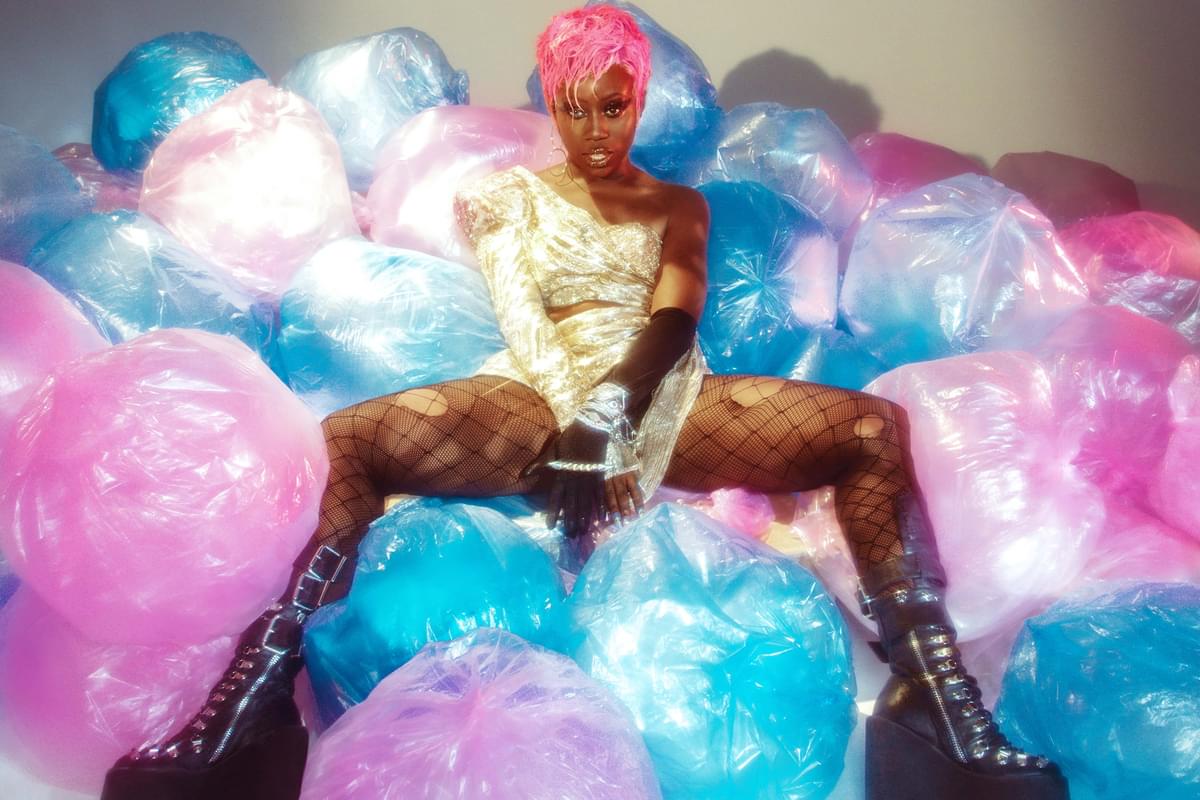 On the Rise

Bree Runway
05 May 2020, 10:00
With an extra strong sense of self and DIY ethics to boot, London singer, songwriter, emcee and pop culture obsessee Bree Runway is forging her own path to the top.
"That's jokes! 'She just came in.' That's so me."
Bree Runway is cracking up over our covid-lockdown Zoom interview. I've recalled working at an events app and my colleague reaching out to Runway's team, only for Bree herself to show up in the office and take the meeting. As Runway will attest, she lives to be extra.
The rising popstar's bio claims she's retained her DIY ethics, which would usually read as a piecemeal gesture to authenticity, but in Runway's case it couldn't be more genuine. "Listen, every single project there's at least four twenty-seven page mood boards going around," she laughs. "Everyone has documents! Everyone has a presentation from me! Every time. I had to ask myself the other day, why are you like this? What is this? It's annoying. I can't sleep."
Growing up in East London in the early 00s, Runway immersed herself in MTV culture, taking inspiration from the likes of Missy Elliot's "Work It" and Britney's "Slave 4 U" clips. "Those music videos I will never forget. I will never forget how I felt when I saw them," she says. "Early 00s, that was my time. And that's when I really had the lightbulb moment. If I grow up and I manage to become a popstar, this is what I would like to emulate. I wanna be like this."
She went to study music tech at university but quickly realised it wasn't the course for her, swapping colleges to study commercial music and performance. However, her interest in recording and production held out. Picking up a part-time job, she used her first paycheck to buy the essentials for a home studio and began making demos on GarageBand. "It was just basic GarageBand," she laughs. "I would mix on GarageBand, I would master on GarageBand as well."
She started posting videos online, with one of her first clips going viral and picking up over fifty-million views in a matter of days, as well as likes from Rihanna and Missy Elliot. No mean feat, especially given the aforementioned idolisation.
Runway is fueled by creativity. She's like a cultural magpie, moving through different disciplines and decades, picking out the most attractive treasures. "I study everything," she smiles. "I just watch and watch and watch. I'm like, this is sick. You can find stuff so much easier now so I just get stuck in my own world because I know what I like, and what I like is the past. Literally. So I'm stuck there. I love it."
From '90s TV shows to Ghanian Highlife, from trap to 70s baroque-pop, from Banksy to bespoke furniture, Runway's influences are expansive, and it plays in her favour. Tracks like new offering "Damn Daniel" are inventive, playful, genre-defying and unique. Filming the video during lockdown pushed her creative direction full circle, serving herself the twenty-seven page guidebook. Featuring Atlanta's Yung Baby Tate, the two vocalists take on the characters Keisha and Felicia, dancing through a colour-rush of Fresh Prince inspired, 90s MTV chaos.
On her first EP Be Runway she jumps from confessional catharsis to buoyant hooks in the space of a middle-eight. Runway's talent lies in her ability to piece together the past in a way that's personal, refreshing and immediate.
Bullied at school over the colour of her skin, Runway resorted to skin-bleaching creams as a teenager. "There's so many behind the counter products that change your skin tone, it's actually crazy," she explains. "All you have to tell them is, no not that one, the one behind the counter. And they look at you and it's like, alright. Almost like a drug transaction. You've just got to give them the wink and they'll give it to you."
It's a topic that's won her praise and compassion from fellow artists, again demonstrating her ability to balance the personal and political within her songwriting, much like another of her idols, Grace Jones. "I think her whole being is inspirational," smiles Runway.
Runway's obsession with pop culture and celebrity isn't something she hides or plays down, but something she embraces as a part of her path. "If you've been following me and my journey from the beginning, the early, early stages of my career, I like to share those things with my genuine excitement because it's like, 'oh my god this girl is actually coming up. I remember when she started making videos from her room, to now getting recognised by the most iconic people,'" she explains. "It's crazy for me to look back knowing that I started in this bedroom, and what it's grown into. I just think it's important to share it... and also I'm obsessed with them as well."
One famous figure played a prominent role in Runway's story. "Honestly speaking, it was unreal," she grins. "I'll never forget.
"I was in the music room, I had a Big Mac in my hand, and my music teacher Alison walked in and she was like, 'Brenda, you have a performance but I can't tell you what it's for but you need to start rehearsing like, from tomorrow night.' I was like, wait - why do I have to stay back? I was so dumb.
"So then we go out, there's like tonnes of blacked out cars, tonnes of security. I was like, who is this person? They said 'we can't tell you, we can't tell you.' I'm hearing American accents, so I was like, no - who is this person? So then we go out onto the stage and everyone goes out and obviously I'm the lead singer so I get escorted out last. So I'm walking out and I just see her and she's like… I was like…"
She visibly shivers at the thought of performing for Michelle Obama. Even over a laptop screen the excitement is tangible. After the performance, Obama singled out Runway for some words of encouragement. "She was like, you are a star," Runway recalls. "She said something like, you need to start and not stop. You need to just go on and on and on and on. I want to see you on big stages. I was like..." She makes a jaw-dropped face of shock.
On to the big stages, Runway was due to perform at this year's The Great Escape festival in Brighton. "I was gonna get an outfit ordered in from New York and shit. It was gonna be THE, THE moment," she declares reticently.
However, when concerts return again, Runway will be unstoppable, especially if you're in her touring crew. "Honestly speaking, the live set up probably has thirty-four pages," she laughs. "I'll be so honest with you. Not twenty-seven, thirty-four OK? And I've been building it for a while now. Hopefully I get to play at the end of the year. We do have one date held. Am I going to be able to play it? I don't know, but it would be good if I could because it's gonna be insane."
Just insane?
"It's gonna be extra, like the extra hot chicken at Nando's, extra."
"Damn Daniel" is out now
Get the Best Fit take on the week in music direct to your inbox every Friday