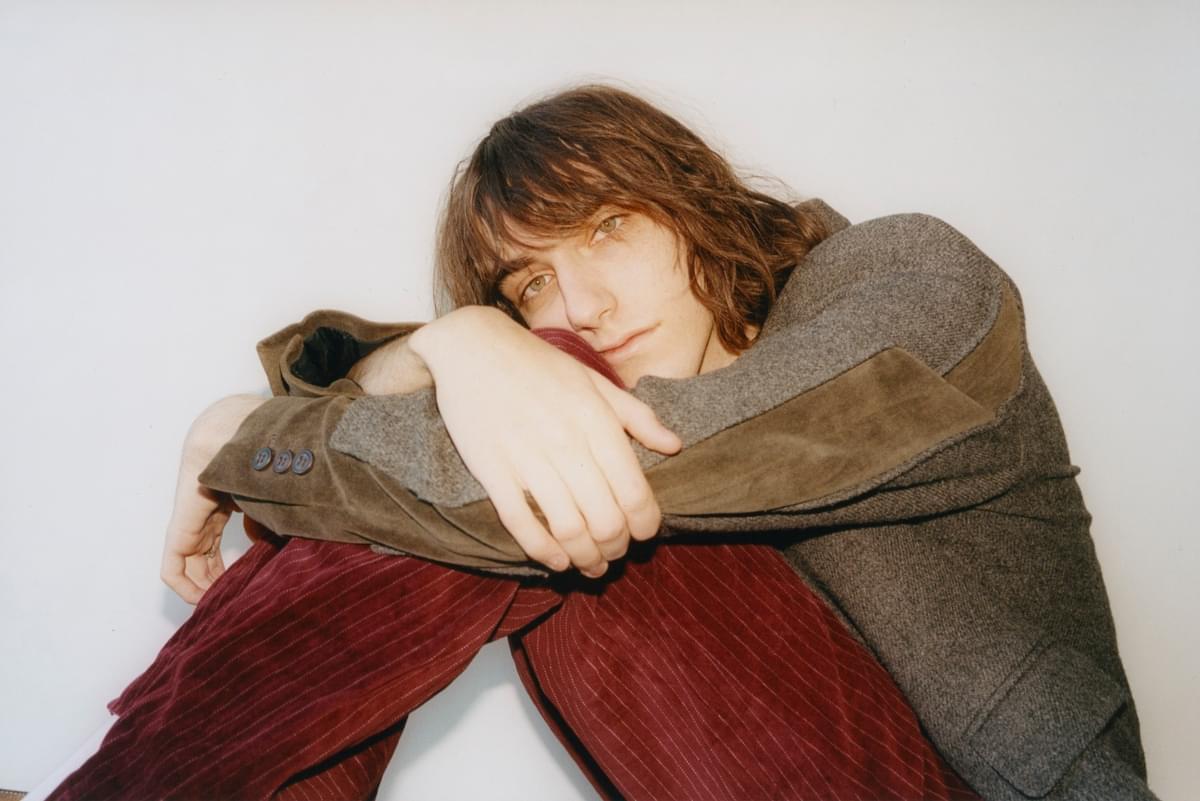 On the Rise: Aldn
06 June 2022, 10:00
The music of 21-year-old producer aldn is shaped by his experiences of addiction and loss – and now he's ready to leave hyperpop behind too.
The clouds are heavy in New York City, and aldn's mind is wandering with them. To talk with him is like tugging at the string of a balloon, encouraging a return to gravity when all he wants to do is float. Come to think about it, Alden Gardner Robinson hasn't touched the earth for a long time.
As a college freshman in Virginia back in 2019, he would moonlight as a producer, losing himself in in a playground of beat-making software deep into the early hours. His earliest SoundCloud releases are stained with every underground incarnation from dubstep to cloud rap – and, without intention or design, he immersed himself within all of them, searching for flashes of silver to weave into a sound he could call his own.
While the pandemic the following year eroded any sense of reality, Gardner Robinson was okay: he'd already started to orbit another solar system entirely. Propelled by the adolescent impulse to never be bored again, a community of like-minded artists crafted their own identities through .wav files and Discord servers, collaborating together on tracks at whiplash speed.
Under the moniker aldn (all lowercase, with the bare minimum of vowels, of course), he was creating glacial beats with deep-fried basslines, anchored by staggering trap hi-hats warped to their gleaming extremes and sugar-coated with samples. These songs bled out from the same vein as emo, but plunged new depths through their emotional hollowness rather than their maximalism; they burrowed into your brain like down-the-centre pop, yet pushed it in a gloopy, altogether alien direction. For a while, they called it hyperpop.
In 2020, along with scene ascendants glaive, midwxst and ericdoa, aldn was plucked from the anonymity the online world afforded and thrust into the life of a rapidly developing major label artist. His first official single, "glittr", cemented his signature flavour of skittering, popping-candy beats and pitched-up vocals, barely concealing his teenage malaise: "I don't care about nothing anymore / I hate this song / I hate this phone / If I drop off the earth, well then, what could go wrong?" His music clocked millions of streams, and together with close friend glaive, they created "what was the last thing u said", hyperpop's defining duet.
But Gardner Robinson is older now – only two years older, but those two years hold lifetimes of experience. He has just turned 21, with a celebration thrown by hyperpop artist, DJ and party-starter Alice Longyu Gao. He has just finished touring the US with glaive and midwxst. He has just moved to New York City. And somewhere among all of that, he has just released his third EP, good grief. Now, on the other side of it, there's a sense that aldn is finally embracing reality.
"A lot of it was about transitioning", Gardner Robinson tells me from his NYC apartment that she shares with midwxst. His room is fresh and disarmingly white, and he sits in contrast, a Tim Burton animation in denim, all height and sharp angles. "I wrote this EP in a span of two weeks, right after I got off tour with glaive and midwxst…" he says sleepily, eyes wandering to the scene outside his window, before adding: "Before tour, I was addicted to Percocet, and then I went through a breakup while writing it, too, so the concept of the EP is about losing things."
The writing of good grief was a process of disentanglement from a web of dependencies, whether that be on opioids or an unhealthy relationship. "I added 'good' before grief, because yeah, I'm losing something that I loved but it's better for me," he explains. "My relationship was taking up a lot of my time – I wasn't getting a lot of work done. I was very lazy while in that relationship. And then, also, with the Percocet, I was sleeping all day for two months straight."
The seven tracks are loosely structured around the five stages of grief, with two extra obstacles thrown in before he finally reaches acceptance: "ignorance is bliss" and "do or die". The artwork is a girl sat in a shower with damp hair and bare feet, wearing a dress that shimmers in the camera flash. Her eyes are cast downwards, circling the drain. "It was a photoshoot for my ex-girlfriend's clothing that she makes," says Gardner Robinson. "I saw that picture, and I thought it was kind of perfect. She's in it, she's the girl sitting in the shower, and I feel like our breakup ties into the grief thing and everything that was going on in my life during that time."
"Hyperpop was fun to make, and everything, but it got too easy for me to produce those kinds of beats."
She gave her blessing for her image to be used as the cover of the project, but her thoughts on the project itself are lost to distance. His lyrics are often claustrophobically close to reality. He dissects every blow of a failed relationship, thrashing between conflicts and contradictions, where he swims before he sinks. I ask if he ever contemplates the impact of sharing the kind of details that usually live between the covers of a diary. "I never think about that," he shrugs. "I really just write as a form of therapy. It helps me get out of my mind. When I'm sitting there, producing and writing, it's so meditative. I just zone out, and I'm able to let everything out without even thinking about it."
In more ways than one, the tour marked a turning point for Gardner Robinson. In order to do it, he endured the painful process of divorcing himself from his opioid addiction. "I feel proud of myself for being able to quit, you know, but I also kind of resent the person I was back then. It would make me do horrible things. I'd skip out on a lot of opportunities and I was ignoring everyone who would call me. It made me feel like literally all my problems would disappear. That's the worst part about it. But I realised I needed to come back to real life."
Watching the irreplaceable energy live instruments on stage, he started to gravitate towards the guitar and drums, which form the spinal cord of good grief. The project is the furthest he has ever strayed from his hyperpop foundations. "How do I word this…" he begins to explain, careful with his choice of words, because hyperpop is more than a genre, but a community of friends and collaborators. "I'm going towards the type of music I really love. Hyperpop was fun to make, and everything, but it got too easy for me to produce those kinds of beats. It was formulaic, and it started to feel uninspiring to me. I don't play the drums, or guitar, or anything, but I was figuring it out as I was writing the songs. It's the most fun I've had writing music in a while, honestly."
It's this shift away from the conventions of hyperpop that has become more of an exodus, with many of its poster artists like ericdoa and quinn evolving in new sonic directions. "We've all started to… grow up, I guess," he says. "I think everyone's excited to move on." But nevertheless, he's determined for his music to retain those hyperpop motifs, so that as his audience follows him to new territories, there is still that sense familiarity, that sound that makes him undeniably aldn.
good grief carries the NYC sleaze of The Strokes, with their angular guitars, the starlit melodies of Passion Pit and the warped electronica of Crystal Castles – and the accidents are left in deliberately. "Looking back at my most popular songs, I think everything I'm making now is ten times better than that," Gardner Robinson admits. "I'm just constantly trying to make something better and better. I want every song to outshine the last one. It's hard, in the music industry, because you have to wait like, a month, for a song to be released. And by the time it is, I have five other songs where I'm like, 'I wish I could release these', you know?"
Even with being signed to Geffen Records, an offshoot of Interscope, the heightened responsibility of being an artist doesn't faze him. "It has never felt like a job," he tells me. "It's always kind of felt like a video game." In this game, he almost goes as far as saying aldn is a character, with many of his lyrics alluding to feeling like an actor - but that's not quite it. "I have horrible social anxiety," he says. "So everything I write and everything I do is all still me, but maybe exaggerated… more confident, you know? The more confident I pretend that I am, the more confident I actually become. Without music, I'd probably still have the same group of five friends, and I wouldn't get out of that circle."
But not once, since the age he started producing beats at 12 years old, did he ever imagine building a career. He gravitated toward making music in the same way one might gravitate towards playing Animal Crossing, or experimenting with makeup – it was purely for a sense of meditative, creative satisfaction. It wasn't necessarily to escape his hometown of Reston, Virginia, as is the typical narrative of an artist. In fact, quite the opposite: "Sometimes, when I'd be working in LA, I'd leave early so I could work at home, because I like the scenery, all the trees and the lakes. It's super beautiful in the summer." Until good grief, aldn's aesthetic was a lush, Virginian green: blades of grass; foliage glimpsed through a window; a field – even a SoundCloud deep cut called "insects taste good (what happened to our worms?)"
As his music gained momentum, his interest in college all but disintegrated. "I was balancing it for a little bit, and then I kind of thought, 'Fuck this', because I've always hated school. I ended up failing every class that semester. But because of COVID, was able to withdraw from all of them and take a leave of absence. So, my GPA is still like a 3.2 or something," he laughs.
Gardner Robinson feels that he is still only warming up. good grief is only the first step – but in the right direction: "I feel like no matter how hard I work, I'm never going to be at the point where I want to be. I think that's a struggle for a lot of artists. You reach a goal, and then by the time you reach that goal, you already have your sights set on something else, so reaching that first goal doesn't feel special at all. It started getting to me, where I felt like I was going nowhere, even though I'm doing so much better than I was three months ago, music-wise – and everything, I guess."
I ask him if going through these stages of grief make loss any more bearable. "I think it never gets easier," he tells me. "I think it's always going to be hard, whether it's breaking up with someone, or someone breaking up with you, or quitting drugs. It's always gonna suck, but you come out a much wiser person, I feel. Everything's a lesson." But the biggest lesson he's learned? "I'm better off on my own."
The good grief EP is out now
Get the Best Fit take on the week in music direct to your inbox every Friday