Flow Festival is the happiest place in the world
17 August 2022, 19:00
Photography by Riikka Vaahtera, Jussi Hellsten, Petri Anttila an Konstantin Kondrukhov
One of the first ever music events to go carbon emission free, at Flow festival nothing is missing and nothing exceeds - it fits in perfectly and inspires what other festivals dream to be.
On the flight to Helsinki, a television on the airplane states "Welcome to Finland, the happiest place in the world".
For the fifth year in a row, the country has won this accolade, according to an UN-sponsored index. Helsinki celebrates wellbeing and takes action towards it. A recording of birds singing is played at the airport; public saunas grant midnight swims in the moonlit ocean; and in the middle of August, the city hosts one of the most well-planned, smooth and fun festivals in Europe.

Flow Festival is set in Suvilahti, a former power plant in Helsinki. There's no astroturf to reclaim nature; the festival's landscape is urban, industrial and comfortable with it. Greener than other festival's fake grass, Flow is actually one of the first to go carbon-neutral and to drastically reduce its footprint within each edition. Green electricity, 100% reused materials, sustainable meals. It's hard to notice there's no meat or poultry on the menu when the variety of tacos, curries, poke bowls, buns, dumplings are all, really, delicious.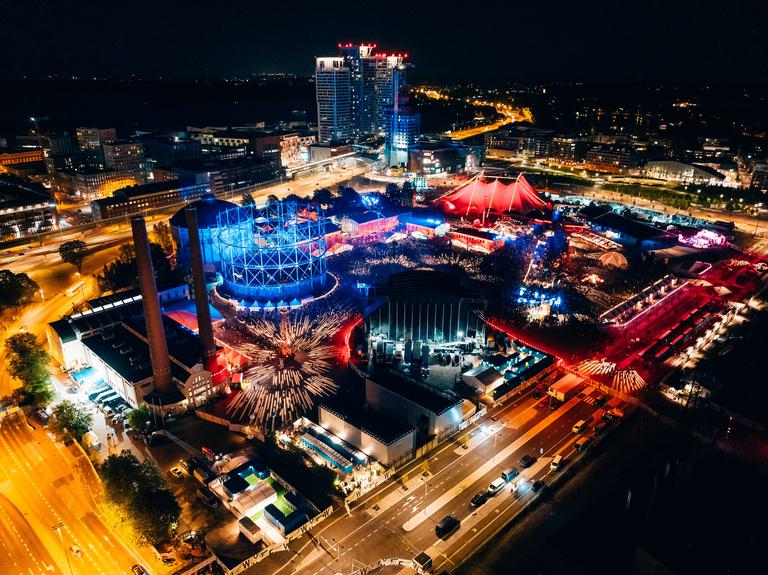 Riikka Vaahtera
Cheers to Fisu – the eucalyptus and menthol Finnish shot– and to Hartwall's Original Long Drink – the local can of gin and juice that leaves foreigners wondering why gin and grapefruit soda are not mixed more often. After one too many cans, the festival site is only a 20-minutes train or bus ride from Helsinki's central station. Arriving and leaving at Flow Festival is remarkably uncomplicated. Cycling is also on the cards: Flow's bicycle parking is one of the largest seen in Finland.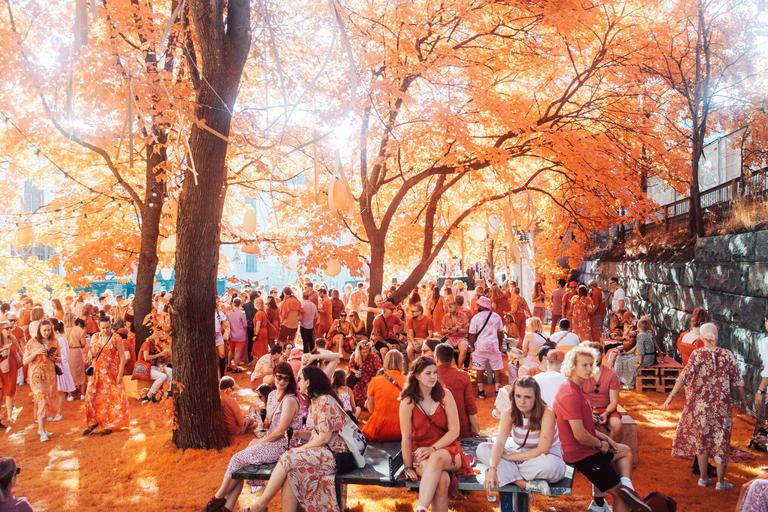 Mid August, there's not that much of summer left and there are not that many big international names that haven't played in other music festivals. Quality trumps novelty. Nigerian superstar Burna Boy starts the gig with a row of fire coming out of the stage and ends it carrying a bra he's given by a fan: "Helsinki, I wish I could play for you everyday," he comments.

Gorillaz play for the first time in Finland and there's little space left to debate whether they're a great live band. The encore brings Freddie Gibs on for Clint Eastwood, after De La Soul's Posdnuos gets an emotional crowd to repeat in communion: "I will never let anyone tell me what to think. I will never let anyone tell me what to say. I will never let anyone, not even the dude next to me, tell me who to love. I will never let anyone tell me what to feel. I feel strong, I feel confident and… I feel gooood! HAHAHAAAA, FEEL GOOD." Song intros don't get better than this, and arguably a Gorillaz song also doesn't get better than Feel Good Inc.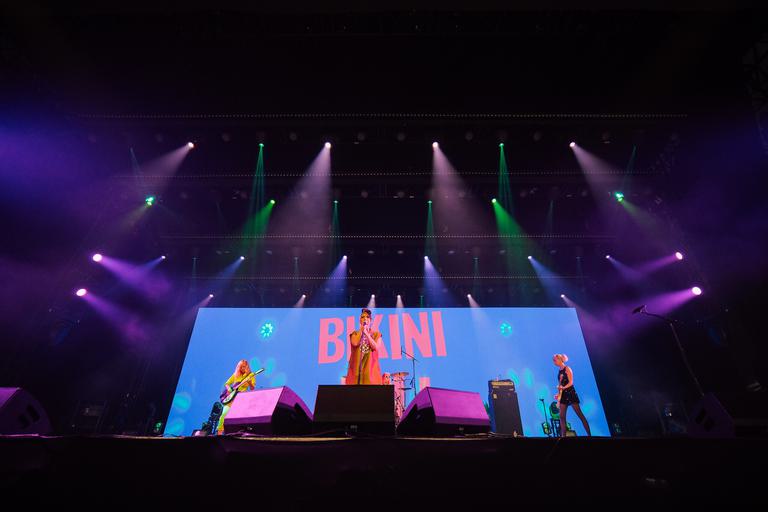 After many festival cancellations, we get to see Bikini Kill playing to a full crowd on a hot and sunny Saturday afternoon. It's been bittersweet to see all the ageing 90s bands on tour this season – you can never quarantine the past. All the same, it's still raw and emotional and empowering to see Riot Grrrl Kathleen Hanna yelling on stage. Her voice doesn't lose power nor anger and there's not that much missing in comparison to (my imaginary) Bikini Kill set from thirty years ago. At the end of the gig, Hanna thanks the festival and her crew for letting the band be themselves in this tour. It's exactly what I would say to her.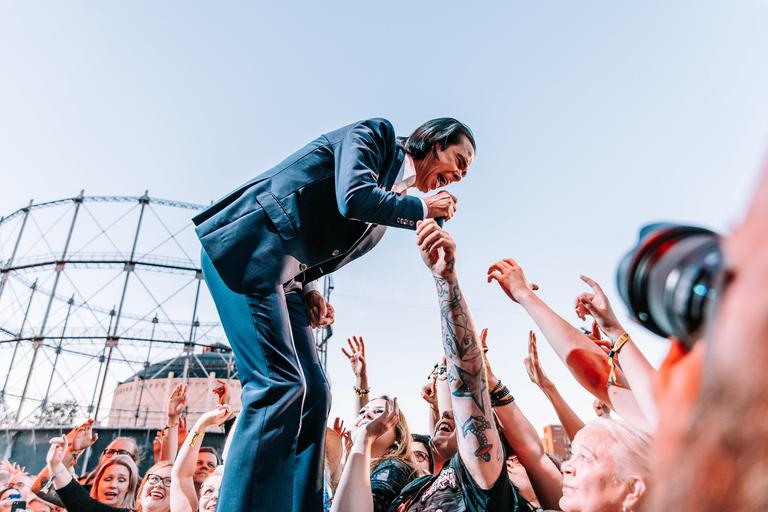 On the final gig of the final day, Nick Cave does his thing, plays the epic set. "Get ready for love," he sings from the edge of the stage, pointing his long fingers at the crowd, leaning on people, holding their hands like a messiah. If he knows some kind of fundamental truth, people in the first rows of his gig are the chosen ones that receive it. Half way through, he reads a sign 'Mr Cave, will you dance with me?' and brings a woman from the audience to a 30-second slow dance on stage. Cave rides in the wave of the rock-star-poet with the same assurance of the one of a cult leader. It's always something to watch, and to watch out for.

When the line-up secures big international names, it also reserves main stage time slots for plenty of Finnish artists. Local star Vesta delivers a nuanced and lyrical alt-pop set on a Saturday afternoon and one of Finland's most well respected pop stars, Chisu, plays her last gig at Flow Festival, before going on hiatus from her solo career. The festival has nine stages and it's musically safe and well recommended to wander around the festival to experience less mainstream acts.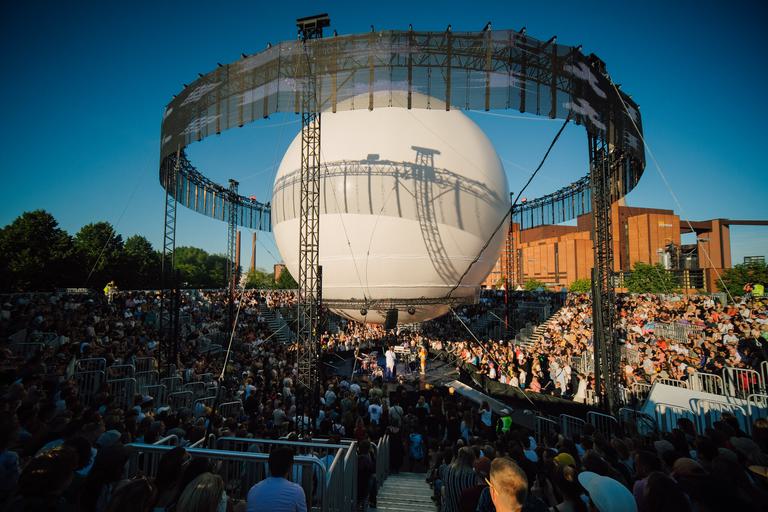 Saxophonist Linda Fredriksson is a highlight. Leading her recent solo project, Linda Friedriksson Juniper, she plays a cosmic jazz set at the Balloon 360° stage - Flow's own version of an amphitheatre, decorated with a huge lit balloon in the middle. As a sit down gig, the location is at full capacity and security has to stop people from going in before the gig starts. The situation doesn't dishearten her fans that decide to gather outside the fence to quietly hear her playing.
There's Dj Stingray 313 from Detroit playing fast paced techno at the Front Yard stage; Norwegian duo Smerz at the Other Sound stage; Canadian DJ Jayda G at the Backyard Stage; Fontaines DC, Black Midi, Princess Nokia, Jarv Is, Sigrid, Jamie XX, Acid Arab, Florence and the Machine - the list of good acts is a big as the FOMO, but somehow we're still not able to be at all places at all times.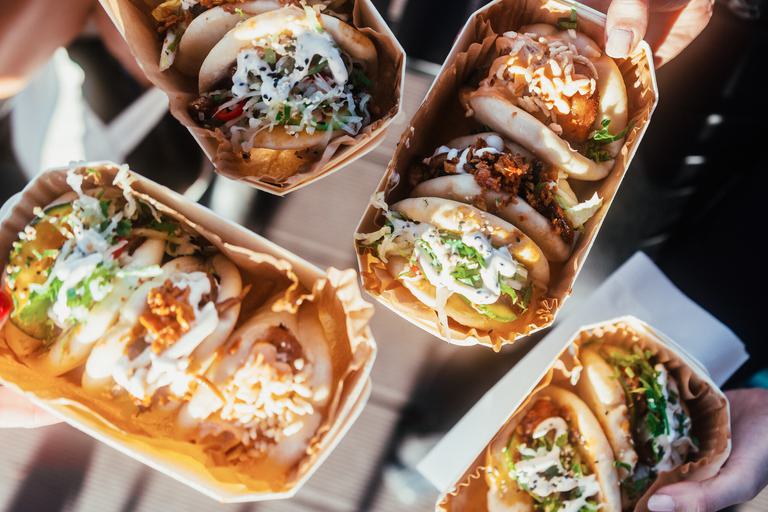 Bottom line is there's no shortage of goodness. In and out of the festival. The street markets, the Muikku (fried-whitefish-Finnish-delicassey) and reindeer meatballs with lingonberry sauce, the floating swimming pool, the Nordic architecture, boat cruises, the islands, the parks filled with berries, the everyday salmon. The happiest country in the world bets on collective well being rather than restricting it to a certain group or area. That's the way forward. Flow Festival shines in it.
Flow Festival returns in 2023 and runs from 11-13 August. Find out more at flowfestival.com