Following a night filled with indie disco classics (you had your LCD Soundsystems, you had your Joy Divisions, you had your Hot Chips…) and a fair few brandy laden ciders, Saturday morning is, let's not lie, a bit of a struggle. But, 'when in Sherwood Forest…' as the old saying goes. Day two of No Direction Home gets off to a bit of a drizzly start, but as if scheduled by the festival organisers themselves, the moment that the rain lifts is the moment that the first bands take to the stage, so we head over to the serene setting of the Lake Stage to hear what first band of the day Laish have to offer.
Laish
Brighton collective Laish, it would seem, are finally getting a bit of the attention that they deserve. Stalwarts of the Brighton scene, the band have existed in various incarnations for a few years now led by the distinct humour, lyrical lilts and melodic leanings of Daniel Green. Today, they open the Lake Stage of No Direction Home, where their lush acoustic compositions and delicate, playful stories are given the chance to resonate around the stunning Welbeck Estate setting. Clever, soft and accomplished, the Willkommen Collective members provide a gentle, elegant and very welcome opening to the festival's second day. FG
Ichi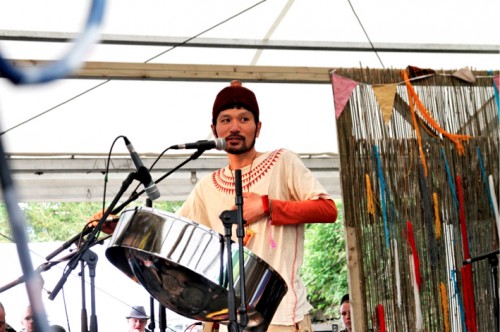 Next, we head over to the Boathouse Stage to catch Ichi, a Japanese instrument inventor who uses everything within his reach to make a sound relevant to the theme of each of his tracks. During stand out song 'Mosquito', for example, a kazoo is used to replicate the insect's familiar buzz before a resonating hand clap brings the song, and the life of the imaginary insect to an abrupt and humorous end. Steel drums, maraca adorned Converse, typewriters and ping pong balls all find musical homes during Ichi's extremely well received set, as the Nagoya native brings his childlike, playful yet intricate melody making ways to Sherwood Forest. FG
David Thomas Broughton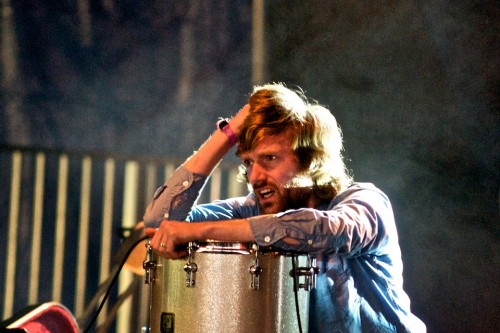 A charmingly eccentric but often timid man on stage, David Thomas Broughton's mid-afternoon performance at The Electric Dust Bowl is delivered with the most confidence I have ever seen from this West Yorkshire man. This may have something to do with the enormous crowd he has managed to attract. He stands, surrounded by his band mates, at the very precipice of the stage, interacting with the crowd, enticing them with his distinct vocals and at one point taking his shirt off in a suggestive manner. Eschewing traditional song structures in favour of experimental bleeps and unconventional samples, his set sees him roll out the "hits", from still stunning early number 'Ambiguity' to the dense acoustic environment of more recent efforts like 'River Lay', taken from his 2011 full-length Outbreeding. Genuinely, David is a unique talent. LD
Other Lives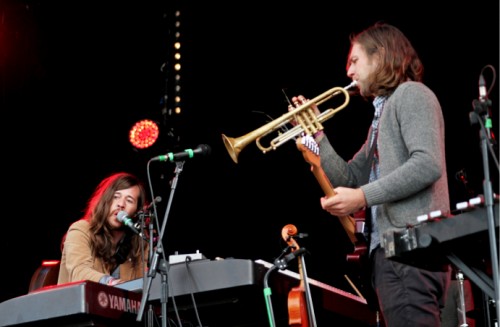 As the evening draws ever nearer, we take the short walk over to the Lake Stage where the first gentle notes from Other Lives have already begun to fill the air. Having just completed a tour opening for Radiohead in the States, the Oklahoma troupe's confidence is flying high as tracks from their critically acclaimed last album Tamer Animals are unleashed upon the No Direction Home crowd. Instrument swapping, intricate textures and drops to make your heart break are all weapons in the band's folk/Americana inspired arsenal, as guitars, pianos, violins, cellos and a whole host of percussive techniques are enlisted to recreate the harmonious sounds of their latest effort. It's an endearing and extremely accomplished performance from a band who have had a deservedly successful year, with album title track "Tamer Animals' proving to be the unmitigated highlight of a very well received set. FG
Gruff Rhys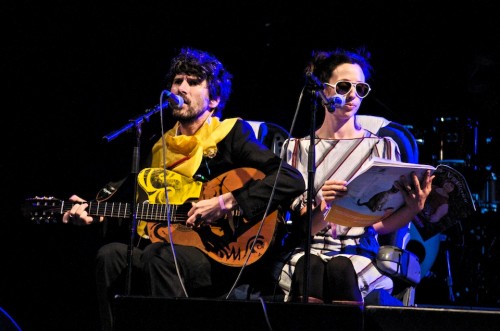 It has been over a year since he released his critically acclaimed, understated masterpiece Hotel Shampoo but Gruff Rhys somehow manages to make his recent oeuvre sound as fresh and beguiling as ever. Effortlessly whimsical with the driest sense of humour, the ex-Super Furry Animals man and Welsh maverick has the weight of experience behind him and the grace to carry off things like cue cards and a bright orange rain poncho. 'Honey All Over' provides a particular highlight, its sweet vocal notes chiming in time with the xylophone pings, fluctuating organ keys and rasping, airy drum snares while an epic 15-minute version of Candylion epic 'Skylon' offers up a perfectly dramatic and kaleidoscopic ending. LD
Moon Duo
As the night draws in, the fresh Northern country air turns cold, unforgiving almost, and before long copious amounts of mulled cider becomes the only way forward. With our extremities warmed, the guitar heavy psychedelica of Moon Duo also quickly becomes the only option. The brainchild of Wooden Shjips guitarist Ripley Johnson, Moon Duo cut striking silhouettes on the stage, their reverb drenched tracks sounding as if they were conjured up through some kind of existential, out of body experience and are being fed back through the same channels live. Keyboardist Sanae Yamada's intoxicating harmonies float through the air, as if the sonic representation of a finger beckoning you forward while the krautrock tones and rhythms lie just a little less than dormant. A disparate set, on the face of things, is drawn together by Johnson's tripped-out guitars that hold just enough scuzzy garage timbres to get the crowd moving – their feet firmly on the ground, their heads in the cider-laden clouds! LD
Andrew Bird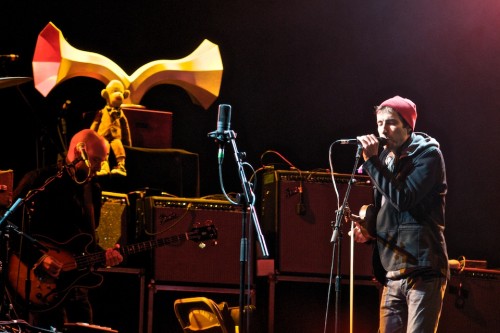 Stepping away from the dramatic black and white backlit performance of Moon Duo, it's back to the Lake Stage for an altogether brighter and more uplifting performance from Saturday night's main headliner, Andrew Bird. The stage is adorned with a plethora of instruments, vintage amps, toys and his trademark rotating horn speakers, as Bird loops and whistles his way through tracks from latest album Break It Yourself. Bird's sublime and engaging violin melodies, his soft voice and his masterful constructions are allowed to flourish in this setting, an impeccable sound emanating from a warmly lit stage. At times cheerful and lively, at others sensual and emotive, Andrew Bird and band are completely mesmerising throughout the performance. It's a precious thing, having the ability to experiment and venture on a festival stage, but the superb sound system and relaxed setting of No Direction Home has given the Chicago artist all of the tools he needs to create a positively perfect, extremely memorable performance. FG
By Lauren Down and Francine Gorman.