-
Photography: Anika Mottershaw
Another night, another great gig at Kilburn's stellar Luminaire. First on tonight is London-based solo artiste Former Utopia, a gentleman blessed with an imposing baritone halfway between Bill Callahan and Absentee. His harsh, moody songwriting has its interestingly aggressive, discordant moments but too much of the set is devoted to mid-tempo output that meanders along pleasantly enough without leaving a lasting impression. Alas, poor Lazarus Clamp couldn't even claim that. Having found themselves unexpectedly drummer-less, they struggled along manfully but not even decent violin arrangements could spark much life into their often monotonous balladry, though their unexpected venture into savage garage rock at the end was pretty amusing.
Much more arresting were Construction and Destruction, a charmingly lo-fi Canadian duo whose eclectic set flitted between genres with impressive élan. Commencing in a synthy Mates Of State vein, they soon shifted to more minimalist Fujiya and Miyagi territory complete with coquettishly continental vocals and buzzing guitar lines that'd do Ratatat proud. A turn towards generic indie-rock saw the set falter slightly, with Colleen Collins' slight vocals lacking the power to match the more forceful guitar but even that couldn't derail an intriguing and quietly engaging performance.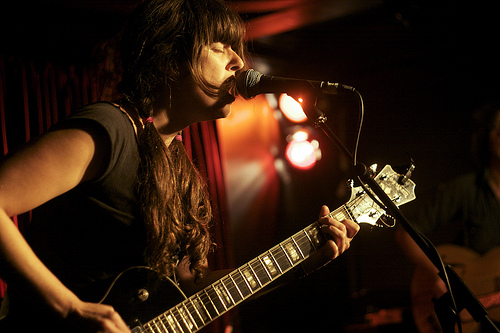 The night inarguably belonged to Julie Doiron, whose charismatic hour-long set could show many of Britain's own singer-songwriters a trick or ten. Her versatile vocals are her greatest asset; although they're often imbued with a naïve fragility somewhat akin to Chan Marshall, there's also a steadfast confidence there that works well on the less delicate numbers. With nary an acoustic guitar to be seen, the show was definitely rockier than a fair-weather fan may expect although that's not to say the show was devoid of subtlety – far from it. If anything, it was simple, effortlessly charming folk like "Nice To Come Home" where she was at her most mesmerising, although the harmony-heavy material from new project Daniel, Fred and Julie also impressed. A lively, vivacious character for all her nervous goofiness, she's great fun to watch and and although her anecdotes were a tad surreal at times (dreams about babies morphing into lobsters called Christine Mactivity (?!)) they certainly fitted the pleasantly relaxed tone of the evening. True, a few more solo songs wouldn't have gone amiss but there's little to fault with a show that saw this Canadian songstress at the top of her game.