Over the past few years, France has made a name for itself as the place to be for autumnal/wintery music festivals. Pitchfork decided to hold an October edition of their festival in Paris this year, the brilliant French music and culture mag Les Inrockuptibles takes over a whole host of Parisian venues for a week every November before Les Rencontres Trans Musicales, one of France's longest running new music festivals moves into the Breton city of Rennes for one very busy weekend each December.
Now into its 33rd year, Les Rencontres Trans Musicales has become not only the musical highlight of the Brittany calendar, but also one of the most important places for new acts to be heard and seen in France, alongside the seminal new music festival Printemps de Bourges. The city is well and truly taken over by the festival, with bars, clubs, cafes, theatres, book shops, venues, airline hangers and exhibition spaces being filled with a vast selection of artists from all over the place. The whole town embraces Les Trans Musicales festival which brings around 10,000 music hungry spectators to its boundaries every year. It first began in 1979 from the mind of Jean-Louis Brossard, an inspiring character who has organised and programmed Les Trans since its very beginning. He picks the bands, he invites the bands, he puts the bands in front of huge audiences – essentially, he is Les Rencontres Trans Musicales and he's prepared quite a line-up for the 2011 edition.
Thursday
The festival begins in a variety of venues around the centre of the city on Thursday night. It's a similar set up to The Great Escape or Camden Crawl, with every corner being taken over with the intention of uncovering new music and packing out the venue. It's the place to create a buzz about your band, and one group which has clearly managed to do this is La Femme, a bleached blond troupe of feisty young musicians who play in the sweaty downstairs of a packed bar, Le Sambre. Braving the heat and close confinement of the venue for a few minutes, most of the band's spectators are soon forced to return to the upstairs bar for air where fortunately, the band's music is still extremely audible and the concert is shown on TV screens. The band impress with their pop hooks, synthesized melodies and spritely, energetic show, ensuring that although their concert is one of the first of the festival, it won't be easily topped.
One thing that will prove to be problematic throughout the festival's in-town events (a kind of Fringe festival known as Les Bars en Trans) is the scheduling of the shows. All of the concerts take place at the same time, meaning that in order to try and catch a glimpse of the distinctive blonde mops of La Femme, we had to pass up the opportunity to witness Montreal's sumptuous Monogrenade. Likewise, Mister Heavenly were sacrificed (not literally) in order to catch the much talked about Crâne Angels in a bar across town. Getting wise to how this would work, we arrive at Bar'Hic much earlier than the allotted time slot for Crâne Angels, in the hope of being able to see and hear a bit more successfully than at the previous show. Mission accomplished and although the bar is still full to bursting, we're able to fully experience the 'choral pop rock' advertised in the programme. The music provided by the Bordeaux collective is highly enjoyable, at times echoing the soaring pop vocals of Treefight for Sunlight, at other times conjuring massive chants, carefully placed over the top of lively, chaotic arrangements. It's a great show, and well worth the hustle and bustle of getting to the venue.
Friday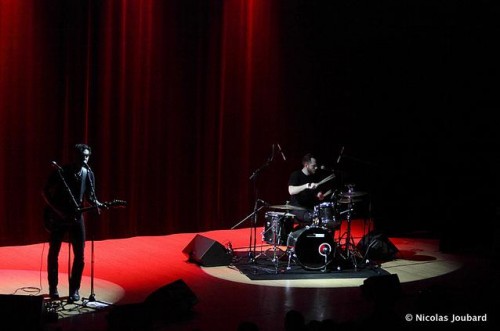 Friday is when the hardcore music watching activity begins. Concerts are plotted at venues throughout Rennes from 2pm right through to 5am Saturday morning, and after struggling to see who we'd intended to last night, we're on a mission to catch everything we want to today. The day begins with another 'listening experience', as crowded conditions prevent us from actually entering the room to see Renne's very own Juveniles, one of Kitsuné's most recent squeezes. Hanging around though, we are gifted with the synth-pop sounds and visions of Splash Wave, a colourful, energetic, double denim sporting French duo. As first they confuse, then they entertain and although the music might be a little bit too 'euro-electro' for this reviewer's taste, the show is very enjoyable.
Next on the Trans Musicales tour is a 20 minute bus journey out of town to Le Parc Expo – a series of great halls which, from the size of them, you'd imagine are normally reserved for events such as the Good Food Show, or Gardener's World. These vast aircraft hangers are taken over for the weekend to host bars, stages, DJ booths, food stands and of course, a whole host of bands. The length of journey to reach Le Parc Expo means that all inner city shows for the evening must be sacrificed, so again this issue of having to miss bands is raised but the line up awaiting us at Le Parc Expo is far superior to that found in town tonight. As we arrive, Hanni El Khatib is warming up one corner of an immense hall. The space is a bit big for his guitar/drum sound so the setting's not ideal but unphased and as unabashed as ever, Khatib goes about his business transforming the cool, sterile air of the vast room into a buzzing, rowdy space.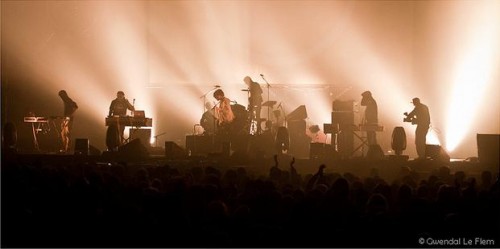 The first act to tickle our fancy at Le Parc Expo is Breton who play a startling show on what must be the largest stage they've ever graced. Working their way through tracks from their forthcoming debut album due out next year through Fat Cat, the London five-piece fill the stage with remarkable ease. 'The Well' is a stand out track, as is latest single 'Edward The Confessor' and the accompanying films projected on a huge backdrop make the show not only musically impressive, but visually brilliant. It was a big ask for this young group to play such an important spot in such an immense venue, but it worked perfectly well.
Crossing to the other side of Le Parc Expo, we spend a few highly entertaining minutes with Norway's Kakkmaddafakka before stumbling upon a great discovery – New Zealand's Orchestra of Spheres. New Zealand is making some great music at the moment, and this band typifies the sort of off-the-wall, wandering, colourful musical messiness that the country seems to make so well. The music is bewildering yet catchy, engaging and strange, but all the while completely delightful – a definite highlight of the festival so far.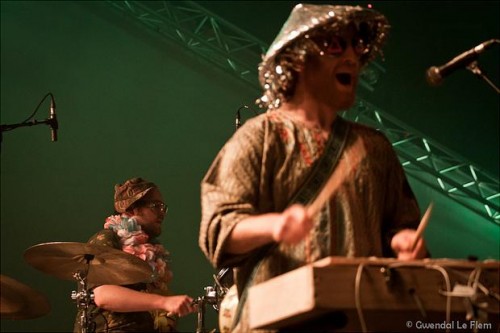 After catching a few minutes of Colin Stetson's saxophonic musings, it's off to hear the last rumblings of Norway's Todd Terje before SBTRKT takes to the same huge stage earlier occupied by compatriots Breton. Having brought along main collaborator Sampha, the pair manage to whip the massive crowd up into a frenzy with tracks lovingly reproduced from the eponymously titled record. The stand out song of the set is most certainly 'Wildfire', and although a bit of the top end magic of SBTRKT's music is lost in the vast space of the hall, the concert is still extremely memorable.
Next comes the inevitable lull, which is unavoidable when you started watching bands at 2pm and look at your watch to realise that it's now 2.30am and the next band you want to see starts at 4am. After pulling ourselves out of this mood however, we manage to catch a bit of Motor City Sound Ensemble before heading to get a good spot for Factory Floor. Upon arrival, the previous act is still on stage – Mexico's Silverio, who, whilst sporting nothing but shiny red undercrackers on this very nippy December night, is hitting himself around the head with a synthesizer whilst being chased off stage by the venue's sound engineers. Needless to say, this injection of slapstick comedy certainly wakes us up! Factory Floor then take to the stage and unfortunately, the sound gets lost somewhere between the concrete floor and the rafters towering 30 metres above the crowd. Although the music of Factory Floor is great, the wishy washy sound means that it's just not an engaging enough show for this time in the morning.
Rounding off the evening/night/morning is a stunningly lit show from Oxford's Totally Enormous Extinct Dinosaurs playing a sublime set which dazzles this far-flung corner of Rennes until the festival shuts down at 5am. Dancers and lit up fan tunnels (similar to those seen in this classic video) accompany tracks such as 'Household Goods', 'Garden' and 'Trouble'. The set goes down a storm, the room is packed out despite it being well past witching hour and the Bretons present in the room (including organiser Jean-Louis Brossard) are feeling pretty pleased with the show that their festival has rounded up with.
Saturday
It's all very well and good this staying out lark, but making it to the early shows on Saturday proves to be much more difficult than yesterday. We do manage to catch the superbly named Jesus Christ Fashion Barbe however, a fairly local group (Caen) who conjure up very pleasant, very charming pop melodies with a vocal featuring just a smattering of new wave influence. As was the issue yesterday, due to the distance between the main event at Le Parc Expo and the shows throughout the city, the decision is taken quite early on that tonight shall be the night we check out the music in the bars in town. This unfortunately means that there's no Zomby, no Galaxie and no Wolf People for us tonight, but the acts that we catch in town more than make up for this.
The evening commences with a rather ill-fated concert from the immensely talented Mina Tindle. Very much reminiscent of a Parisian Feist, Mina Tindle combines delicate, heart wrenching vocals with gentle, touching melodies – an altogether too quiet proposition for the bustling atmosphere of Le Papier Timbré. Granted, it's bustling because so many have turned out to see her, but listening conditions aren't ideal and even more unfortunately, the power soon cuts out bringing her serene, gorgeous songs to an untimely end. Next up are the beach-side, summer sounds of Golden Age of Yachting who hail from Ivry sur Seine. They provide a charming, sun glazed brand of light-hearted, quick tempo pop which is at times reminiscent of a glossed over Pete and the Pirates. It's all very nice, but it's time to head off and catch some good ol' French electro.
Next up is a rather laid back DJ set from Kitsuné's Jupiter followed by a show from the much hyped College, with whisperings of "T'as vu Drive, toi?" (Have you seen Drive?) filling the venue in a variety of languages. Having provided the soundtrack to one of the year's most talked about films, College has been earmarked by many as a 'one to watch' at this festival, and the music is very accessible. It does, at times, feel a little too much like a soundtrack and not enough like a live show however, and many remark how the music would have been better suited to a club atmosphere rather than the busy bar in which it is heard tonight. That said, that's also the beauty of festivals such as this one – being able to catch artists in improbable venues and spaces.
To sum up then – there are some logistical headaches that come with attending a festival that offers up the crème de la crème of new musical talent, and all of that stems from the huge variety of music on offer at Les Rencontres Trans Musicales. On the one hand, it's wonderful because it's possible to stumble upon things that are better than you could ever have hoped for, whereas on the other hand, you can be left frustrated by two beloved acts being billed to play at the same time. All in all though, this festival very much lives up to its reputation for showcasing an exceptional amount of new talent in a stunning city and it's clear that 2012 will be very much influenced by what the spectators of the festival have just seen. It might be 33 years old, but Les Rencontres Trans Musicales has certainly not lost its touch.
All photographs provided by Les Rencontres Trans Musicales.