"There's this great festival happening in a really beautiful old town called Tønsberg in Norway."
"Cool, who's playing?"
"Pulled Apart By Horses, Deerhunter, Mogwai, Grinderman…"
"Yeah?"
"Erasure…"
"I'm in."
And that's pretty much how the conversation leading The Line of Best Fit to Slottsfjell, in south eastern Norway, went. There's really a lot more to this story than Erasure though – this three day event takes place in the sumptuous surroundings of Tønsberg, a town with a history rich in stories of Vikings and which, for three days each year, becomes the musical hub of Norway.
With, suffice to say, a fairly eclectic line up, the festival opens for us with a performance from Cerebral Ballzy - a young, obnoxious, highly charged bunch of hardcore musicians from Brooklyn. Their show is extremely lively, even if the reaction of the crowd of curious watchers is a bit tepid. Not sure where the camp British accent that singer Honor Titus adopts is from, but with each song introduction – "This is a song about skateboarding and pizza" – the show becomes more spirited, more entertaining and more memorable.
Next, it's the turn of Razika, one of the names being touted around by the Norwegian folk of the festival. Razika consists of four young ladies who make ska influenced pop with a quirky, Scandinavian tinge. They draw a massive crowd to the tiny, boutique Tårnlunden stage atop of the hill and the music is light, easy to listen to and fun – more or less everything that you want from a band at this time of the afternoon. From the size of the crowd and the reaction during each song interval, it's pretty clear that this band are going to enjoy a very successful year once their album's released in August.
This festival is named 'Slottsfjell' meaning 'castle hill', after the tower looming over the festival from the top of a mount. And it certainly is a hilly festival, with arguably the best stage, Kastellscenen, being placed right at the top of said hill. However, after getting yourself up the medieval stone stairs, the setting and sound is wonderful. It's at this spot that the first truly dazzling festival 'moment' would take place, in the form of Georgia, Atlanta's very own Deerhunter. As Bradford Cox and co. make their way through tracks from last year's brilliant Halcyon Digest, their outlook from the stage points in the direction of the sun, which is currently creating the most stunning of sunsets over the fjord which surrounds the festival site. As 'Helicopter' begins, Cox is mesmerised by the outlook, all adding to the ambiance. Such a combination of magnificent music and a gorgeous setting are just one of the elements which makes Slottsfjell a very special festival indeed.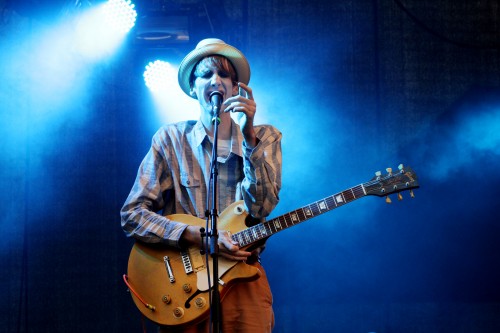 We descend the huge, winding staircase that has been constructed down the side of a cliff to lead festival goers to the main body of the event, to see what's happening elsewhere. As the night's headliners, Norway's very own Röyksopp, and Crystal Castles lead the evening into its twilight hours, the various after-parties which are flooding the town start up their engines, and Tønsberg gears up to show us its nightlife.
Day Two:
Yesterday's weather was glorious, so glorious that an application of sunscreen was needed – something which we hadn't prepared for at all, coming to Norway, but something that was very much appreciated! Today, the deal's a little different. The first music of the day comes courtesy of local band Mhoo, fronted by three gloriously blonde, Scandinavian ladies. The music is perfectly pleasant, the weather, however is not. An unfortunate, very grizzly day is not the ideal environment in which to be listening to Mhoo's country-style pop, although they make a sterling attempt at keeping the crowd moving and engaged.
Next up, and in need of something a bit more powerful to distract our attention from the drizzle, it's a trek up the hill to see Sheffield's Rolo Tomassi. There couldn't really be much more of a contrast in musical styles than what we've just seen and what's waiting for us up the hill, as Rolo Tomassi immediately launch into their furious brand of synth based hardcore. It's a pretty powerful performance from the five piece, who work really hard to engage the crowd, and who leave the stage having caught the attention of a fair few new fans.
Another musical shift arrives as Sweden's Melissa Horn takes to the main stage. The weather is pretty grim by this point, and as sweet and doting as her vocals may be, we are getting wet and it's getting hard to concentrate. A Swedish Caitlin Rose is a fairly accurate description of this performer, who smiles and and trojans on through her show, and to her merit, keeps a good size crowd in pretty good spirits.
Yuck continue to divide opinions throughout their set on the neighbouring stage, with some enjoying the well executed music and warm melodies, others bitter about them ripping off an already well worn soundtrack. For this reviewer, however, the set passes by well, with their hazy summer sounds lifting the mist from the drizzly crowd for a few minutes.
Just next door, on the main stage, a colossal crowd is gathering to witness the spectacle about to be performed by Madcon, one of Norway's premier pop outputs. The main stage area is completely rammed with spectators, and when Madcon ask everyone to put their hands in the air, they all do. It's not like in England, when the rowdy herd at the front get involved – every person of the thousands gathered lift their arms in the air, everybody gets excited, and the evening starts to brighten up a bit.
The Go! Team are their usual colourful, spritely selves, bursting their way through tracks from their three albums with all of the energy and excitement as if it were their first show. An energy which continues through to the show of Biffy Clyro, who impress with a cover of Matt Cardle's 'Many of Horror' (hoho!!). Biffy play the second to last slot on the main stage and the turn out for them is highly impressive. The fact that the turn out also know all of the words to all of their songs is even more impressive, and Biffy do a great job at keeping the momentum of the evening going, and warming us up for today's highlight.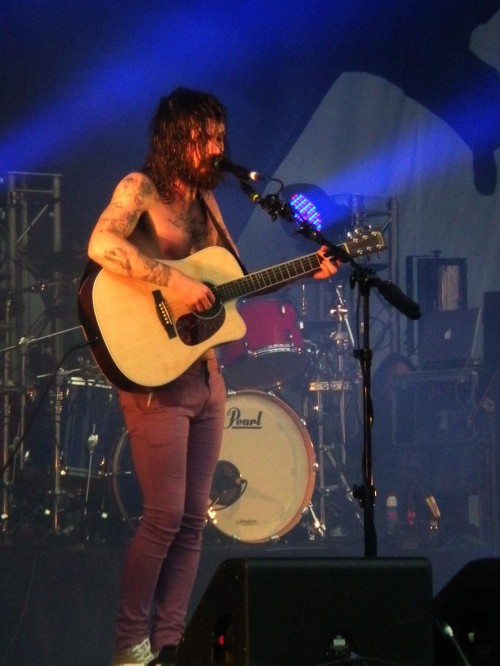 It's time for the final band of the evening, and they are one of the most highly anticipated of the whole line up, Grinderman. Their show is as raucous, as energetic, as bright and furious as we could have hoped for. Highlights included Nick Cave charging up and down the stage squealing "Tippy toe, tippy toe!" from what is becoming an iconic tune, 'Kitchenette', and the on-stage battles between Cave and legendary musical figure, Warren Ellis. The show is intense, fiery and incredibly loud, and fills everyone with a burst of energy that carries them off to the after-parties.
Our after-party of choice this evening is at a pretty dazzling venue, named Kastellnatt. This is a venue (more accurately, an abandoned warehouse) that the creators of the festival adopt each year to turn into a very impressive club. It's immense, it's crowded, and Alexis Taylor of Hot Chip/About Group fame is DJing in the corner – not a bad way to while away the evening in the dusky light that Norway calls night time.
Day 3:
So it's onto the final day, and the sun is back with a vengeance. The first band to capture our attention today is Pulled Apart By Horses who most certainly, certainly wake us up after the lie-in following last night's festivities. Playing a mixture of new and older tracks, theirs is by far the most fired up performance of the festival so far, with 'High Five, Swan Dive, Nose Dive' a particular highlight, alongside the inter-song banter which, as usual, is hilarious.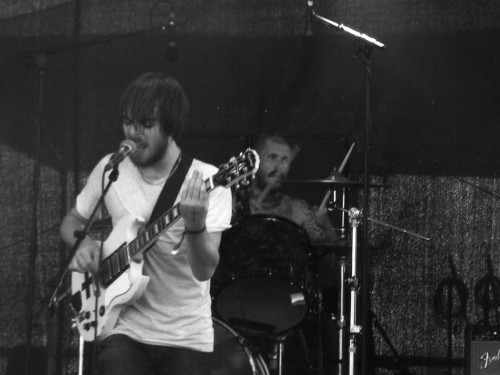 Next up is Oslo's Harrys Gym, one of the most ill-fitting names for a band that we've heard in a long time. With such a moniker, you'd expect some kind of 90s pop-punk revivalists, when what you're actually confronted with is an extremely talented bunch, creating sumptuous blends of lush vocals with soaring synth backdrops. Their set is engaging and beautiful, reminiscent of what France's The Dø are making at the moment. It's interestingly textured, it's incredibly rich and very promising. Looking forward to hearing a lot more from Harrys Gym very soon.
Erasure are the next band to take to the main stage, and to be completely honest, theirs is the name that has been heard more than any other around the Slottsfjell site this weekend. There's something about festivals and revival performances that either makes people feel a bit sick, or completely inflated with excitement and anticipation. For more or less everyone in the gigantic crowd gathered around the main stage, it's the latter and when they crack out 'A Little Respect' and 'Victim of Love', there's not much that you can do other than have a massive smile on your face and sing along. And we're not embarrassed about it, either.
That said… in an attempt to regain some credibility, and because we've been dying to see them live the whole weekend, we flit to the adjacent stage to prepare for a performance from Niki & The Dove. An absolute favourite here at TLOBF, it's this reviewer's first time seeing the Swedish group perform live. Their music feels much more accessible than expected – much poppier, in the way that Kate Bush makes pop, and the charging beats really open up the music to dancing and to fresh listeners. All in all, their music transfers to a festival stage very well, making them a completely brilliant festival act. The sun is gleaming down on them, everyone's dancing, and there's no doubt that Niki & The Dove are one of the best acts out there at the moment.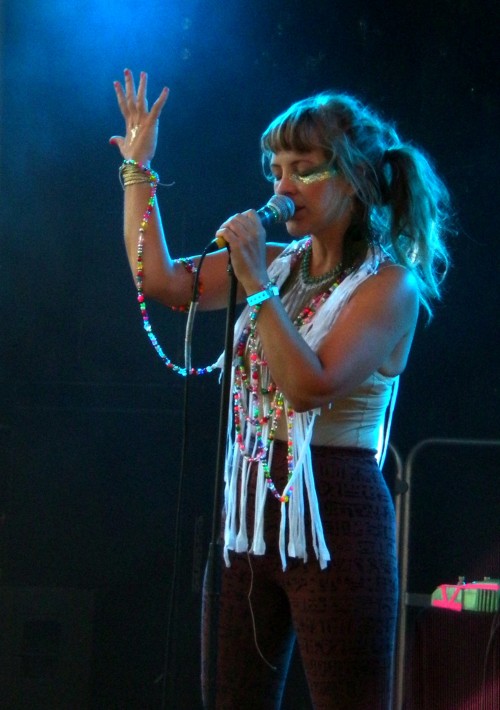 One band that have been playing their fair share of festivals this year is the brilliant Mogwai. In fact, so present have they been over the past couple of months, that a festival experience doesn't quite feel complete if you don't leave the site with Mogwai-induced tinnitus. Playing our favourite stage, the hill-top Kastellscenen, Mogwai (as Deerhunter had previously done), play to the setting sun, making tracks such as 'Rano Pano' and 'White Noise' feel even more epic and touching than they already appear on record. As a closing concert, this is pretty outstanding, much as the rest of the festival has been.
Everything at Slottsfjell has been very well thought out, from the food options (a wine and sushi bar being a particularly swish option), through to the anti-mud matting placed on the sloping ground towards the main stage. Everybody's well taken care of, and brilliantly, the line up is organise in such a way that there are never any major clashes. When one stage finishes, another begins so there's constant movement around the site, meaning that it's never too difficult to find a good viewing point.
We've learnt a lot about Norway over the past few days. They have this sticky brown cheese that seems to send Scottish people wild. They eat a lot of hotdogs. They make wonderful pear cider. And they know how to put on a brilliant festival in a gorgeous setting. Thanks for having us Slottsfjell, we'll definitely be back next year.