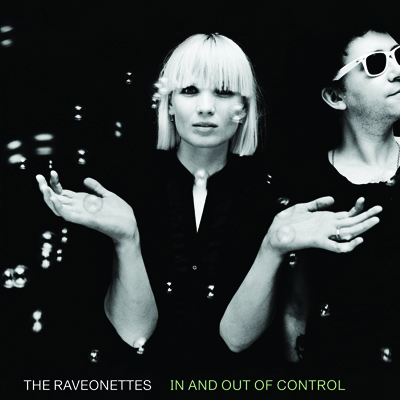 Few things in this world are sure, but when it comes to Danish duo Sune Rose Wagner and Sharin Foo you can guarantee an album that offers up the kind of distorted and fuzzy retro bubblegum pop that is best appreciated at full volume.
In and Out of Control
is
The Raveonettes
fourth studio album and second after leaving the confines of major label for Fierce Panda/Vice and is quite possibly their poppiest effort to date although there is still an element of previous effort
Lust Lust Lust's
aural assault. True to their style it is a mish mash of 50s and 60s psychedelic pop rock that unabashedly channels favourites The Velvet Underground. Never scared of bluntly referencing their influence, album opener 'Bang' is highly reminiscent of the Warhol born phenomenon. Foo's pixie-like vocals exude Nico's coolness as the bubblegum songstress distorted vocals when coupled with the hard-edged electric guitar and doses of pure noise capture a retro vibe unlike any other. Of course, using buzzwords like 'bop' certainly do help. So yes, it's a somewhat clichéd obvious, throw-away melody but its optimistic rhythm is absurdly catchy.Concept wise and lyrically
In and Out of Control
is quite dark: with songs like 'Oh, I Buried You Today', 'Suicide', 'Boys Who Rape (Should All Be Destroyed)' and 'D.R.U.G.S'. Yet despite these macabre pretensions the album on a whole offers up a fairly predictable range of tunes, which can be affixed with fairly predicable signifiers of 'pop' 'retro' and 'shoe gaze'.And whilst I think this is a great record,
The Raveonettes
effort to produce a distinct sound gets lost amongst all the influences they so openly wear on their sleeves. I have a feeling that rather than listen to the record whole way through it is going to be a case of dipping into it for the few great tracks that don't get lost in a sea of whispers sultry vocals and Buddy-Holly's esque guitar twangs. That may not be saying much in today's world of flicking through I-pods playlists but I think the point I'm getting at is that with each listen you really have to pay attention for it not to end up sounding like just one really long song.
The Raveonettes on MySpace