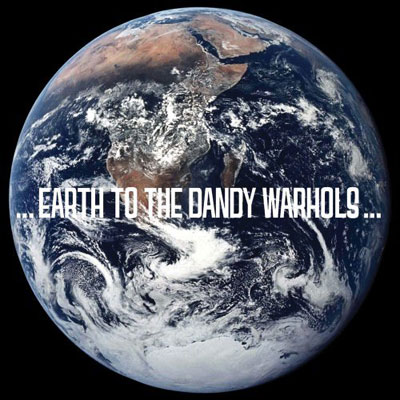 Earth to...
is the sixth long-player from
The Dandy Warhols
and the first on their own label. I expect they'd tell you they've gone their own way for impenetrably cool and worthy reasons, but in truth they were unceremoniously dropped by Capitol after disappearing up their own arses and, as a whole, this album justifies that call.Where they once perfectly balanced the scales, self-indulgence now outweighs the desire to be loved. The funky, psychedelic retro drone is still there, as are some great bass lines, but more often than not they're buried beneath multiple layers of pointless experimentation. What irks the most are the closing two tracks; 22 minutes of Yoko-esque drivel. The fact they made the cut (it's not as if they were needed - there's another 50-odd minutes of album left without them) tells you all you need to know about both the substances they've been abusing and the hangers on whose opinions they must've been listening to.Sadly, even with them out of the way,
Earth to...
is still 50-50. Opener and single 'The World the People Come Together (Come on)' is OK, if a bit stadium-U2-with-handclaps; but the following throwaway faux-goth pop of 'Mission Control' and disco funk of 'Welcome to the Third World' leave pretty much everything to be desired. Club chat-up culture is an easy target and aping the music isn't big or clever; frankly, it's pretty pathetic and someone should've told them so. Criminally, for a band who once had some pretty classic one-liners, the lyrics never get any better either.But, just when you're losing the will to live, things start to sound a bit like
The Dandy Warhols
. 'Wasp in the Lotus' stomps along in larger-than-life fashion, while 'Dreamt of Yes' is drippy hippy in an Ultra Vivid Scene way. Lots of "na na na heys" in 'Talk Radio' and you're at 'Love Song' and 'Now You Love Me'; two songs that wouldn't be out of place quality-wise on their classic
Thirteen Tales From Urban Bohemia
. It's all a little too late to save a pretty patchy album though, and it says something that the best track features the likes of Mark Knoffler (I kid you not) and Heartbreaker Mike Campbell (who appear on 'Love Song').The truly awful stuff on
Earth to the Dandy Warhols
makes it impossible to like as an album, but it's still a step up from last attempt
Odditorium or Warlords of Mars
and there are some sure signs that their music, if not Courtney Taylor-Taylor's lyrics, could still be revived.
55%
The Dandy Warhols on MySpace