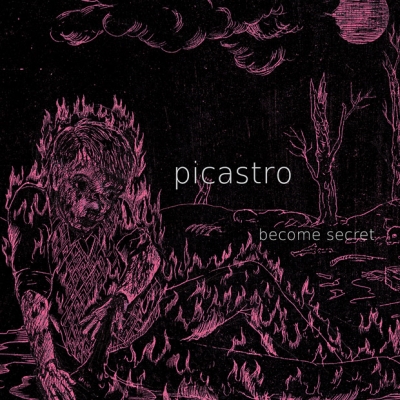 Cormac McCarthy has a lot to answer for. Since
The Road
made it to the big screen almost everything seems to have taken on an apocalyptic feel. It'd be easy to blame the economic crisis and various disasters, but it is so much easier to find someone to blame, so step forward Mr McCarthy and look at what you've done.As it turns out Mr McCarthy should be taking a bow, after all it's not necessarily a bad thing for music to explore the darker side of life, and with
Become Secret
,
Picastro
are most certainly dealing with sounds that evoke a haunting presence.
The Road
was apparently an inspiration for much of
Become Secret
(so McCarthy is directly responsible here) and its influence is clear from the opening notes of 'Twilight Parting' to the closing bars of 'The Stiff'. If Nick Cave and Warren Ellis hadn't been on hand to provide the soundtrack for the movie, then
Picastro
would surely have done a wonderful job.
Become Secret
is a deeply unsettling album that draws on European folk, Post Rock, and vampiric Chamber music. To say that it tip-toes in the dark waves of the avant garde would be a fair assessment.These sparse songs predominantly feature cello and piano played sparingly leaving plenty of room for your mind to fill in the gaps. The downbeat nature of what unfolds is likely to inspire the darkest recesses of your mind to come galloping to the fore.Simplicity, repetition and natural reverb all have a part to play in ensuring that Become Secret is one of the creepiest sounding records you'll hear this year.The natural piano that introduces 'Twilight Parting' rings out as if it is being played in an abandoned musical hall, when coupled with Liz Hysen's somnambulant vocals, it becomes ridiculously sinister. The piano on the instrumental 'A Dune A Doom' fluctuates between basic staccato patterns and booming bass notes underpinned with a scree of electronic noise. Each and every note is filled with a sense of foreboding.Picastro go onto toy with traditional folk on 'Pig & Sucker' and 'Neva'. The latter begins with a simple acoustic guitar line and Liz Hysen's vocals fill the void with a lament that sounds like Joan Baez singing a last will and testament. Cellos then take over cutting though the song like rusty saws digging into bone, and despite some clever light electronic touches, the song is enveloped in an ominous fug.The most haunting effort here is 'A Neck in the Desert'. Vocals swirl around the speakers like ghosts harmonising the rigours of their purgatory as the strings and piano mourn their passing. An incessant bass note drives the song with some urgency as the strings rise and float away. Against the odds, there's something oddly invigorating about the whole experience.
Become Secret
might well be one of the more dour records ever made, but for all of its haunting qualities, there is something strangely beautiful in the natural sounds of the instruments. The swell of the cello is as comforting as it is threatening, and in Hysen's delicate vocals, there is always something to cling to in spite of the desolate music that her voice inhabits. Picastro have made a record unremittingly bleak, but it is nevertheless a constantly rewarding listen.