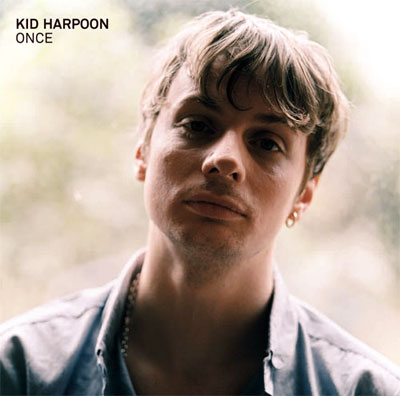 Having followed
Kid Harpoon
's musical offerings since he released his
First EP
back in 2007 I can confidently say his debut album,
Once
is a far cry from his bohemian folk beginnings. With over 200 songs apparently already penned when he made his
Second EP
the young Tom Hull must have had a huge amount of melodies at his disposal when it came to compile this album. And with Trevor Horn at the production wheel the tracks that have made it onto his latest effort are often different to the
Kid Harpoon
we used to know.Album opener 'Stealing Cars' is much more mainstream than previous recordings and just doesn't offer the same depth of quirkiness that I have become accustomed to with Kid Harpoon. However, it is not a total departure as the same flexing guitar rhythms can be heard beneath the soft yet gritty vocals that accompany the beguiling melody. In its nod to a chart-driven industry it loses the pounding impact of previous songs such as 'Riverside.' 'Marianna' is probably the most up beat and although it is not the most complex or clever of tracks, the twang in Hull's lukewarm voice makes it a ridiculously catchy tune. But luckily, even though this more poppy sound threatens to overwhelm the album, Hull's sincerity and lyrical undertones of pretentious idealism can still be found.The guitar-led number 'Colours' sees Hull return to a more sombre tone, as the opening layered humming is rather sinister. Stripped back musically, the half-spoken witty vocal delivery, set against the fluttering strings packs a musical intensity rarely achieved. Album highlights 'Burnt Down House' and 'Flowers By the Shore' see a perfectly balanced combination of Hull's new Californian sound, with its upbeat piano keys and his swaggering macabre heart broken pessimism as he venomously spits "But be ware I'm coming out to find you/ I'm coming out to take you home/I'm packing Shotguns and Rifles/ I left my flowers by the shore."And whilst
Once
has lost some of the snarling beauty and frenzied energy of previous releases I think that if you take the time to really listen to this album, and perhaps forget single 'Stealing Cars' then certain tracks really reveal their beauty and honest intensity and you realise that they are just as complex and powerful as you would expect.
Kid Harpoon on MySpace