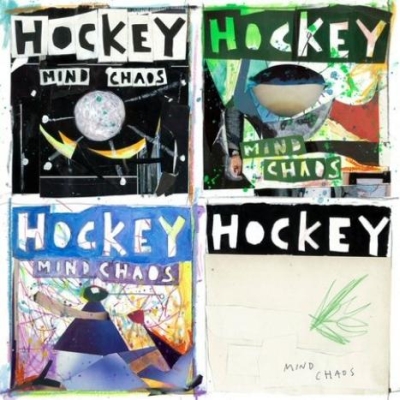 Joe Lean and the Jing Jang Jong, The Twang and Wolfmother are just three bands that have enjoyed 'buzz band' status in recent years. Was that status deserved? Clearly not, as everyone eventually woke up to the fact that they were actually not very good at all. One of this year's buzz bands,
Hockey
, will be hoping they do a little better than that crop. Having played on the last series of the always brilliant 'Later...with Jools Holland' TV show back in the Spring, they have been riding on the crest of a wave lately and are releasing
Mind Chaos
off the back of several festival appearances.The album starts off in positive fashion in the form of 'Too Fake'. The influence of LCD Soundsystem has been banded about regularly when describing
Hockey
's sound and boringly enough, I agree. Singer Benjamin Grubin has some of the same traits of James Murphy in his vocal style and even the band themselves describe their production as 'like a dirty LCD Soundsystem'. It's all present in 'Too Fake', which incidentally is an album highlight. '3am Spanish' isn't quite as successful but a dose of funk borrowed from The Rapture in the chorus keeps the head bopping.Hockey certainly have an ear for a chorus as 'Learn to Lose' and 'Song Away' demonstrate. 'Learn to Lose' is another up-tempo number and sees a passionate Grubin straining slightly as the song wears on and intensifies into a great little foot stomper. Current single 'Song Away' couldn't be catchier if it tried, with the simple 'tomorrow's just a song away' lyric in the chorus sung in a way that brings hope and makes everything a-ok.The quality of these songs doesn't always show its face in the rest of
Mind Chaos
, but then you wouldn't really expect it to on their debut. 'Curse This City' plods along with a funky bass line and goes on different directions but ultimately isn't focused enough, the slow country twang of 'Four Holy Photos' feels totally out of place and merely serves as an excuse to temporarily change tempo and 'Put The Game Down' is far too long at nearly five and a half minutes.If Hockey can build on their strong material and are given time to develop as a band then I'm certain they'll enjoy a successful future, but they're not there yet. The buzz around them is justified though and Joe Lean will once again be left thinking of what might have been...
Hockey on Myspace