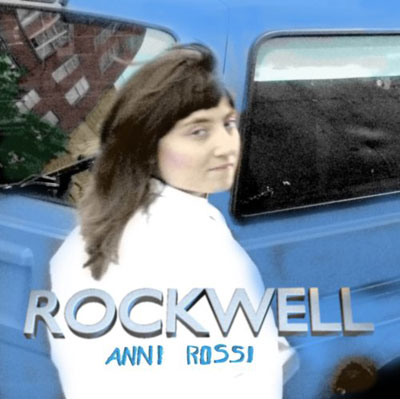 The sheer volume of "kooky" female solo artists being served up for the indie listener has been well reported, you don't need to hear those names again.
Anni Rossi
is signed to 4AD however which would appear to give hope that she may have more to offer than most of her contemporaries. Last year's
Afton EP
seemed to hint that this was the case; six tracks of viola-led acoustic folk-pop featuring some seriously off-kilter melodies and some wonderfully individual vocal fluctuations.The first impression upon listening to Rockwell is that the vocal idiosyncrasies which dominated earlier songs have been somewhat toned down, whether this was a conscious decision from Rossi or instruction from record company types is impossible to say. The effect of this levelling out of the such surprising vocal swoops and lurches wouldn't be so noticeable were it not for the fact that all but one of the tracks from last year's EP have been re-recorded for this debut long player. This of course will not matter to those coming to
Rockwell
without hearing
Afton
and the fact that she still believes in these songs would suggest Rossi is not aiming for an entirely a new sound and the opening line of 'Machine'; "maybe we will starve and die, away from here", confirms that there should be little danger of making exceptions for the Radio 1 A-list just yet.'Ecology' has been slowed down, synthed up and stripped of woodwind but still remains a charmingly skewed pop song as Rossi sings of "pretty bears who've lost their cheque books" without ever sounding like she's trying to be quirky. Meanwhile 'West Coast' doesn't receive such a drastic overhaul, Rossi's viola coming to the fore here and on the instrumental outro to 'Venice''Glaciers' makes explicit themes of a oneness with nature and ecological preservation that are bubbling away under the albums' surface, which culminate in penultimate track 'Wheelpusher'; an outstanding tale of "Bee-keepers in the Himalayas" which sits atop some dazzling pizzicato.With ten tracks weighing in at just 26 minutes, Rockwell is a short but sweet listen but with half the tracks already available (albeit in different versions) fans may not feel this is outstanding value for money although newcomers will find much to enjoy. The most exciting moments are still those when Rossi's voice slips into an area where it isn't expected and giving a wonderful sense of freedom and it is these slightly discordant moments set her apart from her more cutesy peers.And although some of the sense of mischief that pervaded her earlier recordings has evaporated the uniqueness of
Anni Rossi
's voice may have tired the ears over time and all in Rockwell is a charming, satisfying record and one which exposes a talent that at last may be worthy of "new Regina" tags that have been thrown around in the past couple of years.
79%
Anni Rossi Myspace