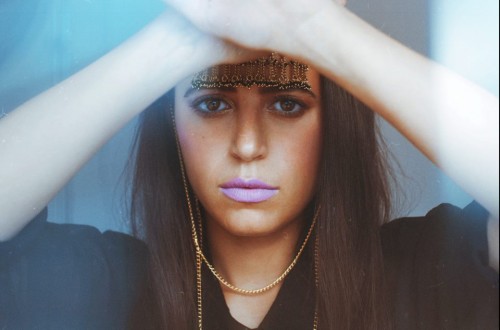 Can you give me an example of a song of yours which is about a specific event?
'The Blow' is about a specific event – about falling in love with somebody who was about to go to war. It was me anticipating what that would be like and about living in uncertain times – that moment where you get to an age where everything becomes a little more serious. Love becomes more serious and death become more serious and you are much more aware of everything. You get more fearful. You kind of have to start to let go of the idea of being a child. 'The Blow' is about all of that.
Talking of childhood, did you always want a career in music?
I've wanted to be a musician from as far back as I can remember. I always used to say to my mum ' I want to be a singer when I'm older' and she would just say 'you are a singer'. That was my mantra. If I just kept going with that mantra I would be a singer, as that's what I do.
The YADi 'vibe' is very eclectic – how long did it take you to home in on how wanted your music to sound?
Well, I'm still morphing and it has been a slow and steady thing. At college and university I was in indie bands because those were the kind of guys I met. There would be a guitarist, a synth player, a drummer and a bassist and we'd put everything together and it came out as it came out. It was soulful indie pop. Since then I have refined that and it was one of the reasons I decided to do a solo project, as I had a bit more of an idea of what I wanted to do and the influences I had never really drawn on. I wanted to make music that would reflect me as a person. I want to make music you can dance to and not just shuffle around to. I've developed a little bit more of an urban edge to the music. I love to dance and you will see that at my live shows.
I'm fascinated by your use of rhythms, which, to my untrained ear, have a very African feel to them. I assume this is very deliberate on your part?
Yes, I wanted tribal drums and 'Guillotine' was the first song I wrote where I really knew what I wanted to do. I wanted to write a chant and not try and write a pop song. I wanted it to sound like a call-to-arms with militaristic drums. Recently, I've started exploring African beats a little more with songs like 'Unbreakable'. I collaborated with a great African artist called Baaba Maal, who is from Senegal – and originally Malian – and that was an amazing experience as I had grown up listening to his music.
You've worked with a number of collaborators, but I believe teaming up with Grace drummer] Chris Hutchings was a pivotal moment for you.
That was a massive turning point. Chris is an incredible drummer. I love drums but cannot play them. I would thrash out a beat to him and then he would play it incredibly amazingly. That set the tone for 'Guillotine' and 'Gold'. It was just him and I in a room with a load of drums, samples and percussion so we could get that shuffly feel. He allowed me to go in the direction I wanted to.
How about your other collaborations? Who were the people who had the biggest impact on you as an artist?
The collaborations have all been very carefully selected – I've only worked with people I really love. Some worked out, others we only had a day together. I worked with Ariel Rechtshaid and it was really great, we wrote 'The Blow' together. I then went to LA and worked with him – there are a couple of songs on my album that we did together. He understood where I was coming from musically and wasn't trying to change it. We clicked. Joe Goddard did a remix and I'm a huge fan of Hot Chip, so I was really pleased with that.
Finally, your video for 'The Blow' was shot in Casablanca. How did your music go down in Morocco?
I was going over there to get back in touch with my North African roots and all they wanted to know about was Western music like Azealia Banks and A$AP Rocky. It was a really nice exchange of cultures and the people I met were really awesome in the video – we just hung out like we were old friends. They had lots of stories to tell. My grandparents actually met in Casablanca, which is one of the reasons I shot the video there. They used to gallivant around on motorbikes, courting each other.
The single 'Creatures' will be self-released on 29 July.