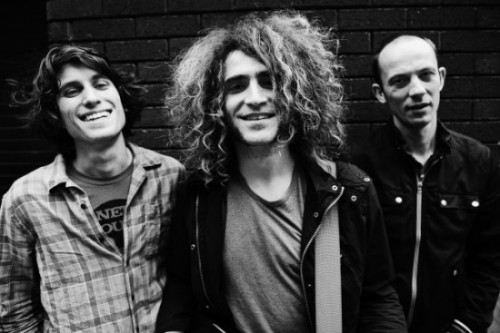 You run a small label as a band as well, Moi J'Connais Records, which specialises in obscure vinyl reissues. Is that something you've always wanted to do?
Yes! We run this label called Moi J'Connais ("Me, I know"). And we work hard on the quality of our products (the booklet, the images, the text, etc.). We don't print high numbers. It is really a labour of love! Our tastes are really open and wide. Our next release will be a jazzy-exotica-poetry gem! We are very proud of Moi J'Connais Records… check it out!
Honest Jon's was definitely an influence: the shop and the label. Their fantastic compilations London Is The Place For Me blew our minds. This series is such a great way to clash the cultures and to shed daylight on some lost gems! We were honoured that they accepted to distribute our label Moi J'Connais in the UK. In the US, Mississippi Records are also doing an excellent job at re-issuing old stuff on vinyl, and they are our US distributor.
We also decided to release Bye Bye Bayou, Mama Rosin's next album, on Moi J'Connais… that's exciting news for us!
Can you recommend us an authentic, forgotten gem, on Moi J'Connais?
The first compilation that we did with 7″ called Hypnotic Cajun and Obscure Zydeco. The album title says it all. A good opportunity to show Cajun/Zydeco music is a blast!! We had 3 reprints.
The cover art for your second album was a red chili on a white background, a la Warhol's banana, and the Velvet Underground have obviously influenced your sound as well as your artwork. Who else has had an impact on your approach to making music?
OK, I hate that question!
Jonathan Richman for his way of remaining child-like when he plays, Dr. John for his first four records… and his new one for sure! And we could say The Kinks and The Troggs for the 60s sound, Gun Club and The Cramps, a lot of jazz, some cool swingers like Jimmy Smith or Grant Green… and many others! Let's talk about this around a drink next time we are in London!
Are there any rare, peel-off stickered editions of Brule Lentement we should look out for?
Ahahahaha… What can we put underneath? Chili powder? A banana? Have you got an idea? It doesn't exist yet… but it is a project! Tell us if you have an idea!
You tour all over Europe, which must involve a lot of hours on the road. Whose music collection takes precedence in the tour bus when you're travelling together?
We are a democratic band and the three of us can play our tunes… except Xavier!
You played NxNE as part of your Canadian tour in June. How did that go?
Canada was great! After the UK, Canada are the best audiences to play to! They totally get our music… like the British! We have met cool guys from local bands in Toronto, too!! We recently toured China… what an experience… the Chinese crowd is unbelievable!
And you're on the bill for WOMAD in July.
We play SummerTyne Americana festival, WOMAD festival and Bestival this summer, and are back in October for a few dates across the UK to support the release of the new album, including a headlining show at the Jazz Café in London on 12 October.
How do UK crowds compare with audiences on the continent?
The UK audience is the best in the world, they enjoy festivals despite the rain, they support independent music, and everybody knows 'Teenage Kicks'… it means a lot! At one of the festivals last year, we played with The Undertones and from children to grandmas, we could see everyone singing along on 'Teenage Kicks'!
The musical culture in the UK is impressive, radio DJs play good music, and people are genuinely interested in music. I remember a man who told us he had seen The Clash at their very beginning and he said, "when they brought reggae into their music everybody was laughing… until they become famous! And you are doing the same with Cajun music!" You won't hear comments like this in Europe, and certainly not in Switzerland!
Finally – tell us about the Mama Rosin farm…
This farm is 250 years old. In the countryside of Geneva, where nobody comes in winter! There is a big garden – a messy garden – where we shoot most of our videos, like 'Le Pistolet'. We also have vegetables and fruits which we use to make our own sauces, and alcohol, which we sell on tour alongside our CDs! Our green salads are delicious in the summertime. We love cooking! It is a communal kinda farm, we all live together in this big old farm! And it is next to this Swiss bayou, where we fish! True!
Bye Bye Bayou will be released on 8 October through Moi J'Connais Records/Proper Distribution, and the band can be caught at the following UK dates.
24/07 LONDON House of Switzerland
25/07 CROPREADY Brasenose Arms
26/07 WORTH MATRAVERS Square & Compass
27/07 MALMESBURY Womad
28/07 WIVENHOE The Station
09/09 ISLE OF WIGHT Bestival