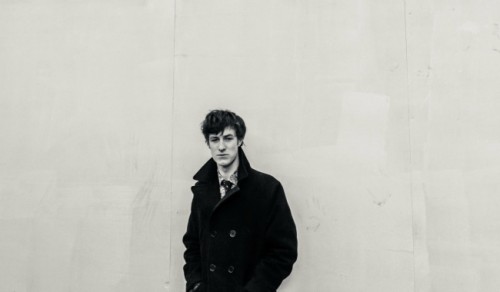 What can you tell us about the your record, Total Strife Forever?
I've been recording this album over the past two years, always on the sly, it was never my main focus while I was in the band. But it was nice to be working on other stuff. So it got to May, and I pulled all of these recordings together into one folder and thought 'wow… I've got a record here actually', the sequence works, and I instantly felt like this was much more what I wanted to be doing. I felt more liberated, more creative, it was a more enjoyable creative process, and I found that I really liked working by myself. When I start something, I always have a really clear idea of where it should go and if you have that much conviction in your ideas, then you should be allowed to follow them. If you feel like you've got that glass ceiling, then go for it.
It's not really an instrumental album, it's not really a pop or a vocal album – it's a mixture of the two. There's a lot of different things going on in there, and there are a lot of different directions.
What do your old bandmates make of it?
After the dust had settled from me breaking up the band, they were really supportive. It was really nice. We went through a month of not talking after the band broke up, which is to be expected I suppose, and I was the one instigating it, and I felt like I was dropping them in it a bit. But you get to a point where you just have to do something for yourself. So I got to this position where I'd finished the album and I said 'I've made this record, and I don't want to be in the band anymore' – so it was a lot of information for them to take in. But we're good friends and they're really supportive of what I'm doing.
The initial reaction to Total Strife Forever was really strong – The Quietus have been big supporters of yours right from the start…
Yeah, it started when The Quietus released their alternative Mercury award, the Jovian Bow Shock Award and I was amazed that my album would even be considered in a list of what they thought were the best albums of the last few months. So they posted the stream of the whole album, and since then it's been incredible. It almost a bit annoying, as I've kind of gone further with this than I did with the other band just in the past few months. Which is nice, but it's also putting the pressure on a bit too – in a good way, as I needed something to force me into a position where I needed to be a bit more proactive with it. So it's been really nice, really encouraging.
Have you found that your audience is very different nowadays?
Yes, definitely, I find dance music and electronic music culture is much better – the people are nice! Guitar music can be full of really nasty people sometimes – some great as well – but I haven't found anyone I haven't liked yet, so it's made a big difference of my impression of it.
You've started playing the album live now, so how did you go about preparing for that? What did the process of readying the material for a live setting entail? And how has it gone down so far?
It was a long, drawn out process of going back to the original recording files and gleaning loops, samples and sounds from them. From there I basically reconstructed everything from the top. It took about 3 months in total but eventually I ended up with a pretty good set complete with segues and all. I tried to think how my performance would retain a sense of physicality and prevent it from being just about a person on a stage pressing buttons and nodding. When I picked up the bass guitar to recreate some of the sounds on the record, I realised what a powerful image holding a guitar was and how in doing so it would affect the audience's perception and reaction of what I was performing, even if its role wasn't central to the sound at any particular time. So that really tied everything together. I'm still getting used to it, but every show is an improvement on the last, which is what you hope for.
What are the plans for the record in the coming year?
After the EP is released, I'm open to anything. I still have a whole album sitting here. I'm actually remixing it in places at the moment in hopes that someone will want to put it out in 2013. Otherwise, I'm already half finished with another album and I have a lot of separate tracks that would be suitable for one off 12″s etc. There's a lot of material, so let's see what happens…
What would you say is your ultimate ambition?
I'll answer in two ways – one's a realistic answer where I'm really unambitious – as long as I'm busy all the time doing creative things, and I'm able to release my records, pretty much do as I like and pay my way, that's all that matters to me really. My real ambitions are very realistic, I think. But on the other hand, I'd like to write an opera, choose a totally different strand or work with Brian Eno, or someone like that! It's really hard because you don't ever know where you're going to end up. So as long as I'm happy doing what I'm doing, and I'm not homeless or ridiculously poor…!
What's been the biggest lesson that you've learnt on this solo journey so far, and what's the best advice you've received?
The biggest lesson I've learnt is to not compromise. It can be difficult getting some people to understand what you're trying to do with this type of music, especially in relation to the music I was making in my previous band. But if people can get a sense of the conviction you have behind something, they are generally more inclined to look and listen with that in mind. The response I've received so far is overwhelming, so I think that approach has worked. As for advice, John Doran told me not to take loads of drugs when I become famous. I have a feeling he says that with some authority.
East India Youth will release Hostel EP through the recently founded Quietus Phonographic Corporation on 22 March. Catch him live throughout March:
March
06 – Shacklewell Arms, London
12 – Kraak, Manchester (tickets here
16 – Birthdays, Dalston w/ Molly Nilsson (more details here)
22 – Roundhouse, London (more details here)
31 – Abattoir at White Rabbit, London