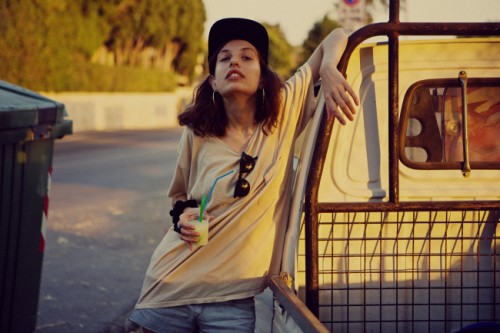 What's been the most memorable show so far?
Personally, for me, a super highlight was when we opened up for a band from New York, Das Racist in Berlin. I was so happy to do that. But unfortunately they've broken up now. Playing in Italy was crazy for sure, Paris was pretty cool and SXSW. But in terms of a line up and a feeling, it was that show.
As well as Das Racist, what other music do you like to listen to?
On the train ride from London to here, I was listening to Katy B – vibing on the UK thing! I love her so much, she's like, my favourite singer. I love a lot of female vocal music, from Destiny's Child to Marina & the Diamonds. I really love the strangeness factor that she gives off. But of course as well as that, beats and hip hop.
How much of a culture shock was it to relocate from Bulgaria to Berlin?
In many ways, a total shock. 'Germany, what is this?!' But the good thing, especially about Berlin is that there;s a huge Turkish community, and where i'm from is very close to the border with Turkey. So I grew up in a very similar situation, everyone was Bulgarian/Turkish around me – then I lived in Istanbul for 6 months. So when I came back to Kreuzberg, it was really amazing, it felt so much like home. But besides that, Berlin is like an island of freedom or something, it doesn't really represent the real Germany. But definitely there are many other aspects, like German bureaucracy, it's so different.
And how is it being a musician in Berlin?
It's cool it's great because it's a very affordable place to be. So for a lot of creative people, it's cool that you don't have to work seven jobs and then be creative only in the night, but on the other hand, every second person tells you they're an artist. It's amazing, but sometimes it's too chilled everyone wakes up at like, 12, it's so different to here, for example.
We've heard that your debut album is currently in the process of being made – how is it coming along?
It's being made, there's a lot of new material being finished and being written. We're going to put out the next single 'Thin Rope' on a new label from London called Pop Unlimited, along with a couple of remixes. Then we're playing festivals in Germany, and we're playing Glastonbury too! And we're going to Brazil next week, we're playing in Sao Paolo – that's crazy shit! The ultimate highlight of what's happning right now! It's amazing, because i'm so influenced and inspired by Brazilian crazy beats and vuvuzela sounds and everything, but I thought it'd take a long time before someone from South America called. They have this big festival there with thousands of band, so i'm really looking forward to it. So right now, my thing is London, Brighton, Bulgaria, Brazil – all in a week! So crazy. And still sleeping on friends' couches!
The single 'Thin Rope' will be released via POP unLTD on 07 July, and you can catch her playing at Glastonbury Festival on 30 June.