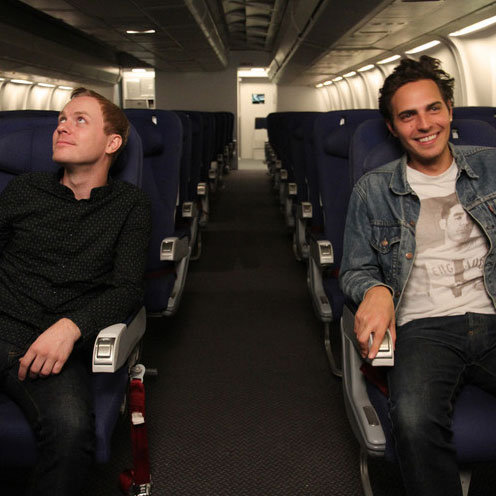 What are the best things about living or growing up in that state?
LA in particular is in close proximity to so many different kinds of environment. Beach, mountains, snow and desert…all within an hour's drive. There's a lot to do in nature because of that. Also, there is something to do every night of the week. There is always good music playing somewhere. Every band you listen to comes through LA to perform. It's also a forward thinking place politically, socially, and artistically. There is so much creativity here. Whether you're talking about fashion, art, music, movies, technology… LA and California in general has always had its finger on the pulse. I personally think it would be hard to find a place that has spawned more innovation.
There's a big interest in EDM in the USA just now, through commercial hits, Skrillex etc etc, but compared to that Classixx seem to have a more authentic dance music sound – not "pure" as such but maybe due to being immersed in the Detroit, Chicago and NYC scenes you do seem to be the antithesis of that EDM scene – was that ever intentional or is it just a case of making the music you love?
Maybe a little of both; the idea is just to make the music we wanna listen to. But we also like to stand apart. It's probably not an accident that our music isn't as maximal as some of the stuff you're talking about. Or maybe it is? To be honest, I don't know. We're not trying to follow any current trends and probably never will. We have a strong desire to make music that won't sound super dated later in our lives. Ideally, we'd like our music to be like a pair of Chuck Taylor Converse or Ray Ban wayfarers.
How did you make the move from remixing to your own music – was it a conscious decision or just the way that Classixx developed?
Well, we've always made our own music. It's what we enjoy most and what we've always preferred. We really just happened to try our hand remixing a few years back because we were making electronic music and doing remixes just seemed like a natural thing to do. Some of the remixes we went on to make were well received and it's been cool. But we want to focus most on making original stuff. That's the priority.
You've worked with Nancy Whang on the record – how did that come about?
Nancy is a friend. We met her through our friends Alex and Nick from Holy Ghost! who are really close with Nancy. We had this beat that we thought she could maybe do something really cool with. She told us she was down but it took a while to make the song because she was super busy with LCD Soundsystem at the time. After that settled down a bit Mike and I just decided we were gonna fly to NYC and convince Nancy to come to Nick's studio in Brooklyn and just record the vocals on the spot. She did just that and killed it.
Can you tell us about other guests on the album?
Yeah, we have Sarah Chernoff from this awesome band Superhumanoids that are on the same label us (Innovative Leisure). She sang 'A Stranger Love'. Jesse Kivel from Kisses co-wrote and sang 'Borderline'. Jeppe does 'I'll Get You' our first single that was released a while back but was reworked for the album. Pat Grossi AKA Active Child blessed the mic and played some harp on 'Long Lost'. Basically, all these guys are just friends of ours who we're fans of and are really talented. We convinced them to lend some of their talent to help us create something special. That's how Hanging Gardens really came about.
Now, what's a "gear-heavy" record? Are you more into analogue equipment than using computer software to create your music?
We use both. We're not purist really but we do love analogue stuff. Some of it sounds really great and it's also just nice to have your hands on something instead of manipulating stuff with your computer mouse. We have a decent collection of gear and guitars and synths. It's mainly just more fun to fuck around with. But, like, for example, if for some reason there was a sound on a soft synth that sounded better than our Moog or Prophet or whatever it's not like we'd not use it.
When you play live is it more of a club night than your conventional rock show setup? Where's your favourite place to play?
Um, it's kind of in between I guess. So far, all the live shows we've played have been with bands on a stage in rock venues. We don't have a lead singer or a drummer so it's different than a rock show in that way. But we are playing very live on our synths and drum machines and Mike on guitar.
Our favourite show we've play so far live was at the Troubadour here in Los Angeles. For us it's such a special venue because we saw most of the shows we went to growing up at that venue. It was amazing to play a sold out show there ourselves – kind of an incredible moment for us.
What's the last record you bought and enjoyed?
I bought Random Access Memories. Amongst our friends there are many different opinions but for me personally, it's a pretty fucking impressive achievement in music.
What does the rest of 2013 hold for Classixx?
Lots of touring! We're going to Europe for the rest of the month. Then we have a few festival plays including FY Fest in LA. Then we go to Australia and then we do a North American tour with Toro Y Moi. We also just shot a video for our song 'All You're Waiting For'. Nancy, who sings the song, is the star of the video. That should be done pretty soon. We're releasing a 12″ of that song with a remix from Switch around the same time.
Hanging Gardens is out now on Innovative Leisure.