- Photo Credit: Sara Amroussi-Gilissen
"That was pretty fun! It's quite different to the small garage in the Surrey suburbs that we rehearsed in last night!" says a jovial Paul Coltofeanu as he exits The Hospital Club's hi-tech studio. Fresh from being filmed with his band Free Swim as part of The Hospital Club Sessions – a series of groundbreaking videos filmed using 360 degree camera angles, allowing the viewer to select the camera and stance from which they wish to view the session – Paul is excited to reveal more about his latest musical endeavour.
The main brain behind the Free Swim operation, Paul Coltofeanu has been making music under various guises for the past few years, and having released a series of EPs as Free Swim, catches up with The Line of Best Fit to reveal more about his latest project, how the sessions came to be and why their bassist is a panda.
Watch Free Swim perform 'The Smell of Pregnancy' as part of The Hospital Club Sessions here.
How did your Hospital Session come about?
Paul: Gill Mills emailed and said 'do you want to do this?' and it looked like a really interesting thing. I didn't really understand it all, because there isn't really anything quite like it out there. I had a rough idea though, it's a lot of cutting edge technology in a nice area of London, and it sounded like a fun day out, so yeah!
Free Swim has been around for a year or so now, so what did you have in mind when you decided to start the project?
Paul: Well, I'd been involved in a few different bands over the years, and I'd learnt a lot from the mistakes we'd made in terms of being a band. But I also wanted a new project where I could have some freedom to make music on my own, purely for enjoyment, a project where I made music in a stream of consciousness style, like Bradford Cox does in Deerhunter. No pre-production, no nothing. So literally, I'd go in and record drums for a day, take them home, chop them up a little bit and then add bass and guitars over the next couple of days, then some keyboards, pianos, then do the vocals at the end. I made the first EP like that.
I went to New York for a month and while I was out there, I thought 'I want to make a new project that's melodic, but a bit more innovative, a bit more interesting'. What I was doing was OK, but it wasn't anything fresh. So after New York, I had a week to record something stream of consciousness style, and that was the first EP. Tom Robinson picked up on that on 6 Music, then I made another a month later over a week, and that was played on Radio One. Then I got invited to make up a band so I got who are close friends from home, and had all been in previous bands before and we started to play some shows in London. That's how it all came together for us.
You say that you've played in various other musical outfits, so what do you feel can you achieve with this project that you perhaps can't with others?
Paul: The honesty, and accepting that we're just middle class guys from Surrey. I can't go out there and claim to be angry at life, and play really angst rock, all I can do is celebrate the imagination, mock the life we lead and celebrate it as well while having fun with music, because that's what it's all about.
Ryan Say : We're all a bit older now, so we're not lost in the 'you've got to be famous, you've got to do this…' and then Paul came to me with the Eps, and it's just fun! It reminds you of when you're learning guitar or drums for the first time when you're 17 and you're in your bedroom, strumming away to Green Day or whatever. You get the four of us in a room together and it's like being 17 again, it's brand new and that's why it's so much fun. No agenda, just have a laugh. Paul doesn't want to take anything seriously… within reason! But nobody goes away from our live shows feeling disappointed.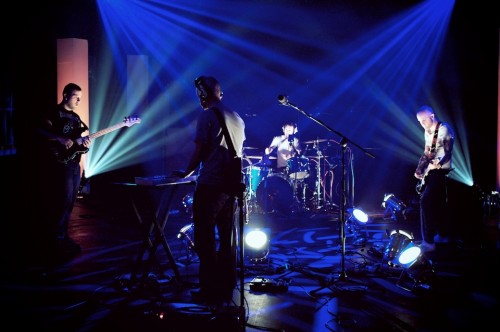 Photo Credit: Sara Amroussi-Gilissen
Your live reputation certainly precedes you, do you change the tracks much for a live setting?
Paul: I make these EPs then send them to the other guys at the end. I'm so lucky because they're all happy to just let me make the EPs, but everyone's free to embellish and explore – the tracks do sound different live, which I'm really pleased about because I didn't know what it'd be like. The EPs are all concept EPs so we try to do one of them all the way through at each gig. Especially the panda one…
I'm glad you've mentioned the panda. Where did the panda thing come from?
Paul: When I was writing the second EP, I just really wanted to write about stuff that I like… and I really like pandas, so I wrote an EP about a panda! I did some research on pandas and learnt a bit about the way the Chinese government loans them out and stuff the wrote a story about how the panda escapes from San Diego zoo and goes to Mission Bay Park and eats a Willet bird, which is a very specific bird from that area of San Diego. Then he meets this guy out at sea, Michael Barrow who's a real guy, the youngest guy ever to circumnavigate the globe. We've been in touch with him trying to get him to come to shoes and introduce us, but his Dad's a bit wary…!
Ryan: Then the next thing we know, we're on eBay getting a panda. And that was it!
You mentioned Bradford Cox's music making methods as an influence before, but what else do you do listen to in order to find inspiration?
Paul: We have a thing called album club, where we sit and listen to albums all the way through. The week before I make an EP, I listen to loads and loads of music to prepare for it. So that's the pre-production I guess, taking in all that stuff. We listened to the top 40 all the way through once, to get into it and that was… crushing. I thought some of the American pop was quite interesting, but the English stuff was just so sterile, it was just like air. Pixie Lott especially, I was just thinking 'there is nothing to this!'. I love all the ATP stuff too, Caribou, Holy Fuck! so that definitely influences me a lot.
Ryan: It's interesting how music's changed from when we were younger, it's just become so diluted with X Factor and stuff, and it's taken away a lot of the soul and a lot of the reason why they do it. They do it to be famous and be on TV, whereas we think no – it's about being with your mates, having a few beers and dressing up in a panda suit!
Paul: I'm all for music that's got a social commentary, but like I said, I can't stand there and say 'life is shit for me'. I can't do that, so I take it from the other side and enjoy and celebrate music because I have the same right as anyone else has to do that, so I get out there and play it and that's it, really!
What's in store for Free Swim following the Hospital Club Session?
Paul: I've got a new EP ready called She Dreams In Lights that I'd love to put out on a small indie, but otherwise I'll self release. And we'd really like to go on tour. We'll just keep making EPs, playing shows and hopefully, at some point, all this hard work we put in will mean that we can go and play our music around England and Europe and the States'd be amazing, but one step at a time.
The Hospital Club Sessions are created in partnership with Amazing Radio, the Guardian and The Line of Best Fit. Find out more about the sessions here.