Bristol's perhaps most understated gem of eccentricity Minotaur Shock returns from a four-year break with perhaps his most diverse and assorted record to date. Orchard bears the marks of influence from the likes of Gorky's Zygotic Mynci and shares the same sonic experimentation, warping and shape-shifting throughout its nine-track entirety.
The album drops next Monday (20th August) on Manchester's Melodic Records, the label where it all began for the musician. But before then, you can get stuck in to a rather comprehensive track-by-track rundown of the release in question below:
'Janet'
This is named after a boat I stayed on with some dear friends. We hung out in Norfolk, recording sounds, drinking and watching Steel Dawn. Steel Dawn is the best Swayze film – it's the one where he looks like MGMT on the cover. Check it out if you get a chance. It's a bit like Mad Max, but better. Released in the same year as Dirty Dancing but it's like a totally different Swayze.
'Janet' was meant to be an aural representation of the journey to the boat – I had this grandiose plan to make an album that consisted of just two long tracks. I guess I was listening to a lot of Mike Oldfield and decided that people didn't make those kinds of records anymore. This was back before his performance at the Boyle thing made him a hit with the kids again. I didn't get further than this track in terms of making a concept album. The first section of the track focuses on the first part of the journey (my house>M4>London), then the second section (3.40) was the bit from London>A11, and there was a long bit where we were stuck on the A11, behind a camper van that had loads of amazing stickers on the back. The mallet instruments in the tune are the soundtrack to all of these stickers. The final section was when we actually went out on the boat.
In terms of instruments and stuff, the track was written at home on my laptop. I usually use fake instruments when I'm writing and then work out how to play them afterwards, so I think I used drum samples originally. All of the acoustic guitars were lazily recorded in my bedroom, because I wanted to get a lot of air in there. You can hear me breathing all over the guitar tracks at the end, but that's totally intentional. In fact, everything that you hear that sounds a bit wrong is intentional.
I was fascinated by Oval's Oh while I was writing this album; I loved the strange fake/real string instruments he was using. So there are quite a lot of string-modelled synthesizer tracks on Orchard. I liked the idea of mixing these with real ones. I had this 10-string cuatro in the loft so I got that down too.
Once I had created the track with fake drums, violin, piano and xylophone, I went into a studio (Toybox, in Bristol) and played the fake bits on real instruments. My friend James from the excellent Iskra String Quartet played the violin. He then emailed it back to me, which is one of the wonders of the modern age.
There are nods to Arvo Pärt, Tortoise and Virginia Astley in here. I think this is my favourite track on the album.
'Ocean Swell'
When I 'practice' the drums, which is rare, because I do it in my garage and I am over-sensitive about annoying my neighbours, I usually either drum along to tracks on my headphones or just try and imagine I'm playing in other bands. I never really learnt how to drum properly, so technically I'm awful and my wrists hurt. Ocean Swell came out of me trying to play Photek's Hidden Camera. My pal Dom was round so we set up a microphone in the garage and just recorded the drums without really thinking about it.
I found the raw drum track on my hard drive a few weeks later, and after a bit of EQing, the actual sound was pretty good. I don't really understand how things like that work, but the way the cymbals get squashed when they are squeezing into the mic along with the kick does it for me. So I built the rest of the track around it.
I wanted to keep the boat theme going; this one was about the motion of a boat and seasickness. The main melody is a prepared piano, and there are quite a few atonal clonks in there. There is a one-take, one-finger synth bassline towards the end that is not something I'd normally do – I'm crap at basslines and always feel like a charlatan. A bass faker. So keep an ear out for that one. And the choral vowel sounds. My favourite track, this.
'Through the Pupils of Goats'
I'm still not sure what I think about goats. They are amusing, don't get me wrong, but they are so sinister and they eat anything. I don't really trust anything or anyone that consumes with no discernment. So this one was me imagining what went on in a goat's head. I decided that although they look like they're a bit manic, they are actually really calm and know what they're doing. There are two levels to a goat's psyche, and I attempted to capture both in this track. The initial layer is the act they act; quite dense and semi-psychedelic; a bit scatty and confusing. The second part of the track is the soundtrack to what a goat really thinks. Please understand that this is my interpretation – it is not grounded in any medical or vetinary research. I would love to hear other musician's ideas about what a goat thinks.
Again, everything was recorded at home except the drums. Oh, and the bass guitar. I remember recording the drums to the first section in front of a massive plate reverb, and they sounded amazing. Really powerful. Unfortunately I couldn't get them to sound like that in the mix; it's totally different when you feel the vibrations in your body – both in your ears and through your arms and legs as you whack them.
Another thing, a few weeks ago the album appeared on the internet on some file sharing/torrent site (which is, of course, flattering). The problem was, they'd listed it under 'Trip Hop' as the genre. I was outraged and drafted a letter to my local MP. It was then that I heard this track, and realised that the opening section was pretty much actually trip hop. I can only apologise for this; it was unintentional. Well, admittedly I did want to find a synth that sounded like Air for the end section, but those first Air EPs totally stand up. They're not trip hop.
This is the first track on the album that uses an acoustic steel or nylon guitar as the main melodic instrument. I did this because you don't hear it much nowadays. I treated the acoustic guitar like a synth preset; instead of spending ages programming a synth sound, I'd just reach for the guitar, knowing full well the baggage that comes with it and the limitations of the sound. I'm not the most gifted of guitarists, so there's nothing complicated there, just a straight up simple melody played on a straight up simple instrument without much processing. Why not, huh?
The bass was recorded in Toybox; the wonderful engineer Ali was able to get the Serge-ness of the bass sound just right. I played some and he played some and it was all great. Until he told me that it wasn't a million miles away from Girls And Boys by Blur, which soured things somewhat. The drums at the end are just hat, snare and kick, set up in a live room. Something so aesthetically pleasing about that. I think that's why it's my favourite track on Orchard.
'Too Big To Quit'
My favourite track on the album, this was written and recorded in about 25 mins, just after I'd finished another track and was about to go and put the kettle on and have a celebratory cup of tea. I started playing over this loop that was on my computer, and then just hit record and played the melody a couple of times on various guitars (and the cuatro). I left all the takes in there, added some fake flute and some electronic drum things, and didn't do anything else with it. I actually thought it was ridiculous and had no intention of putting it on the album. But someone said they liked it and I am very easily led so I asked another lovely pal (Emily) to re-play the flute and stuck it on the album.
From experience, I knew that whatever I did on this album, reviewers would mention folktronica. So I thought, sod it, I'm going to do something really folky; maybe that's what the world needs right now. Maybe it is, I don't know. But it's only 2 mins long, right?
'Westonbirt'
This tune is probably the oldest on the record, but it's still my favourite – it has been knocking about in various incarnations for a while. I could never get the drums right – I've tried live drums, crazy breaks, no drums etc. But one day I was listening to some Todd Edwards and I wondered what it would sound like with that kind of 2-step beat. So I tried it out and the rest is 'history'.
I thought that this was the most electronic track on the album, but there are a lot more live instruments in there than I remembered. I borrowed a slide guitar (well, it was basically a plank with strings and a pickup), so that's on here, and I used the Tiersen piano (not sure what they're really called, but you know what I mean).
Westonbirt arboretum is a lovely place, and recommended if you like trees. I think my friends had all gone to see Erasure at the arboretum the night I mixed this track.
'Lending Library'
This track is ridiculously complicated (for me). I have no idea what I was doing. Everything was recorded at home, but the drums are live. They were recorded with those massive rods instead of sticks, for all you drumstick gossip fans.
I spent hours chopping up samples for this, and the whole thing got a bit dense, so I wanted some sort of simple hook for the first section – hence the 3-notes-up, 3-notes-down melody. The second section came out of me trying to perform this track live once; I never really knew what to do for the second half, but I was playing it in a pub somewhere and the end bit just kind of looped – I started playing that rhythm on the drums and wanted to keep it going as long as possible. So I just looped it for ages. When I got home I started building up the marimbas etc and trying different samples and chimes out.
I was a bit worried that the kind of power chord bits make the whole thing a bit silly, but now I'm ok with that. If I had the balls I would have made the end bit go on twice as long, maybe I'll just do that live. My wrists would hurt though, so maybe not. Hmm. Ah well, this track is definitely my favourite on the record.
The title refers to the library service; around the time it was written, there was a lot in the press about library closures. I spent a lot of time in libraries in when I was younger, and learned so much about different types of music by simply borrowing any CDs that I liked the look of. We didn't really have much of an internet back then, and I guess youngsters now have many more opportunities to discover stuff than I did, but the very idea of libraries being extinct fills me with dread.
'Quint'
Named after Robert Shaw's character in Jaws, I wanted to do two things with this track. Firstly, I wanted it to sound like it could almost be a band playing it, and secondly I wanted to base the whole thing on using just 2 notes.
The drums were recorded in my garage with Dom's help again. I loved this little rhythm loop – there's something slightly wonky about it, but I can't quite work out what it is, and I loved the groove of it. Again, we've got a nylon string guitar as the main melody. Think I was trying to get a bit Morricone there.
Emily played the clarinet on this one, and James did the violin. I added the piano and ride cymbal in the studio – I wanted that to be a bit like Michael Nyman, but just really brief. I like this track; it just does what it does with no messing about. It's my favourite.
'Saundersfoot'
Another track that was written before the majority of the others. This one is very apt for this year, featuring various sports sounds as percussion. Squint your ears and you'll hear the unmistakeable sounds of Wimbledon, snooker balls and other sporty delights.
Saundersfoot is a little place near Tenby in Pembrokeshire, and I used to go on holiday there when I was little. I visited recently and remembered just how nice it was round there.
There are no live instruments on this track; I think it's the only track on the album that is all 'in the box'. Oh hang on; I'm forgetting the main melody, that's done on some chime bars that I recorded at home, so forget that bit.
The chord change at 4mins really bothers me in this track – does it sound out of tune to you? Probably wouldn't have noticed it if I hadn't mentioned it right? Never mind, too late to do anything about it now, it's still my favourite track.
'Adventure Orchard'
Ah, the final track. Definitely my favourite on the album. Another one where I knew exactly what I wanted it to sound like before I recorded it (the other ones I just make up as I go along).
I'm pretty interested in the idea of nostalgia in music, and what makes electronic music 'warm'. It's usually when it refers back to other stuff right? I guess that's the same with most pop music. I get mildly annoyed with people who slag off modern pop music but are happy to rave about something made in 2012 using old analogue synths designed to sound like it was recorded by Conny Plank in 72. Doesn't make much sense to me. But equally I'm quite happy to push some of those nostalgia buttons if I feel that it gives the track the right kind of warmth.
Which is why this track opens with the kind of synth that you'd hear in 70s TV science documentaries, and has a Detroit bassline, but the drums and percussion are made entirely out of unintended digital glitch with a bit of reverb on. And there are balls-out acoustic guitars all over it. It was really hard not to just stick a TR-505 in this track and make the drums a bit more meaty, but I'm really glad I didn't. I like they way it never kicks in.
I was originally going to call the album Adventure Orchard, but that's just ridiculously cheesy. It's ok for one track though.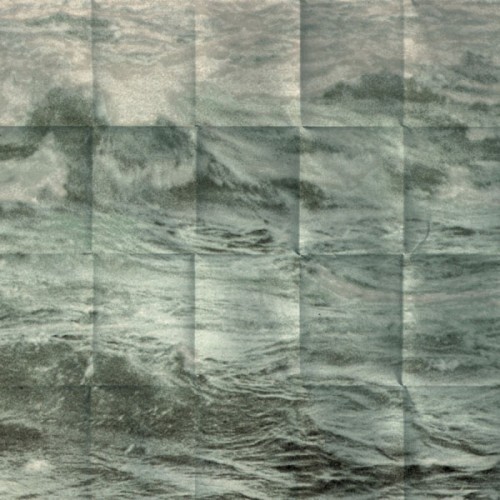 Pre-order the album here.