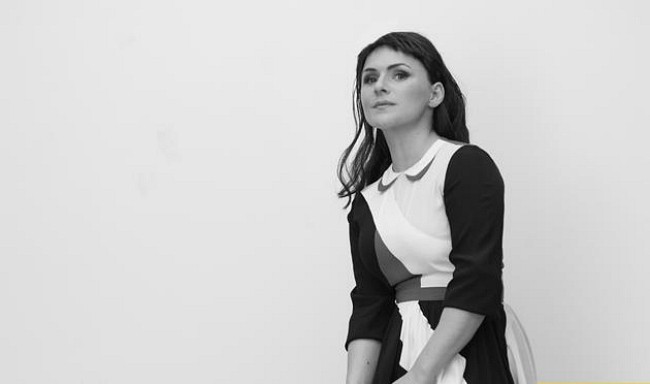 'Animal Games'

Best Fit: If I understand this one correctly, you're talking to a lover who blows hot and cold instead of deciding whether or not he wants to be in the relationship…
Torrini: I liked the concept of it because I've seen it often with friends who go out with people who thrive off drama and jealousies and I just wanted to make a funny little song about it. I liked how the could be told with all the animals, you know? We struggled a lot with that song because it was very folky and I didn't really want to go there again. This song was written when I was in labour with my son. I was singing it in my head and I really, really liked it. It's one of those songs where no one else is really interested but you have to kind of fight for it to be born, you know? I really believed in it. I had to make it happen.
'Speed of Dark'

Best Fit: Definitely one of the poppiest things you've done, to date. Do you agree?
Torrini: I guess so. Lyrically, I enjoyed making it because it's the kind of song where you're singing to a brush in the mirror. Lyrically going all the way, no matter what. And I really enjoyed writing it! Sometimes you go through sleepless nights and things are overwhelming… like being a new mum. It's amazing but it can make you feel a little trapped. You know, it's all so new and then you get over it and move on and you're just learning new things. And this was kind of one of those songs where you're getting out of feeling trapped.
Best Fit: And where did the title come from?
Torrini: It was just a stupid name that we chose. We started calling it that because… things can start going bad really quickly in relationships if you don't live it in the light. The not-so-fun parts can come quite fast. But it was never meant to be called that. It was something we called it to recognise it by but we kept referring to it by that name until it was like 'hey – if you want to change the name, this is your last chance' because they were printing it and, of course, none of us contacted them to change it . So it just stayed that way like some really cheesy rave tune . Maybe the song just really wanted to be called that.
Best Fit: Did you know you wanted it to be the first taster from the album as soon as you finished it?
Torrini: No, it was more part of… me and Dan were kind of making a side-project and and it was a massive relief not to be working on a record. There had just been too much thought put into it, it was exhausting me, I was being way too hard on myself and that song and 'Tookah' were born when we were taking that break from making the record. We were just having fun. Doing songs that were just going to let us dance and let us have a party, you know? But then when we had written them, we started thinking about putting them out as a white-label thing and then one day I just called Dan and I said: "what is this nonsense?! This could be the birth of the sound of the record!" I really wanted to go with this and try to mix it all together. And then we re-produced them a lot and had a lot of the dance element taken out. So, yeah, it was just very exciting. You know, when you don't need to do the record, you're still somehow doing it.
'Blood Red'
Best Fit: 'Blood Red' is one of the longer tracks on the record. What do you remember about the mood and the feel you wanted to instill when you first wrote it?
Torrini: It was Simon – my keyboard player – and I, we'd been in my house for a whole day and I was in a weird mood and before dinner I said, hey, come on let's improvise with something and then we'll see. And we basically did an hour's improvisation of this song which was an hour-long song and it was all really, really good. But then we had to craft it into, what – five minutes or something, which was really annoying because it was really… nice. It took a while. I think, for me, it's such a 'movie' song. When you listen to it you get a strong visual, I think. We worked really hard on it, I think we finished the lyrics the day when Dan said, ok if you don't finish it today, the song is not going to be on the record. It's just one of those lyrics. The middle section was like 'aaaarrrgh' and it was really important that it was right, you know? I never ever put a single sentence in just because it would finish it. I can spend months! If I can't find it, it can be really, really frustrating. But it got there in the end and it's my favourite song.
'When Fever Breaks'
Best Fit: This was the first song you wrote for this album. Why did you decide to place it last?
Torrini: I thought it was a good end to the journey. In the beginning I wanted to start with it. I love this track. I came off a really, really, really, really hard tour and both me and Dan and also everyone else – but especially me – were just going totally nuts. I went to Dan's house because I needed to figure things out and we got into the studio and we made this song and it's never changed. What you hear is exactly what was made. The funny thing about it is that, usually when I'm going a bit loop-di-doo Dan can bring me down to earth and go, hey – come on! But he was also in loop-di-doo land so we were both in this weird place . So we just did this improvisation and we never ever got tired of it in three and a half years. Or, fours years now, actually. We never got tired of it.
Bonus Track: 'Echo Horse / History Of Horses'
Best Fit: The extra track people get if they splash the cash on the special edition of 'Tookah'. What can you tell me about this song?
Torrini: Dan gave me tickets to see 'War Horse' in the West End and it's supposed to be incredible and it was my wish to go and see it but I ended up missing it. I missed the show. So I wrote the song about it instead.
Best Fit: Have you seen it, since?
Torrini: No. No. So I wrote about it – about how I imagined it to be.
Best Fit: And why is it only a bonus track as opposed to an integral part of the album?
Torrini: Well, because it just felt too much like a glitch in the matrix with the run of the album, it disturbed the run, it took it to a place… one song can take the record off kilter and there was a certain journey that I wanted to take with it and this song was too much of a glitch so I took it off. And I've never had b-sides so it was exciting .
Tookah is out on 9 September on Rough Trade