"The responsibility of the songwriter putting history in context," said The Wooden Sky's Gavin Gardener when we recently caught up with him in an interview. And that's just what the Toronto band have achieved on this, their third album, Every Child A Daughter, Every Moon A Sun, as they address the subjects of family life, back yard parties, the drawbacks of touring and full on, righteous love songs. Touching on each element of the band's life and style, The Wooden Sky have created a tender and accomplished chronicle of their life together, combining joy, sadness, longing and moments of pure musical sublimity.
Here, frontman Gavin Gardner takes us on an insightful journey through the stories behind each of the album's tracks, so why not put your feet up, listen to album exclusively ahead of its release on Monday, and really the tales behind the sounds.
Child of the Valley
This song I wrote largely about my mother and her family. Trying to get inside the inner-workings of someone else's family and understand the complexity of those relationships. It was really me trying to work through the idea of forgiveness and how anyone is able to forgive someone else for actions that have life altering consequences.
The recording itself was originally just a studio experiment that Simon and I did in our practice space in about six hours. Then when it came time to record it in the studio we liked the demo so much that we tried to record over the top of it. That was a horrible mistake and one that cost us at least half a day of recording. Finally we scrapped the whole thing and started from scratch. Where we ended up was close to where we started but certainly a more fully realized version.
Angelina
This song I actually wrote on the Ukulele. It was in the middle of a winter tour on the last record and I had flown home from Edmonton to be with my girlfriend as we had 4 or 5 days off. At the time a good friend of hers was very sick and into the last stages of his life. It was around the same time that the earthquakes happened in Haiti and I was looking through photos of the aftermath. I just picked up the Uke and the whole thing just kinda rolled out. It's amazing to me when that happens, there's a connection to something else and you become just a vehicle for it. I remember I quickly recorded it on my phone and was driving to meet a friend and listening to it in the car. Listening back now I still find the lyrics to be really powerful, that sense of relief that only comes from knowing that your struggle is over whatever that might mean.
We recorded two different versions of the song. The electric full band version was one of the first songs we arranged as a group for the new record, it was also one of Howard's favourites from the recording process. I remember being in the studio and really struggling to try and hear how this song was going to live on a record, especially after playing it live so many times. It was a battle with everyone trying to figure out the tones that would best suit the song and work within the framework everyone else was creating. Then suddenly something just clicked and the whole process took off. We came back into the control room to listen and Howard was all smiles. And when we heard the music coming back off the 2″ machine it started to make sense why. I think aside from replacing the vocals there wasn't much that was added in overdubs and for me this song has some of the best guitar and drum sounds on the record. When it came time to do the tracklisting and we were trying to decide which version of the song to put on the record I believe Howard said "if this version isn't on there I will kill you" that made the decision a bit easier.
'The Reprise' version started as an idea that sort of sprouted from the original demo. Often I'll make sketches of where I hope it to end up, and quite often they are quite rough. But there were plenty of times that we had sat around and played the song acoustically with Edwin sitting in on violin and there was just something so beautiful about the sound of that riff with such a sparse violin line. We also had this idea of a man choir as a texture for the record and this seemed like the perfect song for it.
In some ways this was one of the hardest songs to record, it was pieced together when not everyone was there and I think that maybe left some feelings of resentment or maybe it was just due to a lack of communication within the band. Making a record, as I'm sure most anyone will tell you, is difficult and time consuming. You also have to balance ego's while making sure that there are not so many opinions being tossed out that nothing gets done. It's a tricky one to navigate for everyone and I think in the end it all turned out for the best but it was a reminder just how delicate relationships, even within a band comprised of best friends, can be.
Dancing At My Window
This song was another song that I had been working on for months on and off. I find I'm really good at getting started at working on a song and then putting off finishing it until right before we record it. The original riff was written on a Christmas vacation in Costa Rica and I think I drove my family nuts just playing it over and over again trying to figure out where to go next.
The lyrics came to me sort of in a dream state, for years I had been living in apartment above a kids store when a very "hip" clothing store moved in and started using the backyard for parties and events. I woke up in the middle of the night to music shaking the windows and took refuge in the living room with my guitar. I had been playing that riff everywhere I went and that night I just started singing and the words sort of fell out and into place.
The arrangement itself also went through a lot of different variations. The first stages of writing this record were done at a cottage in Dyers Bay and this was one of the first that we worked through. It was a fairly exciting process because we decided to demo everything as we wrote. It kept changing right up until the day we recorded it, in fact this was one of the few songs that we actually went back and mixed twice. The first go at it really seemed to fall flat and was very disappointing. But I think we learned a lot from our mistake and so when the decision was made to take another crack at it there was no wasting time and it was pretty clear what we were going for.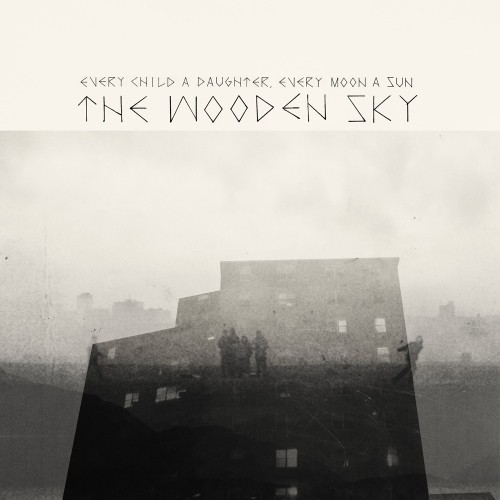 It Gets Old To Be Alone
I actually wrote this song right after we released "If I don't come home…". When that record came out and started getting reviewed and people started to really pick apart the songs and ask me about the lyrics it was quite a shock and I remember really having a hard time talking about it. It also meant for me that I started to become very self-conscious about anything else I was writing. To sort of side step that process I started another band with some friends, we booked a show without having ever practiced and certainly had no songs. I made a plan to write a song before every practice so that we could work through one each time. At the time I think we had about 2 weeks before the show was to happen and this was actually the third song I wrote. It was a really healthy exercise for me as it got me to remember that to really be an effective songwriter you have to be able to turn all that stuff off and really trust yourself. Eventually that group recorded all the songs we had written together… still haven't managed to finish them yet!
Lyrically I think this song really touches on themes of isolation on tour. It's a strange world because you're never really alone and yet you're sort of alone a lot of the time in that you're away from your home and your life.
Malibu Rum
This summer and really past year I got really into Jonathan Richman and as such found myself on the hunt for some nylon string guitars. This was the first really Jonathan inspired song, although as I began to write the lyrics it pretty quickly became obvious it was following in my own style. It was written largely around rhythms from a 1960's drum machine that I acquired a few months before the record and was obsessed with the limitations it put on my writing.
It was probably the last song I wrote for the record and maybe my favourite. The title, although not entirely representative of the song, was inspired by summer cottage getaways with friends (sweet but sometimes with a nasty hang over). I always imagined the feeling of this song to be sort of like a summer vacation gone just a bit wrong. Like a shitty hotel room in Las Vegas where the air conditioning fan is loud and the whole thing is dripping condensation onto the floor. Like finally realizing a dream you've always had only to find out it's not quite what you had imagined it to be. In that way it's sort of about being a traveling musician, you don't quite realize what you have to leave behind until the time actually comes.
This song was a lot of fun to record because I had done a pretty in depth demo but we'd never played it together. It was fun to work on it because there was lots of room for interesting percussion (shakers, cow bells, stools etc.) and it was the first time we'd ever used a Theremin on a song… although not likely the last!
Take Me Out
Take me out was the first real unabashed love song that I'd ever written. It was really fun to write and I think the sentiment of it rings true for a lot of new lovers. That feeling of just wanting to be with the other person no matter what it is you do.
Growing up I got my start in playing music from listening to 50's rock and roll. Mostly Richie Valens, in fact the reason I got my first guitar was that I was obsessed with the movie La Bamba which details the life of Richie Valens and wherein (as most people know) he dies in a plane crash along with Buddy Holly and the Big Bopper. Around the time of my obsession, I'd have to guess that I was 5 or 6, my father was traveling on business out on the West coast. They were all set to return home when weather left many of the planes grounded and their passengers stranded at the Vancouver airport. One of the members of their party also happened to be a Pilot and suggested they charter a small plane and he could fly them out of there. They all agreed, however while up in the air the plane door swings open and my father, who is sitting next to the open door some 2000 feet above the ground. As you might expect visions of the repeated plane crash scenes began to play in his head. When finally they landed (safely…) my Dad, so happy to be alive, returned to his family, a new electric guitar for me in one hand and a diamond ring for my mother in the other.
This song was a real challenge to mix as it's a style of music that's been done extremely well (Lennon's records with Phil Spector come to mind) as well as extremely poorly (elevator music). Once we found the path we wanted to follow it was actually quite easy to get it there, it was just finding that road map that was the hard part.