Taylor Swift – We Are Never Ever Ever Getting Back Together
Do you ever sit and ponder who, in forty or so years time, will be remembered as 'the' great songwriters of our generation? When it comes to universally appealling art of writing a 'classic pop song', which names will replace Lamont Dozier, Burt Bacharach, Smokey Robinson, Lennon & McCartney et al? Our money is on Max Martin.
Responsible for more hit singles, career overhauls and reinventions than perhaps any other writer of his generation, this unassuming Swede – only in his early forties – is a modern day pop genius. A quick re-cap? 'Quit Playing Games With My Heart' (Backstreet Boys), 'Show Me Love' (Robyn), 'Baby One More Time' (Britney Spears), 'Since U Been Gone' (Kelly Clarkson), 'Teenage Dream' (Katy Perry). A selection of songs that don't even scratch the surface of Martin's work, but each track mentioned has one consistent thread – regardless of whether you're a fan of the music or if the sheer thought of hearing any one of them makes you want to peel off your ears in dread, you know the songs. And, regardless of your 'musical intelligence' or bullshit excuses for dismissing the above as throwaway pop music, I'm betting there's a tiny part of you that has a soft spot for a least one of them (if not all).
The release of uber hit 'We Are Never Ever Ever Getting Back Together' saw former Country princess Taylor Swift transform into a global phenomenon of Justin Bieber proportions. She was on the lips of everyone. Even hipsters. And Max Martin was responsible. The bastard.
'We Are Never Ever Ever Getting Back Together' has pop bombast in spades. But it's the tiny attention to detail and the fine placing of little hooks scattered throughout that triggers the part of your brain that screams "play me again, play me again and again and again. You're mine. I own you. PLAY ME AGAIN YOU WEAK IMBECILE".
Loved by teeny bobbers right the way through to music snobs (although most will never admit it) – Taylor Swift and Max Martin is a union made in pop heaven.
- Rich Thane


AlunaGeorge – Your Drums, Your Love
As if their 90s nodding beats weren't enough to trigger the nostalgist within you, the fact that this pair met via MySpace definitely will. Having spied Aluna Francis' previous band on the home page George Reid asked if she would work with him on some remixes. Musical chemistry ensued and he effectively stole her away from her left-field avant garde experiments and into the glorious R&B infused pop project that is AlunaGeorge. On the evidence of 'Your Drums, Your Love' alone, we think we speak for everyone when we say we're glad Aluna chose this path.
The follow up to debut release 'Just A Touch', 'Your Drums, Your Love' took the pair's affection for glitchy production and modern dub and filtered them through a slick pop lens resulting in one of the most irresistible tunes of the year. The unashamedly radio-friendly chorus "I've been treading water for your love / Whether I sink or swim, it's you I'm thinking of" sit perfectly on top of George's trip-hop beats, Aluna's saccharine vocals off setting the harshness of the electronics. We were hooked within the first couple of seconds, we dare you to listen and not feel the same.
- Lauren Down


Frank Ocean – Thinkin Bout You
Even before the (thankfully largely positive) media furore regarding Ocean's sexuality, lead cut from his first album proper, Channel Orange, 'Thinkin Bout You' was already up there with the best R&B songs of the year. But true appreciation of the track blossoms only further after the aforementioned revelation.
A brave exploration of confused love, Ocean investigates those conflicted feelings that we all have from time to time, and in doing so, propels the lyrics to a universal plateau. But really, on top of all things, it's really just a great tune. So much so that it received its own head-nod in another major track of 2012. How many songs can say that?
- Luke Morgan Britton


Jessie Ware – Wildest Moments
'Wildest Moments' distills everything we've loved about South London's Jessie Ware this year into four glorious, fragile minutes. The magical ingredient is, as always, Ware's vocal. Honest and humble, it's a beacon of proletariat charm that conveys a connection to the listener.
The result is transcendent; pop-with-gravitas. Yet stripped down to its constituent parts, it shouldn't work and in the hands of anyone else, it probably wouldn't. As with the best pop musical, lyrical cliche requires a vessel of both presence and vulnerability in order to suggest a narrative that creates that link. Ware has it in spades.
- Paul Bridgewater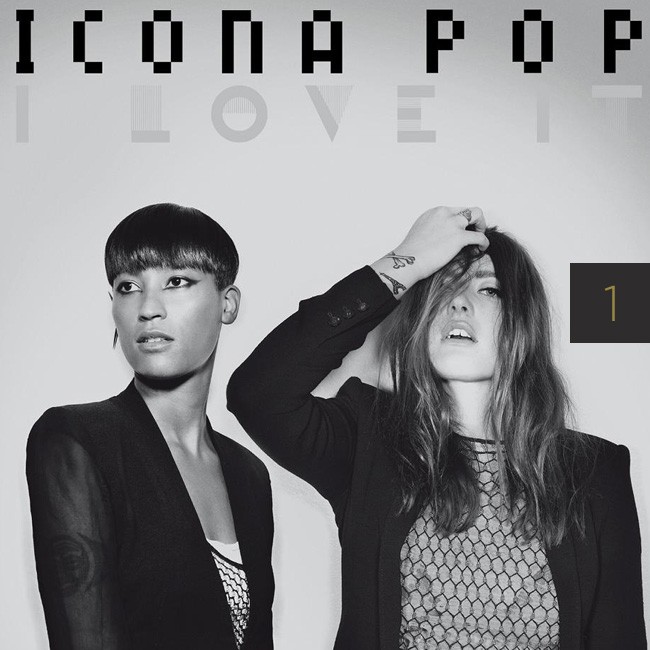 Icona Pop – I Love It (ft. Charli XCX)
Penned by goth-pop upstart Charli XCX and produced by Swedish superhero Patrik Berger, Icona Pop's 'I Love It' was always destined to be "a bit good".
A duo we've followed closely (read: obsessively) since they first emerged with the electro stomp of 'Manners' nearly two years ago, we've watched Stockholm girls Aino Jawo and Caroline Hjelt blossom into an unstoppable hit factory. As the summer of 2012 dawned, the group finally found their theme song.
'I Love It' is escapism. Pure and simple. Three minutes of towering beats, brattish vocals and a firmly raised middle finger to, well, anything you want. The sentiment of course is focused around our heroes getting wise to a bad relationship and throwing (his) "shit down the stairs" in disgust. But ultimately, it's about embracing the good stuff that surrounds you. A modern day hymn to independence. A big fat declreation of "fuck it". The fact that it's wrapped up inside the most infectious and re-playable packaging of the year is merely a bonus.
Purists may be expecting to see something of more gravitas in the number one position. We disagree. 'I Love It' has defined The Line Of Best Fit throughout 2012 in more ways than can be possibly imagined. We love it.
- Rich Thane