1) The Knife – Shaking The Habitual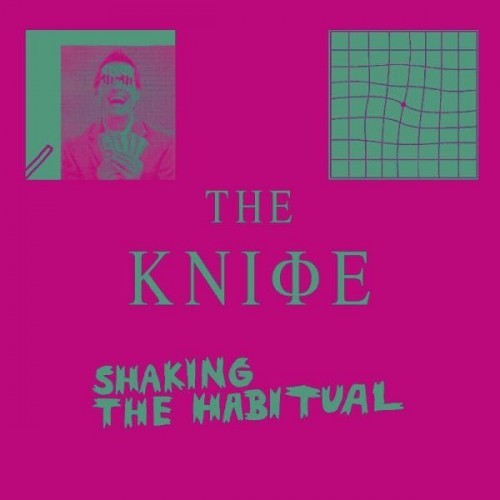 Buy vinyl on Amazon / Buy digital on iTunes
What makes The Knife's Shaking The Habitual the album of the year has nothing to do with widespread popularity. There are some amongst The Line Of Best Fit's own writing team prone to statements like "I love it, other than that pointless twenty minutes of drone in the middle", whilst others laud the twenty minutes of drone ("Old Dreams Waiting To Be Realised") as a pioneering, standout moment in a record of otherwise repetitive techno. For every person I've met who adores the thing cover to cover, there's another ready to decry it as the emperor's new clothes. But as Albert Einstein supposedly once said, "what's popular isn't always right, and what's right isn't always popular" – right? Allow me to elaborate.
A record that positively revels in its own lack of mainstream appeal, Shaking The Habitual is a deliberately controversial album that may strike one as a similarly contentious choice for the inhabitant of the top spot in a list such as this. Yet I can hold my hand on my heart and promise you, it's not there for shock value. No record this year – not one – has more depth to it than The Knife's fourth LP. No record has the same combination of unique bastardisations of infectious tunes, heartbeat-altering rhythms and out-on-a-limb sonic artistry as this. No record's politics or demolitions of gender stereotypes were as forthright and hard hitting. And no record, I'd wager, will we still be discussing the merits of in quite so fired up terms well in to the new year. There's mileage in this one that could last a lifetime, and that's why it's the finest record of 2013 (if not beyond).
Sure, they didn't make it easy for us to love. Its lead single "Full of Fire" was a nine minute long barrage of industrial rhythms and gender politics accompanied with a video masterminded by a renowned feminist porn director critiquing a Swedish government policy that offered tax deductions to wealthy families who employed a maid – stunning in its way, but by no means a "Heartbeats", let alone a "Marble House". By far the most accessible point on the LP – the one true banger of a tune amidst Shaking The Habitual that is "Without You My Life Would Be Boring" – reveals itself on close inspection of the lyrics to be a song preoccupied with the idea of urine as some great emancipator of the inhibitions. And of course, when they took it on tour, many were appalled to find that instead of a traditional "live" set up, The Knife seemed to be doing very little in the way of musical performance at all, instead choosing to stage some hellish cabaret to act as accompaniment to the sound of their new album, blasting over the speakers in a manner that sounded curiously similar to how it did on the record.
And yes, accusing all that of being a bit pompous is easy enough, but just look at how easy it is to get conceptual pop wrong these days – Lady Gaga's horridly patchy ARTPOP for example is rightly nowhere near our Best Fit Fifty. Shaking The Habitual is a record from a duo – Karin Dreijer Andersson and Olof Dreijer – who not only have the theory to back up the radical politics in their creations but also an innate mastery of melody that ensures their message is accompanied with a tune that'll happily spend days whizzing around one's cranium (thereby making their proclamations all the more effective, no?).
OK, so the world's going to be divided into groups who are either excited or appalled by the idea of twenty minute long ambient drone passages like "Old Dreams Waiting To Be Realised" and the rusting mechanical noises of all ten minutes of "Fracking Fluid Injection", but whatever, skip them if you're in the latter camp, I don't care. Whilst theses tracks are certainly important to the album, being as they are so much of the reason that Shaking The Habitual is the Swedish duo's most daring artistic statement to date, the amount of column inches they've taken up is disproportionate to their significance to the record as a whole.
Because my oh my is this an excellent record! I've never heard Karin sound so impassioned as on the bracingly desolate "A Cherry On Top", and that's impressive given that it's a song that contains all of 20 words to its lyrics. Nowhere near enough has been said about "Stay Out Here"; at once the most ambitious and danceable track they've ever attempted, it's the kind of straight up thrill that naysayers would tell you doesn't exist on Shaking The Habitual, but that actually crops up all over the place – opener "A Tooth For An Eye" is another, a song to which the appropriate reaction is certainly head banging rather than head scratching. Never mind just The Knife, I've rarely heard music sound quite as invigorated, alive and terrified of itself as on this complex beast of a record.
It's not an album that suitable to every point in one's day, one's year, one's life. But for the foreseeable future, there will come points where you'll return to what will become known as The Knife's masterpiece, understanding a little bit more at a time, your enjoyment growing with every spin. Such qualities make Shaking The Habitual not only unique amongst records in 2013 – they also make it the year's best. Thomas Hannan