5. Prince's stream-of-consciousness speech (1995)
Imagine the horror. You're asked to present the 'Best International Male' award at the '95 BRITs and who happens to win it but someone who isn't quite certain what the hell his name is anymore? Well that's what happened when (the artist now back to being known as) Prince won the accolade that year and then continued to show he's a maverick of linguistics by delivering a gibberish-filled speech of "Prince, best, best, Prince, better in concert, perfectly free, on record, come". What a forward-thinker, huh?
- – - – - – - – - – - -
4. Geri Halliwell's Union Jack dress (1997)
It's difficult to imagine it now but back in 1997, in the height of New Labour's popularity, being British was actually something to be proud of. It was, dare we say it, quite cool in fact. 'Cool Britannia' had swept the nation, and people were starting to trust politicians again. I know, I know, it's still hard to believe. But, imagine the relief of the years under Thatcher and then someone like the tooth-grinning Tony Blair coming along. Even the rock and pop stars couldn't help but falling in love. Blair was like a proto-Obama, if you will, and Thatcher a more knowingly sinister Bush. Well, all this reached a peak at the BRITs 1997 when the Spice Girls' Geri Halliwell wore a Union Jack dress and single-handedly boosted London's novelty tourist gift economy. We can only predict…
- – - – - – - – - – - -
3. Belle & Sebastian beating Steps, 5ive, Billie Piper et al (1999)
Forget Arctic Monkeys, Lily Allen and Kate Nash's rise to fame, or Rage Against The Machine nabbing a Christmas number 1, the first instance of online mobilisation came with Scottish indie-poppers Belle & Sebastian won 'Best British Newcomer' in 1999, ahead of favourites Steps and more . It was the first time the award was voted for online and could be deemed as paving the way to every sodding internet petition or Facebook group you're invited to nowadays. Thanks a bunch, Belle & Sebastian.
- – - – - – - – - – - -
2. Suede bringing sexy back (1993)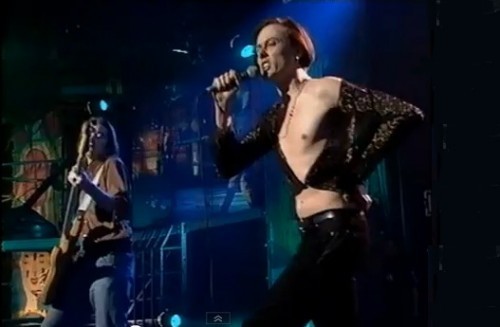 Back when print media held a stronger chokehold over the the music industry, the likes of NME ridiculed the BRITs' nostalgia-tinged line-up of '93. Surrounded by the aging likes of Annie Lennox, Phil Collins and Rod Stewart, the alternative music press persuaded organisers to book newcomers Suede at short notice, and it was this resulting performance that stole the show over the bigger household names. Way before ol' JT, Suede were bringing sexy back to the increasingly conservative screens with a charged display of alluring androgyny so good that we can't even find a clip of it anywhere on the internet. This was all people could talk about the next day, not whatever Phil and Rod sang.
- – - – - – - – - – - -
1. Jarvis Cocker mooning Michael Jackson (1996)
An obvious one for the top spot, but for good reason. This incident will forever remain as one of the most memorable in each of the involved careers – Jacko's because of the grandoise performance and Jarvis Cocker because of his wonderfully juvenile response to it. When the King of Pop steeped over the line from slightly egotistical popstar to the 'actually thinks he's Jesus' realm of things, the Pulp frontman thought he'd seen enough and did what any kid who is a bit peeved would do and mooned the star. Years later, he claimed that although not religious, he hated seeing someone pretend to be Christ-like. But we kinda think the free drink had something to do with it too…