When I meet with Dry Cleaning over Zoom, it is almost a year ago to the day when the buzzy London post-punk band were forced to cut their first US headline tour short due to Coronavirus. Undeterred, the band buckled down with their demos, passing their recordings furtively to each other around the city via a Tascam delivery service, instilled with a new drive to continue creating.
"You can't save the world on your own I guess," deadpans Florence Shaw. Later on, she sings: "It'll be ok, I just need to be weird and hide for a bit and eat an old sandwich from my bag."
Shaw's witty and sardonic lyrics, delivered atop angular post-punk that recall Joy Division and Parquet Courts, are a trademark element of the quartet's music. The band, led by vocalist and lyricist Shaw, and completed by guitarist Tom Dowse, bassist Lewis Maynard and drummer Nick Buxton - have developed a reputation for humorously recalling the droll absurdities of the human condition. Having met one another through a combination of former bands and art projects, Dry Cleaning are as good friends as they are musicians.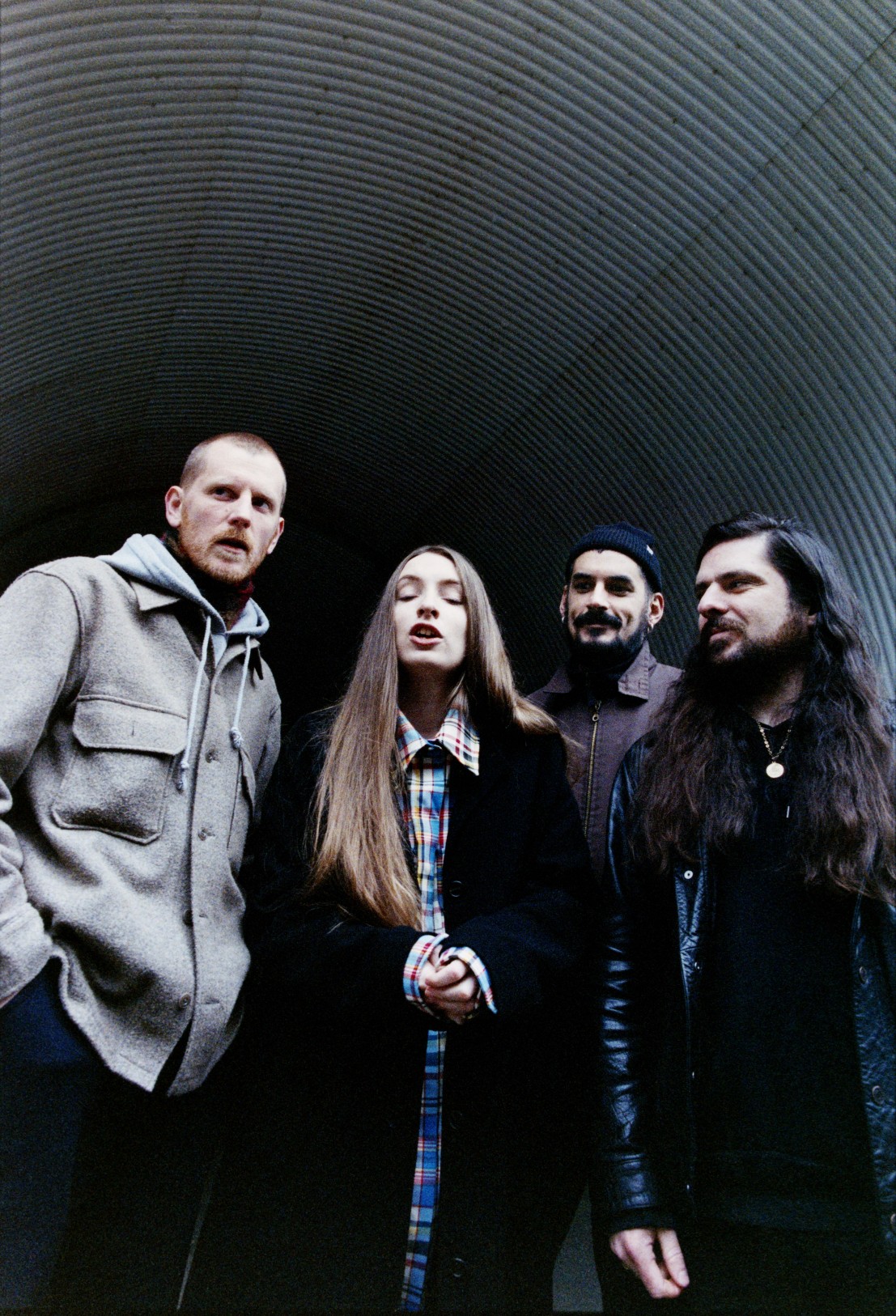 "During what was probably the longest two and a half months of my life after a near-death experience, I could not sleep / I was on edge at all times and the only thing that kept me going was Saw II," Shaw spits on early favourite "Goodnight". In older tracks, she delves deep into her own personal reckoning with Meghan Markle ("Magic of Meghan") and her frustration that society still seems to equate success with hard work ("Dog Proposal").
On the band's much-anticipated first full-length effort, New Long Leg, Shaw takes a step back from the autobiographical songwriting that was so characteristic of the band's first two studio releases. Seemingly first popping out of nowhere with fresh, critically-acclaimed demos without ever having even played a show, Dry Cleaning quickly became a breakout band and joined a roster of young, progressive post-punk numbers who call South London home.
It is a testament to the band's strong rapport and their work ethic that they were able to work tentatively and quietly on their new demos while being kept apart due to COVID-19 safety measures. In the deadly spring of 2020 with cases at their highest in the UK, the band still managed to exchange recordings with each other through a regularly disinfected Tascam four-track cassette recorder that was passed between members from the window of Maynard's car.
"Nick, wasn't I talking to you out of the second floor window?" Shaw recalls of the Tascam delivery service. "I must've been pretty anxious at the time cause I don't think I even came to your door." "You were like, 'thanks, just leave it in front!'" Buxton says. Shaw adds: "I was two floors up or something, saying, hello, thanks for bringing it up. I was proper staying away from people, cleaning the place like mad. I was like, 'oh god, they have germs!'"
The simplicity of recording onto a Tascam recorder premeditated the band's vision for the record, mirroring the back-to-basics philosophy that producer John Parish used in the studio. The band had, for the most part, finished recording their demos in February, and save for a few changes to the lyrics, had material for their debut record ready even before the pandemic. Recording the album during the summertime in the rural Welsh countryside provided a sense of relief for the band and allowed them to momentarily escape the dystopia of reality.
"It was like a holiday!" Maynard beams. "It was amazing. It was like working on a farm in peak summer every day – even the thunderstorms were beautiful. They were so dramatic! We were constantly eating ice creams, barbecuing, painting, playing table tennis; and we just so happened to record an album."
"John structured each day really well, so yes, there are the leisure activities that Lewis is very vividly describing," Dowse adds while the rest of bandmates laugh. "They were a good way of taking the pressure off because from 10am to 7pm, you're working hard in the studio...We felt very spoiled, especially compared to everyone else around us, who were stuck in their bedrooms on Zoom all day long," Maynard continues. "We really felt like we made the most of it."
The escape to the Welsh countryside proved fruitful indeed, with the result – New Long Leg – containing 10 fresh new Dry Cleaning tracks that show tighter musical cohesion and lyrics that are more abstract than ever. Across the record, Shaw writes sprawlingly on themes revolving around alienation, paranoia and everyday anxieties. Innocuous one-liners now take on a whole new meaning under the weight of doomsday, and Dry Cleaning lyrics are a Rorschach ink-blot test to the listener, evolving and changing in the eye of the beholder.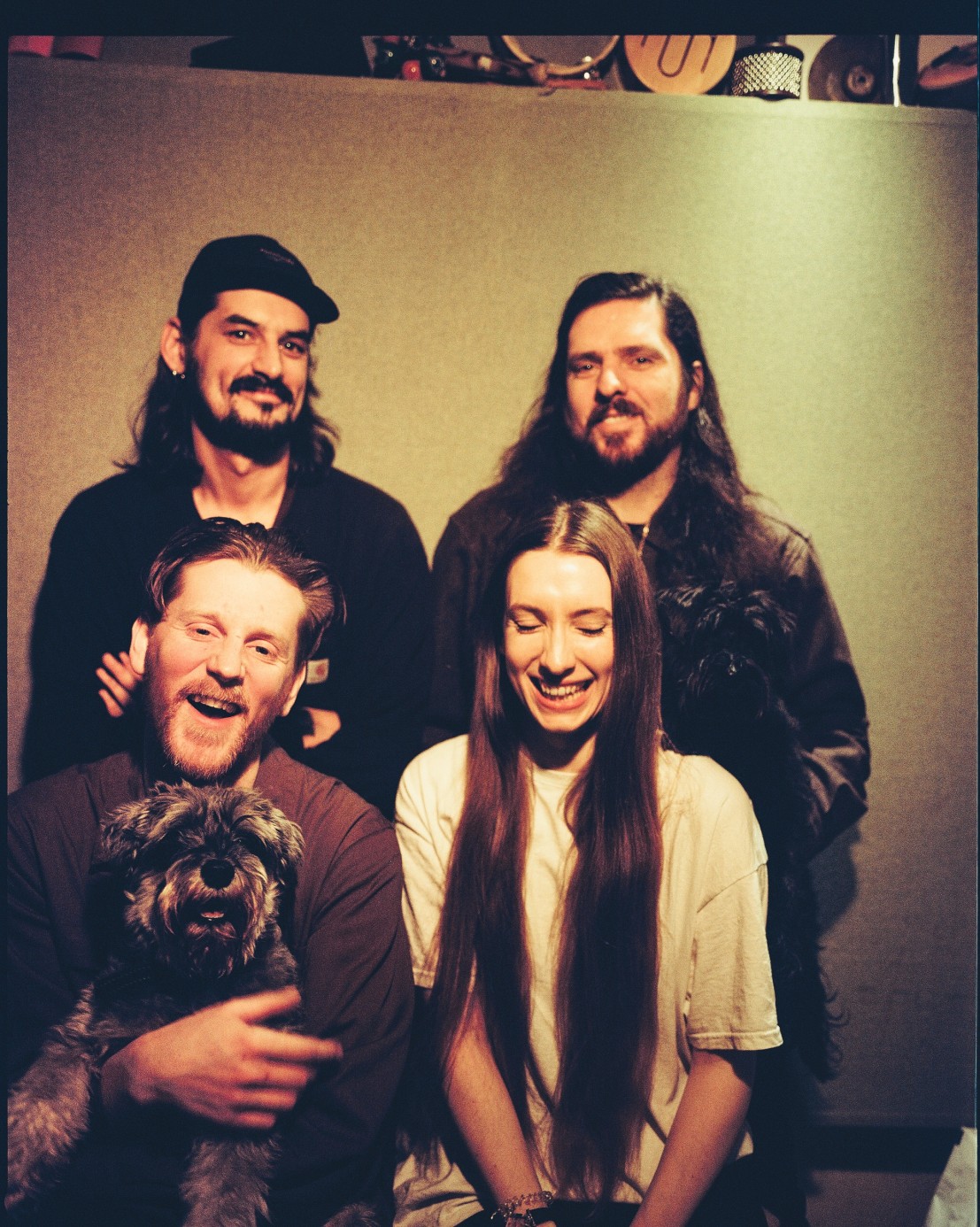 "A lot of the source material comes from emotional things, or daydreams. I'm definitely not interested in correcting people if they think things are autobiographical or if they think they're not," Shaw says. "And they are, but also they're not. I'm quite happy for it to be ambiguous. It's a really overused kind of idea, but it's quite hard to write things that aren't autobiographical."
On Sweet Princess and Boundary Road Snacks and Drinks, Shaw's songwriting was free-flowing and stream-of-consciousness. With New Long Leg, her songwriting becomes more surreal and philosophical, drawing inspiration from fiction and the different characters she has created in her head. The lyrics are more a smattering of imagery and vignettes of ideas, each song containing a slew of different stories, concepts and reveries. They are peculiar and eccentric: "Her Hippo / Every day he's a dick / Strong one / No one / The man above / A name / A word / I get upset in the heat". It all sounds impossible to comprehend, but then she comes up with the defining lyric of the song: "I'm smiling constantly and people constantly step on me".
"It started off quite specific in my mind, but it became more and more about an escape fantasy," says Shaw of the meaning behind "Her Hippo". "[It's] the idea of wanting to run away from something or someone or a situation or a place that was negative, but there's also a little bit of a seed of light futility in it as well. If you're one of these people who often have escape fantasies where you just think: I'm just going to move to another country and I'm just going to start again; I'm going to start a new relationship and fuck this one, there's always a small seed of 'out of the frying pan into the fire' with that kind of thing – but it's not always possible to run away."
And even though New Long Leg is dotted with very relatable and vivid lines about loneliness, desolation and solitude, Dry Cleaning still manage to find delight and fascination in the most normal of things; seeking solace through lyrical escapism, magical realism, and each other.
New Long Leg is out on 2 April on via 4AD