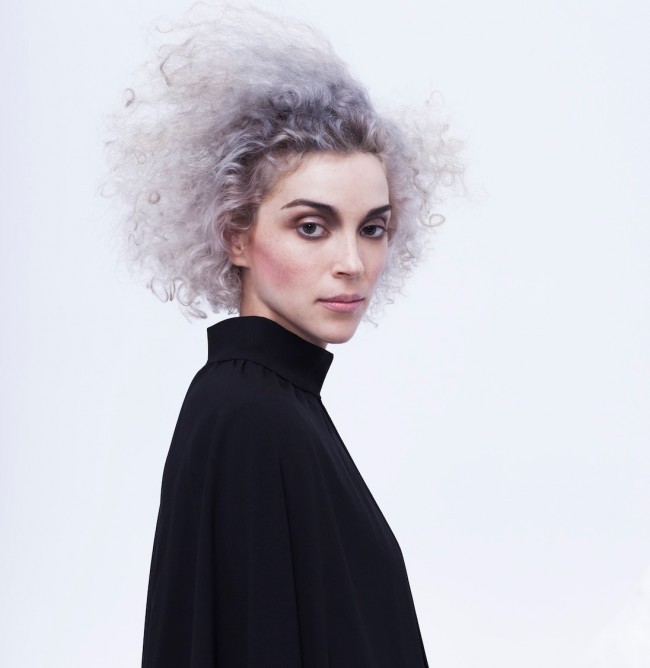 And confidence it very much exudes. St. Vincent, Clark's self-titled fourth album, was named as such, the singer said in a recent interview, because she wrote it for herself. This seems a bold remark from a musician making her major label debut. Between predecessor Strange Mercy and this new record, the singer moved from her previous home of 4AD, the renowned indie responsible for Grimes, Deerhunter and upcoming tourmates The National. Rather than deriving from any dispute or disagreement, Clark reassures that the move was the simple matter of her contract coming to an end. Not one to remain stationary, she decided to consider offers from elsewhere.
Unlike some major label offerings, frequently delayed and manipulated by executives above, St Vincent was recorded entirely before her move to Republic Records (the Universal offshoot that boasts such artists as Lorde, Drake and Taylor Swift among their roster). This sense of creative freedom is obvious throughout the record, continuing Clark's attempt to "live at the intersection of accessible and lunatic". A song like the hugely bombastic "Bring Me Your Loves", for example, is unlikely to have cropped up on any other St. Vincent album previous. It is the sound of an artist at once contented but also restless.
"I was going after the sounds in my head and trying to create something that was new to me," she says of an album largely inspired from dreams or born from that trance-like state between wake and sleep. Like a cult of one, the musician tried to explore her inner-workings more than ever on this record, allowing herself to "try anything and do anything". "I think my subconscious is way more powerful than I'm sometimes aware of. The record still has conventional forms of choruses, melodies and everything else that makes pop music great, but I tried to put it through the looking glass a little. That crossover is what excites me the most."
However immersed into the record she found herself though, there are moments on the album where Clark sounds almost pensive about the blurred line between life and art. On closing track "Severed Crossed Fingers", she sings "When your calling isn't calling back to you, I'll be side-stage mouthing the lines for you", while on "Psychopath", she promises to keep the listener in her "soft sights" for when "the crowd has gone home". Being not only a musician who spends most of her time touring, but also one that invests the rest of it creating her work, life becomes art and art becomes life. But despite this, for the moment at least, there is clearly no sign of stopping. "I don't really think of anything beyond music. Music is one of those rare forces that gives me more energy than it takes to make it. It's like some sort of wacky inverse equation. I never feel like I need to take a vacation from music," she says, before her voice trails off: "I don't actually think I could".
St. Vincent is out 24 February. Annie Clark will perform at a series of UK and Irish live dates this week, playing London's Shepherd's Bush Empire on 20 February, Manchester's Cathedral on 21 February and Dublin's Olympia on 22 February.