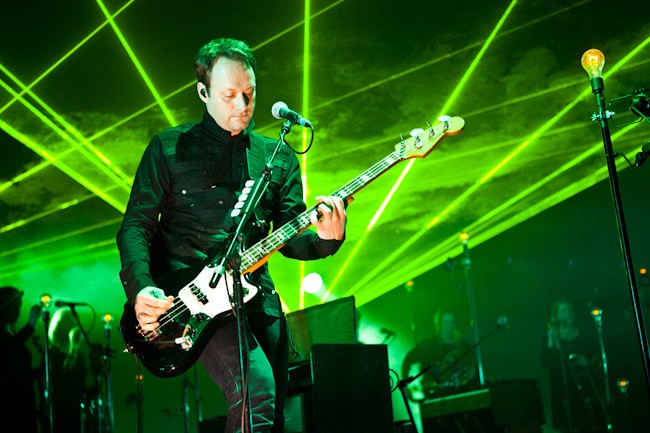 Sigur Rós – Brixton Academy, London 07/03/13 | Photo by Jason Williamson
Audiovisual elements aside, a Sigur Rós show is likely always going to be lacking something if the surroundings fail to match the sweeping atmospherics of the stage show. It's an importance that's not lost on the band, who seemed an obvious fit for one of a series of shows being held in the shadow of the giant Lovell Telescope at Cheshire's Jodrell Bank space observatory in August. "Some years ago, we loved playing in old churches and theatres, and places that had a lot of character," says Hólm. "We still do, but the live show we have now is designed specifically for arenas, and it works so well that I think we're actually really enjoying playing in those kinds of rooms now, which would have been pretty surprising a few years ago. We're hopefully going to do something special for Jodrell Bank, I think; it'd be a shame not to in such a special environment."
Perhaps the most genuine qualification to the label of post-rock that Sigur Rós possess is the fact that their music is so adept at eliciting an emotional response in listeners without reliance on lyrical content; their near-total use of their native tongue is likely to effectively render their words an irrelevance for large swathes of their fanbase. It's not unreasonable, then, to wonder if the band pay less attention to their lyrics than they do to their instrumentation.
"It's such a weird process for us. We obviously want them to be good, but at the same time, they'll always be secondary to the music," Hólm admits. "It's always the absolute last thing we do on a record; in the past, we've left it so late that it was ready to go and be mixed and we'd be saying, "we should probably write some lyrics now." It's a difficult balance, trying to produce something you're happy with when you know you don't consider it the most important part of what you're doing. The fans here in Iceland will understand, and there's going to be people translating them too, so you have to produce something you think is good enough."
For an Icelandic band with markedly foreign lyrics to crack America is an impressive enough feat in itself, but their permeation into the popular consciousness there reached unprecedented levels last month, when they appeared, alongside Björk, in an Iceland-oriented episode of The Simpsons. "Well, I believe Matt Groening is a fan, and he approached us directly," says Hólm of the episode's origin. "He wanted to do something different with that episode, and a big chunk of it is actually set in Iceland. The difference was, it wasn't just going to be us appearing in it or doing the voice work for the characters or whatever; he actually wanted us to score some music for the episode, which is the first time in the show's history that a band has actually been asked to do that. It was just the sort of opportunity that you don't turn down, but we were on tour when we heard about it, and just kind of looking at each other and thinking, "how are we going to manage this on the road?" But we knew that wasn't really an excuse not to do it. We actually wrote and recorded all our contributions for it backstage."
The often dramatic, and almost unequivocally intense, nature of Sigur Rós' music has furnished them with a fervent fanbase, but is also, by its nature, bound to lead to accusations of self-indulgence. Do they ever feel that they might be taken a little too seriously? "Definitely. But, at the same time, I think it's kind of beautiful that we've made something that people can connect to so personally. The idea that our songs can represent something so important to people is really special to us. I think it's more that we, as people, get misunderstood a lot; we were once in an interview where the journalist actually said to us, "say something serious." I don't know if he thought that we weren't living up to the impression of us that he had – it was completely bizarre, but if that means we're making a connection with people, we don't mind."
Kveikur is available now through XL.