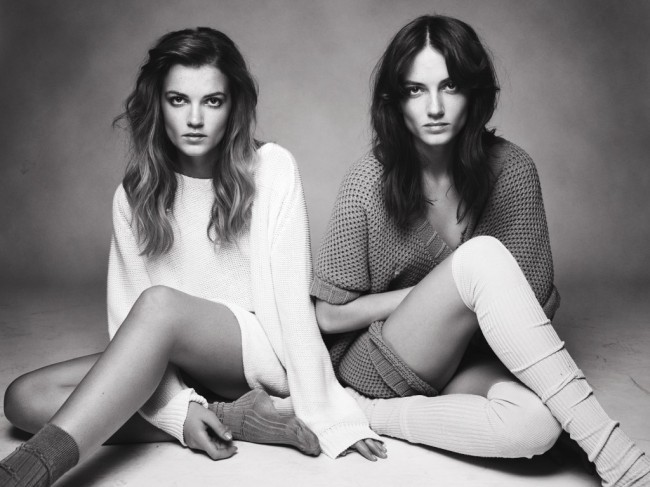 I want to know more about the songs the duo have worked on recently. I imagine they're probably excited about all of them but is there a particular track they have a soft spot for? "Oh, yes, there are a couple", Miranda says. "This sounds really cheesy but I read an article about Taylor Swift today", Elektra offers, "and I don't know much about her and I haven't listened much to her music… but she said something about when you write a really good e-mail and you read the e-mail again and you just keep going back and re-reading it and you wish everyone else could have read that e-mail, you know, whether it's a goodbye e-mail or a breakup e-mail, you know – when you've really aced it. And she said, when she writes her songs, it's like the e-mail that everyone can hear. It's a 2013 teenage analogy but sometimes you go, like, yeah I really aced that song and you go back and you listen to it over and over again and you have favourites out of your own songs. When you're listening back to a song and you can't remember how you wrote it… that's when you know it's a special song".
"There's one that we really, really love. It's called 'Beloved'", Miranda obliges. "It's a depressing power-ballad", Elektra adds. "Well, It's a ballad and it's got power in it but it's not a power-ballad", Miranda corrects her. "It's about never being good enough for someone. And they try to change you, to fit you into a certain expectation and you feel like however much you change you'll never be good enough for that person.
The siblings wrote 'Beloved' just before Christmas with pop-writer extraordinaire, Hannah Robinson, and Sneaker Pimp, Liam Howe, at Howe's home in Islington. But what about the song they told us about last time? You know, the one they recorded with Robinson and Richard X? "It's very poppy", Elektra says. "Really poppy. As it would be, with Richard X". Miranda adds: "I would say it's also a power ballad. It feels like the album will be full of power ballads . We've got two power-ballads – the one we wrote with Liam Howe and the one we wrote with Richard X. We created our own name for the genre, what was it?" "It was something like 'saucy power-ballads'". This saucy power-ballad is called 'Wilder Than The Wind' and is, according to the girls, "quite cinematic and it's inspired a bit by David Bowie". I ask them whether 'Wilder Than The Wind' could be the next single after 'Julian'. Elektra sighs. "Don't ask me because then I start asking, questioning myself", she laughs. "We have a pretty good idea of what our next single is going to be", says Miranda, "but I think we'll keep it to ourselves for the moment. We do have some candidates".
Other tracks that may or may not be among the contenders for the third Say Lou Lou single are 'Skylights', 'Everything We Touch' and 'Love Is The Loneliest Place', which have been an integral part of the sisters' live set in the past few months. "Those songs have been around for quite a long time", Miranda explains. "They've followed us for about a year and I don't know what their place will be, whether they'll be singles, but they're part of the Say Lou Lou groundwork. We wrote them last year after we had a little breakthrough with 'Maybe You' so we got in the studio with Janne Kask and we wrote 'Love Is The Loneliest Place' first and it was a very natural song that came quite easily. It's a really good song to perform live". Elektra agrees: "Yes, it resonates with a lot of people when we do it live. It has a sense of urgency and desperation but also some rock'n'roll tendencies. It's a bit 90s in a sense". "It's a personal little gem", Miranda concludes.
A lot of the work on the Say Lou Lou debut album has been done with the help of producers, Addedboy vs. Cliff. "They're a big part of our sound", Miranda says. "They've helped us so much and they used to be a part of our live band as well when we were first touring. They've been there with us since day one". Addedboy vs. Cliff also produced 'Julian', which the girls say they recorded at the same time as 'Maybe You'. "When we were recording those two songs we didn't think they were singles", Elektra tells me. "We thought, yeah, they're good, they're cute little tunes. But now we've come round and we do see them as singles. I think they're really, really strong songs". Miranda adds: "What sets 'Julian' apart from 'Maybe You' is that 'Julian' has more of a backbone. 'Maybe You' is just bass, really. When you do it live it can be really beautiful but if it's late at night and you're in the middle of an energetic set, it feels different when you do 'Maybe You' to when you do 'Julian' because is elevating and fun to sing live". Elektra agrees: "I've grown to love that song a lot. Especially live. They fit together so well because 'Julian' wouldn't be what it is without 'Maybe You'. I think that 'Maybe You' laid down the ground, the vibe and the style and 'Julian' fits perfectly as the second step. If we had released it as the first single, I don't think people would have understood it as well. They're all building blocks on the way to creating the musical world that we want to exist in because now when people hear something new from us the groundwork we were talking about earlier is already there".
We venture outside of the Say Lou Lou music world and I ask the twins what they're listening to these days, other than the artists showcased on their mixtape. Miranda giggles. "Our manager has actually been pumping the new Daft Punk and Pharrell song about three or four times an hour", she says. Elektra is also laughing. "We've heard it so many times. It's amazing!" . "Our manager is walking around doing dance moves to the song", says Miranda. "So the last few days have been dedicated to Daft Punk".
"We've also been very excited about the David Bowie comeback", Elektra says. "I was so scared of listening to it because… well, you don't want to ruin it. Sometimes when an artist you love releases something new you are almost hesitant when it comes to listening to it but… but it's so good". "I cried the first time I heard the single", Miranda confesses and Elektra immediately concurs: "Yes, me too and then the second one, the one with the Tilda Swinton video is also great".
The girls recently completed a support slot on an extensive tour with Hurts. I ask them whether they find that audiences pay sufficient attention to support acts. "We haven't actually done many shows where we weren't the headline act", says Elektra, "but fans love them so much that they embrace whatever Hurts give to them, you know? If Hurts say that they think we're good then they'll give us the time of day and listen. Their fans were amazing!"
And what can we expect from their London headliner for Best Fit? "We are adding two or three new tracks to the repertoire and we have a couple of little surprises in store as well", Elektra reveals.
In terms of post-'Julian' next steps, having already collaborated with Goldroom as well as Australian singer, Chet Faker (on a b-side track recorded especially for the 'Julian' vinyl), the girls are looking forward to the soon-ish release of a new Lindstrøm track which they co-wrote with the Norwegian producer and with Noonie Bao. They're also excited about the continuing work on their album and being able to release physical records. Elektra says: "Our grandmother's been, like : 'where are the CDs? How can I listen to your songs?'. So it's going to be great to be able to finally touch our music".
'Julian' is released on 6 May on à Deux. Say Lou Lou play White Heat at Madame JoJo's on 30 April. Tickets are available here and here.