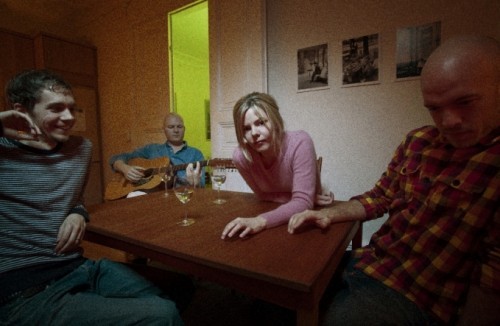 Sambassadeur
Philip of The Mary Onettes vs. Sambassadeur:
Philip: Do you always have the same influences or do you try to find new sources of inspiration for each album ?
Joachim: No, they are basically the same. It feels like you stop looking when you are around 27-28 years old… we'd rather find a new sound and new instrumentation for each album rather than new inspiration.
Philip: When it comes to the process of making music, do you find it hard to make music or is it easy?
Joachim: Well, the hard part is finding the right amount of time for it. The more time you have the easier it gets to make music…
Philip: But is it hard to make an album ?
Daniel: Usually when we enter the studio, Daniel and Joachim bring demos that are pretty much the album. It makes it easier for us to record and overdub when we have the demos as guidelines.
Joachim: The hard part isn't to record the album, it is to find variety in what you do… And every time we've finished an album, I think to my self that I will probably never make an album again!
Philip: Is music the most important thing in life ?
Joachim: Hmm… It becomes more and more important for me. If you would have asked me a couple of years ago I would probably have said that it's less important. It's not the most important thing in life but it's a way to connect with friends and it's very nice to hang out with them (and my wife) and play music.
Philip: And for you Daniel ?
Daniel: No, it's not the most important thing. We have done this together for quite some time now and of course it's a thing that always follows you in life… It brings good friends together.
Joachim: Almost everyone we know is making music one way or another, so it becomes a state of belonging.
Philip: Are you slavishly following what's happening with Sambassaduer on the Internet ?
Joachim: Only when we're releasing new material. The couple of weeks that follow a release, we're all pretty much hooked on what people write and what is happening with the records. It's fun! But after a while you lose interest.
Daniel: Joachim is pretty fast on sending updating texts to us all. That's good! It's nice to read people's thoughts about a new release on the Internet… Often the regular papers give a more flat view on a new release, with less sense and personality.
Philip : So finally, what's the difference between the new album the old ones ?
Joachim: We have replaced a lot of organic instruments such as acoustic guitar sand strings and such. This album has a more classic rock line up with drums guitar, bass and vocals, a bit more like our first album actually. And it's a bit more softer than our previous ones. Not so up-tempo.
The Mary Onettes' album Hit the Waves and Sambassadeur's entire back catalogue are available now through Labrador Records.