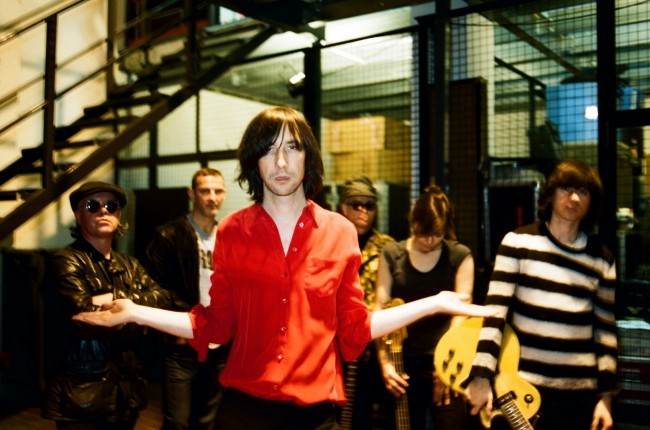 As much as More Light strives for a change in sonic direction, it remains true to one of the facets that's proven most crucial to the band's creative process down the years – collaboration. Previous records have included work with The Chemical Brothers, Alison Mosshart, Warren Ellis, Josh Homme and even Kate Moss, whilst the long list of Scream alumni continues to expand, with Mani the most recent departure through the revolving door ("I love him, but he's doing what he always wanted to do, and he wasn't part of the creative process – that's just me and Andrew.") Perhaps More Light's most eye-catching external contribution comes courtesy of Robert Plant, who, Gillespie reveals, is a long-time associate.
"We've known Robert for years; he played harmonica on Evil Heat. We has this song for the new album, 'Elimination Blues', which we'd recorded, but we knew there was something missing – Andrew thought it needed a high voice. I can manage a falsetto myself, and we had a couple of girls sing on it, but it just wasn't right; it wasn't the right texture. And then I'm sat in a cafe in one morning, and Robert walks past – it was all big smiles, big hugs. He told me he'd be in town til Thursday – this was Monday – and if we needed anything, we knew where to find him. I was telling Andrew and we both just had this lightbulb moment – 'Elimination Blues'. He came in the next day and nailed it."
The album's other collaborations came about in similar fashion. "They tend to happen pretty easily because we usually work with people we already know, like Mark Stewart from The Pop Group, who's on 'Culturecide'. Kevin Shields plays guitar on '2013′, and obviously My Bloody Valentine were on Creation at the same time as we were, so we've known him a long time, too. The way I see it, it's just about getting the right people. If I was a film director, I'd always want the right actor for the right part; it wouldn't matter if they were only in the film for two minutes. A lot of the time, the key to finishing a song is getting the right person in to sprinkle some fairy dust on it."
'2013′ was released in late February as the record's lead single; I distill the song's diffuse lyrical themes in pretty crude, primitive fashion, suggesting to Gillespie that it was, at its essence, all about class war. "Nah, it's more about the fact that there's no fucking dissent in British culture. I'm talking about the arts more than anything. Everyone just seems very cosy, just unresponsive to what's happening in the outside world. It's like people are tranquilised, they're asleep; they don't have any political opinions. I came out of punk rock, which was all about protest, dissent and anti-conformity, and now suddenly it seems like everybody's conformist… conservative art for conservative times. Sorry, what was the question again?"
Gillespie hardly has a reputation as a shrinking violet where political issues are concerned; he released a brilliantly savage statement after Theresa May was (erroneously) reported to have taken the stage to the strains of 'Rocks' at the 2011 Tory conference, and his well-documented Palestinian sympathies forced him to deflect accusations that he supported Hamas with "no, I support Celtic." I ask him whether he could put his finger on why the public, and musicians in particular, seem to have become depoliticised; why isn't protest music as prevalent as it seemed the last time there was a Tory government?
"The last time there was a Tory government," Gillespie quickly deflects, "it was called New Labour. We've been living under a fucking dictatorship. Thatcher went to her grave happy yesterday because things are basically how she left them; none of the governments since have reversed what she did. The problem is that people have actually started to believe that the government have nothing to do with their lives, that politics is part of some other unrelated sphere. And that's insane, but it's how the media works; you can't underestimate the power of an image to persuade or distract people. Advertisers understand that psychology, and use it to their advantage, and now the government are on to it, too. I mean, get into any fucking taxi anywhere in Britain, and mention politics, and you'll get "I fackin' hate 'em all, mate. Hate 'em, all the fackin' same. What team d'you support, son?" and it's like being sat with some fascist newspaper like the fucking Daily Mail, you know? It's like a science fiction scenario, where people have been taught for years and years, through mass media manipulation, to think that their lives are separate from what the government is doing. '2013′ is about that."
Gillespie recently speculated that David Cameron "would've been ripe for acid house"; Primal Scream revisited that particular era themselves two years ago, when they took the seminal Screamadelica on tour to mark its twentieth anniversary. The shows, which included a headline slot on the Other Stage at Glastonbury, provided the band with a momentum that they brought with them to the sessions for More Light.
"I don't think there was a direct, conscious influence on the way the songs worked out; on Screamadelica, the songs were stretched out – eight minutes, twelve minutes – but still really intense – 'Higher Than the Sun' and 'Come Together' were basically in three parts, or three movements if you want to sound fucking pretentious. It was more that those gigs gave us a confidence – it sort of reassured us that there's still a lot of love out there for Primal Scream. It made us want to get back in the studio and make a special record. And I think we've managed it."
More Light is released 06 May via Ignition Records