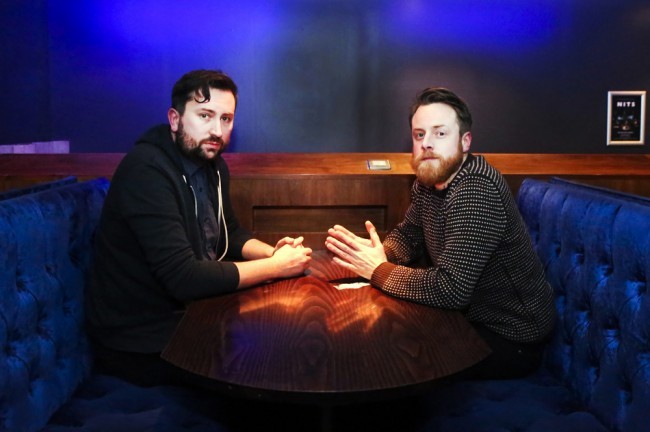 Their last record The Shallows conceptualises Nicholas Carr's homonymous book about the effects that digital technology has had on our lives. I want to know what impact David thinks internet has had on the music industry in particular and he jokes that we could sit there talking about it all day. "I think it's something the industry is still coming to terms with. Some people definitely use that technology in a great way and then everybody follows that. I think it's about trying to find the next thing to make things better. But there are also a lot of detriments that have happened. And then on many books and internet pages there is this debate about streaming music and how the artist and people which have created that can actually get paid.
I ask if there have been more benefits or more drawbacks? "Since we began making music it's probably balanced out but at the same time I don't think I would like to be a band starting now. At the moment there is so much music and so much noise talking about music that's very difficult to get yourself out of that onto the next level. It's true that today we communicate to fans through social media and we mainly sell our merchandise through the internet, which is great as we can cut out so many middlemen, but we've had the advantage of having the fanbase to do that already. The challenge for new bands is to be as independent as we are and to build up the fanbase that we have which is not that easy nowadays with all the competition."
Speaking of their fans, David thinks that the relationship with them is everything. They wouldn't have even put out their second full-length He Who Saw The Deep without them. They had left Beggars Banquet and whilst still looking for a label to distribute the new album, the band started a Pledgemusic project to get fan funding in order to master and promote it. "That day we didn't know what to expect but we basically got our target in 24 hours which was just incredible and re-ensured us that there was a market for what we were doing and the people actually cared". It's a moment that they refer to as one of the most rewarding of their careers.
Another achievement they are particularly proud of was having the song "Sea Of Regrets" (from He Who Saw The Deep) featured on an episode of CSI: Miami. As their music has also been featured in trailers for Hollywood films such as The Wrestler and Beautiful Boy, I ask them if they consider cinema a source of inspiration. David confesses that he's indeed often inspired by movies, explaining that "we look to explore further and make contact within the industry. It's pretty vital when you get to a certain level -that's the next thing you look at for both the revenue stream and also for the artist's possibilities of doing that. To write music for a film would be amazing, it would be a dream!"
In 2009 they also founded their own label, I Like Records, and Simon set up the PR company I Like Press with Simon Glacken. "I didn't mean to start it. Basically we did a tour later that year and we needed some promo for the upcoming single "Sea of Regrets". So I began doing PR for the band after the deal with our previous label ended, and I really enjoyed it. Then I met Simon Glacken who had done the same thing with his label Brew Records, and we merged together." Is there any bands in their roster we should watch out for? "There are so many! I do more festivals PR though, and some events. But I also look after a couple of bands and one of them is Her Name is Calla who are now touring with us". Another band we should all check out is Post War Glamour Girls, who's debut album came out recently. "They are a fantastic band," David adds, "the entire world should hear their record. They kind of remind me of us when we started out."
Simon is also part of a new monthly Leeds music podcast called "This is Happening" with Whiskas (of ¡Forward, Russia!/Dance to the Radio) and Dan O'Dell, plus Nathan from the local venue Brudenell Social Club. While historically there has always been a good music scene in Leeds with awesome bands such as Gang of Four and Sister of Mercy, in recent years the spotlight has sort of come back on the city. Simon is telling me that happened in 2006 with ¡Forward, Russia! , Duels, and Kaiser Chiefs, but David interrupts him specifying that the edgy, sort of DIY scene of bands like Eagulls is more representative of what I Like Trains do than Kaiser Chiefs. "Nothing against them of course", he smiles. "Yeah everything is more DIY, the labels are generally independent", Simon continues "there is no big corporate influence. There is the Leeds Academy and now the Arena, but also smaller venues, promoters and festivals. A couple of music pubs where people go from a young age too. There is a good spirit." David also reiterates that in Leeds, although there are lots of bands making different types of music, musicians still hang out and help each other out as much as they can.
The Shallows came out in April 2012, almost 2 years ago. As in the past they sort of put out a new record (be it an EP or LP) almost every year, I am curious to know if they have actually started working on any new material but apparently they haven't yet, though David has already thought about a possible new direction. "Looking back at our last album now, some of the things we stopped doing and decided not to include were actually good, so we could potentially bring some of them back in, like some darker, noisier, heavier things. Maybe. Thinking about the possibilities of experimenting with new sounds for the next record is one of the most exciting things about being in a band. " So fans, please rest assured. Not only I Like Trains are going to work on new music soon but they are probably going to surprise us with something a bit different as well.
The band play St. Philip's Church in Salford this Friday 28 February – details can be found here. Photography by Eleonora Collini.