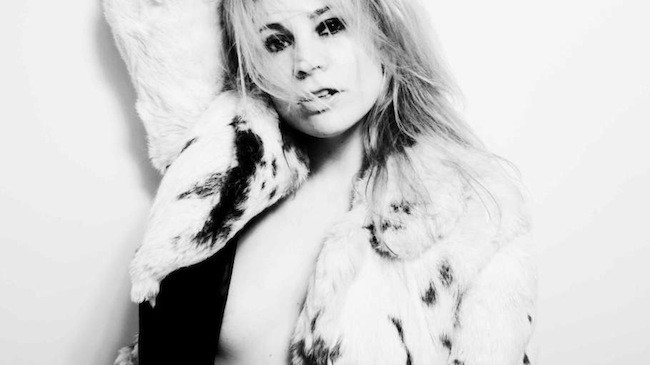 So coming back to the EP, it was recorded in London. What were you listening to when you put were recording? Was there a big British influence?
When we did 'Invisible' I was listening more to house but for 'Ralph Macchio' it was a lot of pop songs. I don't remember exactly because we went through SO much music, that's the great thing with Richard; he has really good taste in music…
I bet! What's the best thing about working with Richard X?
I feel like we have a really similar understanding of music and that always helps. It's also really inspiring to write with him, he has such a mad mind and way of thinking that working with someone like that is really great and very different to some of the other producers I've worked with.
It sounds quite chaotic and a lot of fun.
It can be! When I was in London I was only there for six days so we did the songs really fast, it's sort of a combination of chaos and working hard.
Hang on a minute: you recorded the whole thing in six days? That's amazing. I don't think many people would be able to record such a good EP in six days!
Thank you! I guess we hadn't worked for a while so we had to be fast and creative; it was creative explosion.
And you worked for Xenomania too: what's it like working in one of those hit-factory studio situations?
I think it's good but for me, I really needed to work with other people as well because it's a very different way of working than with Richard, or Paul Epworth. I mean Brian Higgins is a great producer and when it comes to music he knows what he wants and what he doesn't want, but it's also really intense when you're there and it's good to get out of there but it's also good to come back . I think I learned a lot about songwriting and music. It's definitely inspiring to work with different people, but I'm not the type of person who will work with just one producer for a long period of time I sort of always need to jump a bit here and there.
I read somewhere that you said something about the increasing speed of releases now as compared to ten years ago. Was it daunting to come back into that scenario?
No I don't think so. In a way it really suits me to work this way. I've been on some major labels and it can be okay but it's really annoying when there are so many people who have ideas about how things should be and then they keep on changing their minds all the time, it's such a long process. Working with Richard it's always just me and him alone and I prefer that. It's much more creative and at the same we could just put out the record two weeks after it was mastered. You can do things the way you want!
So you like being the boss?
Yeah exactly!
I read as well that you've been travelling a lot over the last few years, how much of an influence does that have on your music and where have you been?
I live in Berlin at the moment and been here five months but at the same time in Norway and travelled a bit to Finland and all over Europe. I like to travel, it's inspiring and when I start to write music I always start with the melody and that can happen wherever so it's quite easy to just start writing a song. I like to be on the move, it's good for the mind. I'm a bit of a gypsy.
Would you say you prefer writing music or performing?
I like performing but I definitely prefer writing, it's something that I can do wherever I go and whenever I want. I get so many ideas all the time and it never stops. That's probably what I like the most but I love setting up a live set, it's very inspiring and something that I want to do more of – I'd love to play in London.
There's a lot of people in the UK that would like to see you live – will there be a tour?
Yes, I will be putting together a tour.
Excellent news! Just going back to songwriting there's always a really strong narrative with your songs, there's always a really strong story. How important is that to you in your work?
Definitely very important. If you don't have anything to say it you shouldn't say it. It's very important to be telling either your own story or someone else's story. Or if it's just something you feel you need to say, it's important to have something there. It's very important for me as an artist, the most important.
Finally, there are two more EPs coming very soon, will they have the same kind of vibe?
They're going to be a bit different. I guess that's why I'm actually doing it this way; I prefer it to doing albums, because I want them to fit together somehow.
When I did these songs with Richard there were five songs that really suited together and I've done some others that I thought were different that are going to be out later this year.
The A&R EP comes out on 5 August.