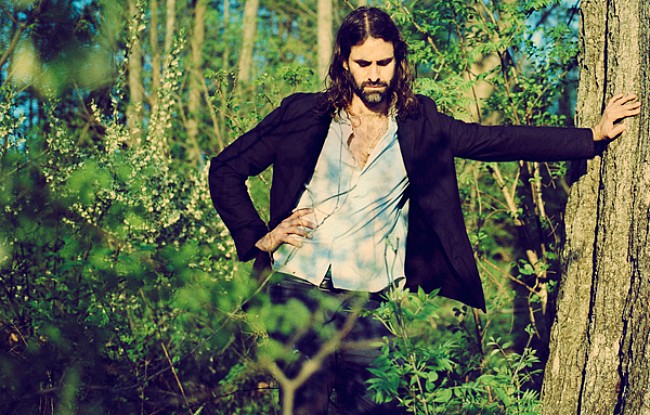 Growing up in Manhattan, New York, Wyatt was immersed in several musical projects from a young age. He started off studying jazz piano, and "definitely wanted to be a jazz musician" until he discovered sampling and Public Enemy. "Public Enemy came out and I decided, fuck this, I don't want to do jazz – this is the music of the future. I studied jazz at the New School when people like Roy Hargrove were there – the last dimension of people doing something new and valid with jazz music. It was so inspiring but I also wasn't as good as them and realised I could do other things like sing, so life pointed me in the direction of making popular music."
Wyatt signed at 18 years old to Capitol Records as a solo artist, but psychological and drug issues forced him to drop the project. After a stint in rehab, he moved to a small mountain town in Colorado – a far cry from the bustling scene-ster life he was living in New York.
Having been back in New York for many years, has being a "New Yorker" has affected the way he makes music? He recounts how some of his best ideas have grown from a snippet of music he has heard from a passing car window, the musical tastes being so eclectic in the melting pot of NYC. Mid-town he finds most inspiring. "People still have this feeling of trying to survive. Being around that energy can be vital".
He's grown up a part of the Williamsburg Set, a clique of Brooklynites, including Mark Ronson and Carl Barat, who "share the same musical aesthetic as ." Many of these best friends feature on the record, including Anthony Rossornando of The Libertines, and Brad Tranx of Interpol. When asked to pick a highlight from the record, Wyatt chooses 'Harlem Boy' as he was able to juxtapose three key things – hooks, melodies and abstraction. "I like writing songs that require a little bit of decoding," he explains. "It's more fun for the listener. The way I look at songwriting is that the melody and music will be the thing that really makes the person want to listen to the song. And then if they want to listen again I want them to be able to uncover other layers to it.
This intelligent discussion of music and music-making permeates the interview, with Wyatt coming across as a real 'muso'. It's easy to forget that, like his Miike Snow colleagues, Wyatt too has achieved significant commercial pop music success, most notably with Bruno Mars' 'Grenade' which became a worldwide smash, and earned him a Grammy nomination for Song of the Year. In fact, Wyatt was initially reluctant to become involved in the Bruno Mars project. "It was a very strange thing. Bruno had taken a song from an old band of mine, and turned the lyrics into the chorus of 'Grenade'". After seeing a documentary about Mars, who made a childhood living impersonating Elvis Presley, he realised that "this kid is sick. He's got that fucking thing in his eye where he's a little bit mean and I love that. He means business. I saw some pathos in there."
He counts Mars' 'Locked Out Of Heaven' as his favourite radio song at the moment. "Many of his songs are about ardour and passion. The good pop songs are always about a high stake emotional situation."
Interviews like these tend to conclude with the artist's plans to tour the album for the next few months but, as you can imagine it would be no mean feat to get a 75 piece orchestra around New York, let alone the rest of the world. Wyatt does have one opportunity, as of right now, to play the record live though – at New York Festival, Down Town, alongside Kendrick Lamar. Here he will be using a chamber orchestra of 20 to cover all the parts. "I wouldn't care if I made no money off of this record," he says. "If I made enough to be able to tour it with an orchestra, I'd be a happy man."
Descender is available now via Downtown.