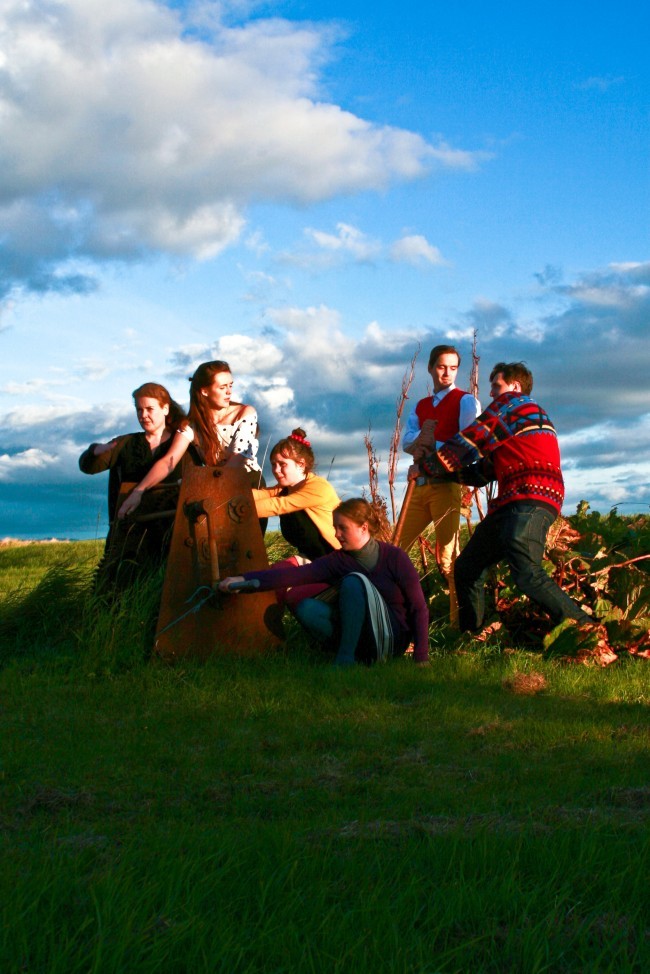 I ask if they were able to take any sounds from the lighthouse and use them either as part of the original shows, or record them and use them on The Lighthouse Project. Edda reveals, "well, that was quite an annoying sound – but we did record some sounds, and they ended up being a tiny separate track at the end of the album. It was the ongoing Morse of that particular lighthouse."
Lighthouses, while being a place of harbour and safety, can also be viewed as a metaphor for danger, or a warning to us. Yes, they guide us to safety but there's still an existing terror when a ship's captain suddenly realises their vessel is dangerously close to dashing against the rocks. I ask Maria and Edda if they considered the various meanings when undertaking the project: "I think we were careful of choosing metaphors," says Maria. "We took it more as being a message being produced, and the lighthouse being a metaphor for something that guides, and no matter what it's something that has to keep on shining whether there's someone seeing it or not.
"And we took that as being symbolic for musicians; making music is something we have to do, and the urge comes from within to produce music and feelings – to try to reach out to someone, and keep doing it even if no-one's listening!"
Another interesting nugget, away from the lighthouses, is that the record contains a version of Lee Hazelwood's 'Leather and Lace'. The original version made by Hazelwood and the band for the 'Hilli' single was the last of his recorded work before he died in 2007, so I ask if it was important that they gave that track a new lease of life. "Yes," agrees Maria, "but the reason that song is part of the set is because of the instrumentation; we had to work semi-acoustically because we couldn't take all our equipment with us, so it fit really well into the set. But we were really fond of that cover, and we do always feel a bit connected to him – he hadn't collaborated in two years with anyone, then got together with us to do 'Leather and Lace', and then he just died. We do feel really connected to him."
Having watched the videos that accompany The Lighthouse Project you begin to get some idea of how much of an undertaking the whole project actually was; not just the setting up of equipment in unfamiliar and unique spaces, but also the logistics of travelling to these remote places, along barely-there roads with a van full of equipment, a spouse and a new baby.
So, would amiina consider doing the project again, in Iceland or further afield? "Oh, human beings have such a selective memory!" laughs Edda. "We've begun to remember the trip in a romantic way," agrees Maria, "but when we really think about it….and when we were working on the video clips we were so shocked to see the state of our looks! It looks like no-one remembered to take a hairbrush, or looked in a mirror for three days!"
The last word goes to Edda: "Because of the logistics everything was up in the air, it was always windy…so seriously thinking about it again, I would definitely plan it differently – play the lighthouses one at a time and not in one trip around Iceland!"