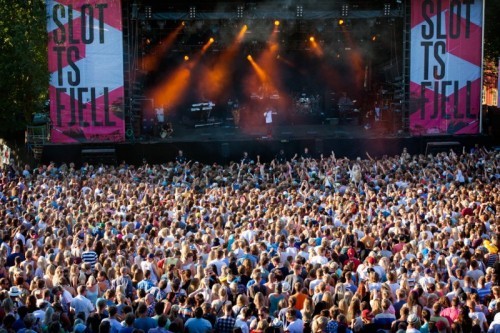 Photograph by Jonathan Vivaas Kise
Saturday
It's boiling hot, and Jonas Alaska has the somewhat unfortunate task of performing directly into the sun in the middle of the day. Blistering heat doesn't seem to bother the Norwegian troubadour however, as he and his band unleash country tinged ballads featuring sumptuous harmonies, masterful melodies and sublime lyrics. As the set draws to an end, his band exit the stage to leave Alaska solo, at which point he graciously thanks the crowd for their reception before launching into a heart-breaking, sun drenched rendition of 'If Only As A Ghost'. The crowd are attentive, listening carefully to the sombre lyrics as Alaska's weather-worn voice drifts gently into the crowd before delicately ending to rapturous applause. It's a stand-out, very memorable performance from an exceptional artist.
After a lot of fiddling with speakers, tweaking pedals and moving equipment, Dan Deacon makes a verbose introduction to a fairly sparse crowd (with many of the festival's attendees opting to stick to the main stage following a set from The Wombats). Inciting everyone to drop to their knees and point a finger in the air, Deacon makes it clear from a very early stage that audience participation if going to feature prominently is this show. And that it certainly does.
Dividing the crowd into two sections, selecting a captain for each and encouraging the crowd to copy the "interpretive dance" movements of each leader brings much amusement to onlookers across the festival site as the post-Wombats crowd runs closer to see what's going on, being shown that non-chart music can be 'fun' too. Unfortunately, the music is somewhat secondary in the performance, but stellar tracks from Deacon's latest album America provide an excellent soundtrack to one of the most energetic and engaging performances that this town's likely to see this year.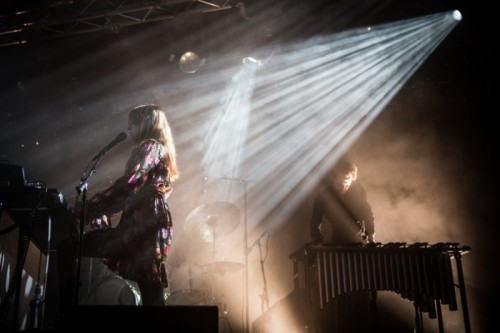 Photograph by Erlend Glosli
We swing by the French tinged electro set of local boys Lemaître before making our way to the top of the festival, where Susanne Sundfør, in the dusky shadow of Slottsfjell's looming, iconic tower performs an exceptional set of tracks old and new to a thronging crowd of avid listeners.
The show itself is spectacular, atop a hill with Norway's midnight sun glistening on the surrounding fjord. It's a sonically and visually spectacular end to a festival which prides itself on paying attention to the small details that can make these kind of events so special. The set wraps up, and the festival goers prepare to move on to the rest of the night's festivities, many heading to converted warehouse Kastellnatt to catch a DJ set from Totally Enormous Extinct Dinosaurs. But there are a fair few folk that remain seated, taking in the surroundings and feeling of this special setting before the gates close, and the fans are able to make an excited return to Slottsfjell again next year.