Country-wide riots that threatened to spread to Leicester; talk of folding festivals due to an over-saturated market; bands left unpaid for performances at earlier events struck by financial turmoil – this year's Summer Sundae was preceded by a flurry of bad news. However, with a passion and verve typical of one of the nation's most celebrated small festivals, Leicester's premier music event was able to overcome the atmosphere of unease and deliver another quality weekend fueled by performances from both experienced heavyweights and promising new bands playing across four stages.
On Friday afternoon, Glasgow's Admiral Fallow are an early highlight on the indoor stage, more than earning a rapturous response with their soaring, emotive and unquestionably Scottish roots pop; they are undoubtedly ones to watch. Shortly afterwards on the main stage, much-discussed Louisiana outfit Givers make up in verve and enthusiasm what they lack in songwriting experience. With much of her band's UK tour cancelled owing to the London riots, Tiffany Lamson's heartfelt declaration that it was not the unrest but Summer Sundae that would be their abiding memory of this country goes down as well as you'd expect.
It would be difficult to conceive of a better introduction to the weekend's performances in the venerable Last.fm Rising Stage than the set put in by Wolf People. The comparisons to the likes of Led Zeppelin are understandable but simply don't do this London four piece justice. The exhilarating tightness and sheer power of their precise, pummeling sound demands to be experienced in order to be understood. Found in an early evening Musician stage slot, Raghu Dixit proves to be another good discovery. Fronted by his easy charm and good natured humour, Dixit's band combine sweltering Indian sounds with universal songwriting smarts and deservedly pack out this smallest of stages.
The idea of hearing 'Blitzkrieg Bop' covered by Osaka's all-female punk heroes is an alluring one – and apparently it was quite something – but getting TLOBF's photographer through the gates sadly means missing Shonen Knife. This gives us extra determination to stick with far-traveled music and catch Jamaican reggae legends Toots & the Maytals, who are preceded by a slightly bemusing covers set by 'Toots' Hibbert's daughter. At 65, the man himself doesn't get around quite like he used to, but his voice is undoubtedly still up to scratch and to hear the likes of 'Bam Bam' and 'Pressure Drop' in the intimate atmosphere of DeMontfort Hall is a rare and special pleasure.
On Saturday morning word spreads around the site that we could expect improving weather for the rest of the weekend, and this further buoys spirits as the musical quality remains high into the second day. Local Leicester trio We Three and the Death Rattle, and especially their mesmerizing lead singer seeth punk fury and throw out free T-shirts on the Last.fm stage, while indoors The Heartbreaks somehow squeeze real rock cool from a youth spent in rainy Morecambe.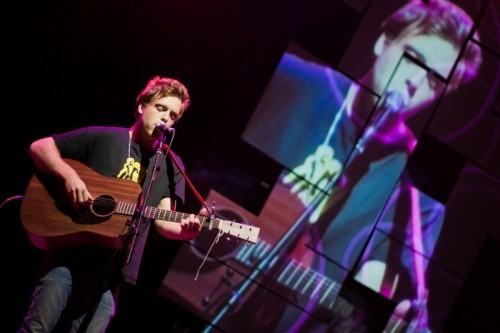 Earnest but ordinary singer-songwriter Benjamin Francis Leftwich will need a more varied and less glum set to elevate himself above the seemingly endless ranks of thoughtful young men with acoustic guitars, and leaves us unconvinced. Kissmet are a better gamble, and in many ways fulfilled the East/West fusion role Raghu Dixit had done on Friday. Although the band's Happiness Police tactics are a turn-off – they all but refuse to play until all the main stage audience was stood up – theirs is a thrilling and infectious sound fusing bhangra, rock, reggae and almost disturbingly well-executed dance moves.
A little later, rub-board-wearing Swiss zydeco trio (!) Mama Rosin show off a knack for making incredibly thrilling music look effortlessly easy. "Now this is our only slow, sad song", they warn in charmingly broken English, before tearing into their roughest, fastest number. The devious sods. 11-piece folk extravaganza Bellowhead make no secret of their plans, Jon Boden gleefully leading this staggeringly polished group of musicians on a rampage through centuries-old, morbid and wonderful tales. 'Cross-Eyed and Chinless' and necrophilia love fable 'Cold Blows the Wind' are the highlights of what was perhaps the festival's best set.
Playing to a packed Last.fm stage, Pete and the Pirates are disappointing, not only in comparison but in their own right, lacking the excitement their set put across a few years ago; theirs are ordinary rock songs played competently and little more. Next, Newton Faulkner headlines the main stage still in debt to 'Dream Catch Me', and while he plays his hit in some style, the set is padded out with a lot of chit-chat and sketches about love-struck dog food tasters. Given the task of closing the indoor stage I Am Kloot put in a sober but entertaining set, dominated by songs from last year's Sky at Night record.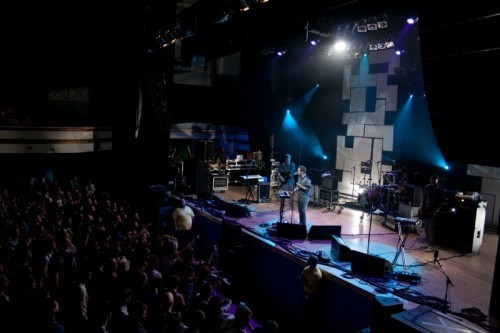 After a slow start Sunday, would soon grow into the festival's climax in quality as well as chronology. A performance by Brooklyn's The Antlers goes a long way to wake up audiences on the indoor stage come early afternoon, their emotive songs an invitation to think as well as feel. Clashes are mercifully rare all weekend – a blessing of Sundae's modest scale – but we can see only half the sets by Scotland's The Phantom Band and fey Netherlands folksters The Black Atlantic, who impress over and above the somewhat lazy Fleet Foxes comparisons they've endured.
Apparently Young Knives are still around, and though they draw a sizable audience for their main stage appearance, Ashby-de-la-Zouch's finest just don't seem to have the songs to justify such a high billing. With as few members, London's post-industrial trio Factory Floor make a lot more interesting noise, and even if they offer very little in the way of visual spectacle, their performance briefly transforms the indoor stage into an underground club that the very hippest would be glad to be seen in.
After two days of family-friendly festival entertainment on the main stage, someone had to lower the tone and The Cuban Brothers step up to the plate on Sunday afternoon. Their close-to-the-bone jokes would grow tiring if they didn't have the tunes and dancing to complement them, and the cover of N.W.A.'s 'Express Yourself' with heavy Cuban accents is… an experience. In their own way Warpaint are just as idiosyncratic, two members of the California band turning up in voluminous shawls before shedding them to let selections from The Fool slowly unwind on the indoor stage. Even if to these ears their sunny dream pop doesn't quite match that of Cliffie Swan – also all-female and from Los Angeles – the set is still a beguiling listen.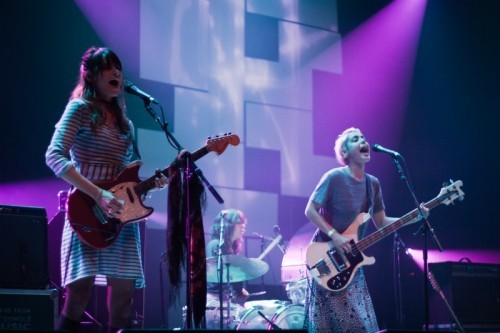 Clinical white lighting, a precisely synthesized sound and matching grey boiler suits make Everything Everything look very serious indeed when they take to the stage, fronted by a Jonathan Higgs giving the set his absolute all. There's a unity of purpose about this band that makes them compelling, and it shows through in a set which takes in all their major songs so far. Intent on avoiding McFly, a sizable crowd gather slowly but surely for Blood Red Shoes, not headliners per se but entrusted with the task of closing the entire festival. A heavy weight for just four shoulders, but Laura-Mary Carter and Steven Ansell take up the challenge with vigour and put in a thunderous and literally room-shaking set which proves to be one of the festival's best. Blood Red Shoes put in some of the best evidence yet of how compelling a duo can be and bring to a close another comfortably well-run and consistently entertaining year for one of the UK's best small festivals.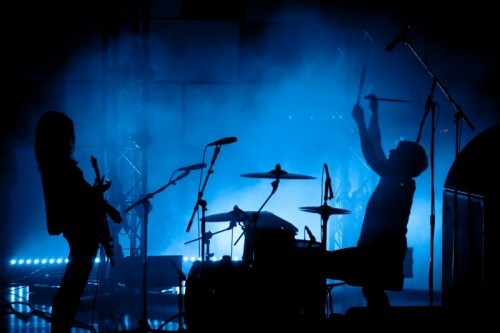 All photographs courtesy of Stevie Denyer.