Field Day, set in the heart of London's Victoria Park, has over the last few years become the place to be and the festival to go see. Topping even last year's impressive bill of Caribou, Phoenix and Simian Mobile Disco, this year the organisers behind the likes of Underage Festival and the Apple Cart have decided to focus more on moulding an entire day's worth of great bands than attracting a set of big-name headliners. And with acts as diverse as James Blake, John Cale, The Horrors and…err… The Coral, it seems like the perfect festival, right?
Well, not exactly. It's quite sad that Field Day is as famous for being a hipster catwalk as it is known for its line-ups. Being my first year at the festival, I was hoping that this infamy would be dispelled as a snide myth, but it's a shame that this wasn't. It's a crazy sight to see half the audience better dressed than those on the stage; that the white middle-classes that make up of half the crowd are subjectively "cooler" looking than the bands on stage – the actual rockstars whose whole identities are centred around them being swaggering and strutting performing peacocks.
It hard to focus on the bands or the oh so ardous task of trying to enjoying yourself when you cannot get the fact out of your head that 3/4 of the people surrounding you are far more attractive than you are and that the remaining quarter are at least better and more expensively dressed. I spent a lot of the time consciously trying to avoid the three (yes, I counted) people I was aware of that were wearing the same Urban Outfitters shirt as I was. If only the bullies from my old school were there, they'd soon realise that I wasn't all that much of a goth/emo/indie like they thought. Once you get all your insecurities and prejudices out of the way however, and this normally comes at overpriced drink #2, you can really start to enjoy the amazing line-up on offer.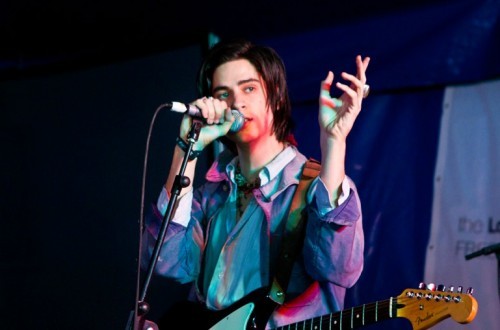 S.C.U.M
Arriving too late to see either The History of Apple Pie or S.C.U.M (both of whom I had drunkenly berated friends the previous night for not intending on arriving early enough to catch either) I decide to cut my losses and head to the Bugged Out! stage for Pearson Sound, also known as dub producer Ramadanman. As talented a turntablist Kennedy is, a 1pm start is way too early for the guy to whip up any sort of movement from the modest audience. It feels like no time has passed since last night and that I've been rudely awoken, dressed in a Wallace and Gromit-esque clothes machine and dropped straight onto a dancefloor and forced to dance like a monkey. Although from the looks of the two finger-gun tooting blokes next to me, it already feels like I'm in a zoo.
Taking to the Bloggers Delight stage for the equally early risers amongst us, Bristol/Berlin based journalist-turned-singer Anika stands confidently poised front and centre. Surrounded by her backing band, Geoff Barrow's (yes he of Portishead fame) Beak> she exudes a coolness akin to the likes of Nico in her Velvet Underground days. With mechanical glitches and raw instrumentals colliding in a perfectly uneasy fashion, Anika transforms her already sinister and beautifully bizarre cover of Yoko Ono's 'Yang Yang' into something even more experimental. As the set progresses and the low murmurs of chatter become increasingly distracting, the sultry young blonde's low warble and coy, awkward aloof stance becomes compelling and frustrating in equal measure.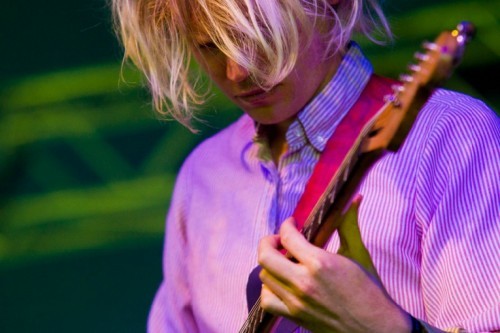 Connan Mockasin
After taking some time out in the Hospitality lounge, where the amount of luxury is summed up by the fact that there's even cushions on the floor, I head over to catch a glimpse of Connan Mockasin, who has been receiving so much lauding from every blog angle that by the time I get there it is indeed only the glimpse of his head and shoulders that I can catch. While his new record is an engaging piece of shoegaze psychedelica, here, partly due to the frail and faint sound quality and also partly due to Connan's apparent complete obliviousness to the crowd standing before him, it all comes off a little flat. But trying to worm my way out of the crowded tent, it seems I'm alone in not being wholly transfixed.
Instead I head over for the remaining fifteen minutes of Ducktails, who despite his name shouldn't be confused for a straight-to-VHS Disney cartoon. One of the common experiences of Field Day is to expect a heartbreaking clashing of two (or even more) really popular acts, both of which's tents would be uncomfortably overcrowded- meaning that elsewhere you'd find more modest but nonetheless decent acts performing to a measly reception. During this crossover, that happened to be normally-a-dancefloor-filler Roska. Standing just the wrong side of the Blogger's tent, Ducktails repays my lonesome wander between stages with a climactic finish of experimental electronica that veers in and out of tropical jangling and lo-fi drones. He even closes the set by bizarrely playing a lost RNB classic, while he's just stood there idly as the crowd silently decide whether or not the set is actually over and if they should leave or stay, every now and then pressing a button or two to distort the track into full incomprehensibly. "I have been Ducktails. Thank you", he simply says as the song finishes. The crowd laugh nervously, just about taking this as a signal of departure.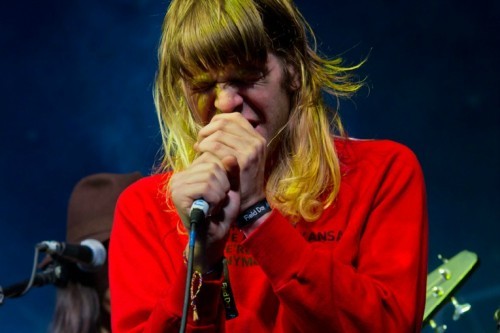 Ariel Pink
3pm brings the first of the day's difficult decisions: between dance maestro Matthew Dear or experimental art-rock maverick Ariel Pink. I'm not used to such decision, as normally my daily predicaments revolve around things like "Which of my two favourite shirts should I wear today?" and "Who should front my NPower Championship fantasy football team?" You know, the typically important problems of the recently-graduated not-yet-a-man. But I plucked up the courage and lumped for Ariel Pink, a performer that always promises entertainment at least. The set is a curious mix of the musician's older lo-fi material that doesn't really fit in with the more accessible, more simply – better, hits from 2010′s Before Today. But as the idiosyncratic musician becomes more erratic on stage, you begin to wonder if it is morally right to encourage questionable mental illness with such fanatical applause. This seems to be lost on mostly everyone else, who meet his howling outbursts with laughter and whooping. I decide to call it quits after a triumphant rendition of 'Round and Round' and still manage to sneak a peak of the dying seconds of Matthew Dear's live band set while waiting to see Mount Kimbie.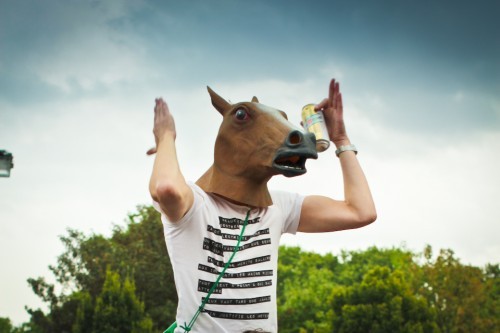 The latter duo take to the stage just before the mobile phones, that are mostly obsolete due to network congestion, flash four o'clock. The expansive Bugged Out! tent is a stage that exhibits one of the better sound systems, complimenting the more dancier acts of the day. Mount Kimbie sound huge as Dom taps out some jittering beats and Kai manically hits at the wide array of drum pads and cymbals that surround him. 'Before I Move Off' and 'Blind Night Errand' make Kimbie the first band to unite an audience and really get the crowd moving, or maybe it just could be the onset of alcohol consumption. Either way, 'Carbonated' – one of the standout tracks from the brilliant Crooks and Lovers - warbles around the tent, the bass pounding at your chest, the sub creating a vacuum in your ears and the crackle acting like popping candy in your skull. Elsewhere at Bloggers Delight Brooklyn-based Oneohtrix Point Never, an act who would appeal to the majority of those back there at Mount Kimbie, entertains the crowd with an interspersing of grooves and glitches.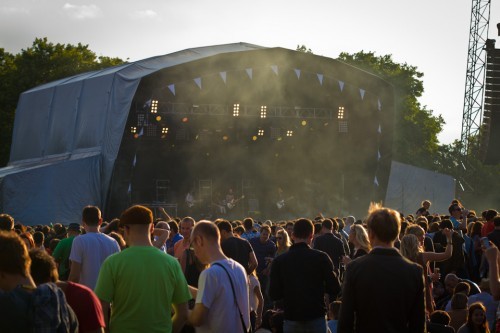 Bumping into friends at Bloggers Delight, conversation has to be brief. Oh, the luxurious life of a music journo – mostly spent walking alone, trying to tweet. And so it's back on the lonely path that circles the festival – from Village Mentality by the entrance to the Shacklewell Arms/Lock Tavern tent the other side of the main stage. It is the latter to which I'm heading, for a brief peek at Givers, new favourites here at TLOBF who have all the promise to really set the latter half of 2011 alight with their sunny-side-up outlook on life and the music to match. Time restraints start to become the pattern of my day and, along with the sheer crowdedness of what is the smallest venue at the festival, mean that I only stay for the opening song. Lucky thing then that it's debut single 'Up, Up, Up', a twee tour-de-force that brims with unbridled and unapologetic enthusiasm. I probably should have stayed – I've seen Givers before and they have exert more energy every night than I think I ever have in the combination of all my life's nuits. I'm the first person to spoil someone's fun but you can't fault the band's spirit.
But departing Givers, I trek all the round the other side of the site only to wait for a very late Twin Shadow and to rue my decision of leaving the previous set. I don't wait around long enough for the New Wave outfit in the end, it's moments like these that the organisers' air-tight booking policy prevails. Glancing at my schedule, I opt for Zola Jesus instead, who is ten minutes into her set – swaggering across the stage inviting the audiences' collective eyes to follow her back and forth then back again. Her eerie art-house noir convinces me that I made the right decision in not waiting around any longer.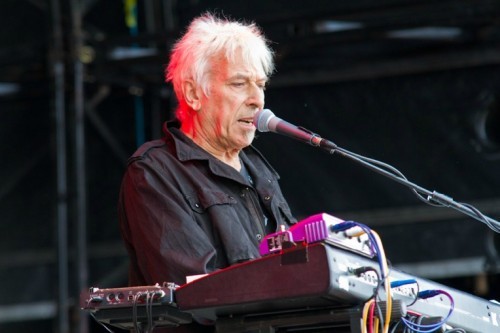 John Cale
After she draws her slot to a climatic close, John Cale begins on the Revels sweet bag that is the main stage. The response is equally a mixed bag – some seem completely blown away by the former Velvet Underground man's eccentric avant-garde display, while others seem quite lost deciding instead to sit on the floor and natter amongst themselves. It was this second group that I belong, although I was actually standing. I wish I could have enjoyed it, merely for the fact that the man is indeed a rock history relic, but the set seemed too diverse with Cale trying too many things and not really doing any of them with enough conviction. I was just waiting for 'Waiting For My Man', if I'm too be perfectly honest. And it just never came.
As Cale continues, what seems like half of Field Day have gathered instead to gawk at Omar Souleyman. I just don't know, the Syrian oddball performer, who has recently teamed up in the studio with none other than Bjork, is good as a novelty. But if remove his unique showmanship which tends to revolve around him dressed in complete Arab dress, wandering the stage listlessly, raising his arms in the air and occasionally saying "Yeeeahhhh" over accompanying beats, then you're just left with hipsters dancing to middle-eastern music for nothing other than ironic kicks. But who am I to be such a killjoy? I danced along too.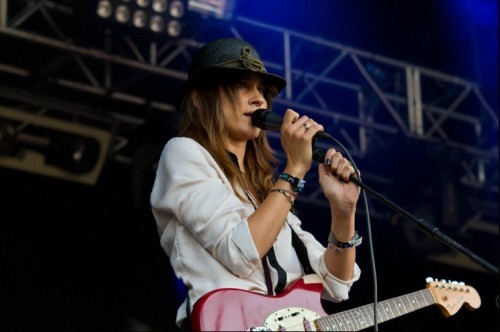 Warpaint
Taking a rest from all the rowdiness, I join the seated masses at the Main Stage. Having been absent from our shores for a month or so whilst touring Australia and Europe, LA's femme-quartet Warpaint prove to be as enchanting as ever. Seamlessly fusing their sultry laid-back charm and an intense, brooding aesthetic Theresa Wayman, Jenny Lee Lindberg and Kokal's layered vocals drive delightfully delicate numbers such as 'Billie Holiday' while Fool highlight 'Undertow' sees Stella Mozgawa's incredible drumming skills lead the way with that irresistible guitar hook.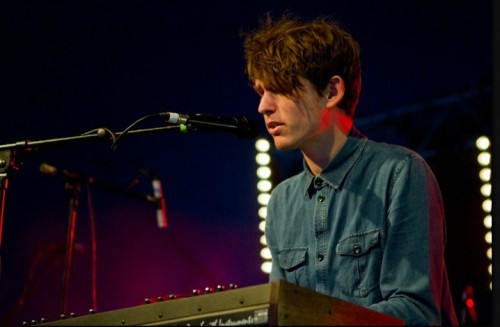 James Blake
Back over to the Laneway, the audience get a bit anxious waiting for James Blake - who is about to play his second set of the day, having DJed the Bugged Out! tent earlier on. I popped in to see a literal five seconds of his early appearance and Blake was flicking through a collection of CDs to a handful audience of what was mostly swooning girls. His live gig can only be more entertaining than that can't it? I've seen Blake play live many times before but they have always been electronic club sets and I haven't had the chance to see him since his debut came out in January. Like most people I was totally infatuated by the album at first, but in time, like all reactionary things, that initial excitement has worn off – meaning that Blake probably won't top many people's End-of-year lists as seemed a near cert back in the opening months. I had seen videos of him performing at festivals and his paper-thin sound has seemed a bit feeble in comparison to the expansive setting. But as the day starts to become night, this set isn't – as someone else put it – "bass music for bedwetters". No, Blake bulks out, flipping between old dub classics such as 'CMYK' and padded-out versions of album tracks that expand and sprawl into bass spirals, even showcasing a new track which shows a darker and heavier side to the emotional fellow. A couple of technical difficulties dampen things a slight but it doesn't seem to matter to an adoring crowd hanging on the musician's every word and quivering harmony.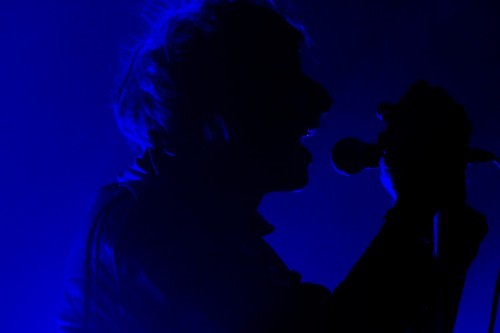 The Horrors
After doing an obligatory bit of mingling with friends and acquaintances again, it's back to the grind – or alternatively, the Laneway tent, for Shoreditch's favourite recovering goths – now an acceptable shoegaze outfit - The Horrors. The 40 minute set shows the wealth of material the group have amassed over their last two records, leaving tracks from Strange House out completely, but in vain even tracks like the brilliant 'Who Can Say' sound very drab due to a repeatedly-disappointing soundsystem.
Optimistically I stay until the last song but things don't seem to pick up and I venture to Chad Valley, making the conscious and controversial decision to give Wild Beasts a miss. I won't go into much detail on how I find them mind-numbingly boring because I've learnt the hard way that this can only cause mass arguments and put strain on many a friendship. Instead let me just say that it's a shame that Chad Valley clashed with the headliners because while the majority of the field's overpacked populous were absent having tender moments with loved ones to Hayden Thorpe's dulcet tones, the surprisingly plentiful of us that were left crammed into the Shackewell tent, sweating our tired corpses of bodies off to Chad's synth-n-sing electronica. The set was squeezed in at last minute, with Glasser starting right at the end of the preceding set – almost literally crossing over and tapping hands like a pair of relay runners at the side stage in between. Everything gets a bit chaotic as Wild Beasts finish up on the main stage and everyone has the same idea to head northward as Glasser, also known as Cameron Mesirow, is the last performer remaining. The New York sexbot is as mesmerising and hypnotic as ever with her robotic movements and alluring gazes, but it's far too late in the day and the set just sends me into a bit of a sleepy lull.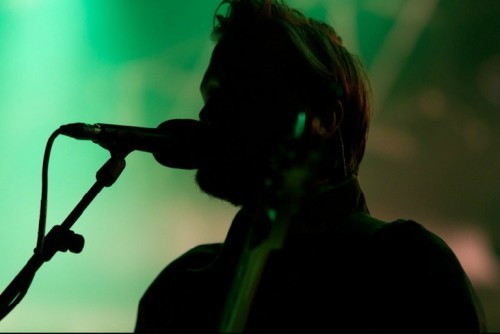 Wild Beasts
I call it a day with my head still held high but body failing me ever so slightly. As I exit with the equally tired masses, Field Day 2011 becomes a rarity for a festival being criticised for having too good a line-up. Such a swell of impressive bands, producers and singers meant that there would always be those overlooked. In my case, the list is nearly as long as those I manage to see: Faust, 2.54, Anika, Darkstar, Villagers, Electrelane, Actress, Jamie XX, SBTRKT, Anna Calvi and Gruff Rhys. And I'm someone who saw more bands on the day than anyone else I encountered. Imagine if you wanted, God forbid, to also socialise with your friends, take some rest on the grass, catch some rays and maybe even fit in some lunch.
Photos by Paul Bridgewater