This Heat's drummer/vocalist Charles Hayward and guitarist/vocalist Charles Bullen will come together for two nights this February at Café Oto in London to mark the 40th anniversary of the first time the post punk trio performed on stage. Gareth Williams, the other founding member, passed away in 2001, so Hayward and Bullen have acknowledged the incomplete reunion by billing themselves as This Is Not This Heat. Coinciding with this rare occasion are Light in the Attic's vinyl reissues of This Heat, the Health and Efficiency EP, and Deceit.   
Winners write the history, but winners are subject to change if the war drags on long enough. You're much more likely today to find a kid wearing a Velvet Underground T-shirt than listening to the Turtles. This Heat haven't exactly reached Velvets-level cultural recognition yet, but the fight isn't nearly over. Many have made the point, but the reminder is always welcome: without these three free-jazz-informed squatters left to their own experimental devices out in Brixton, the landscape of independent rock music in the 1980s and 1990s would not have looked quite the same.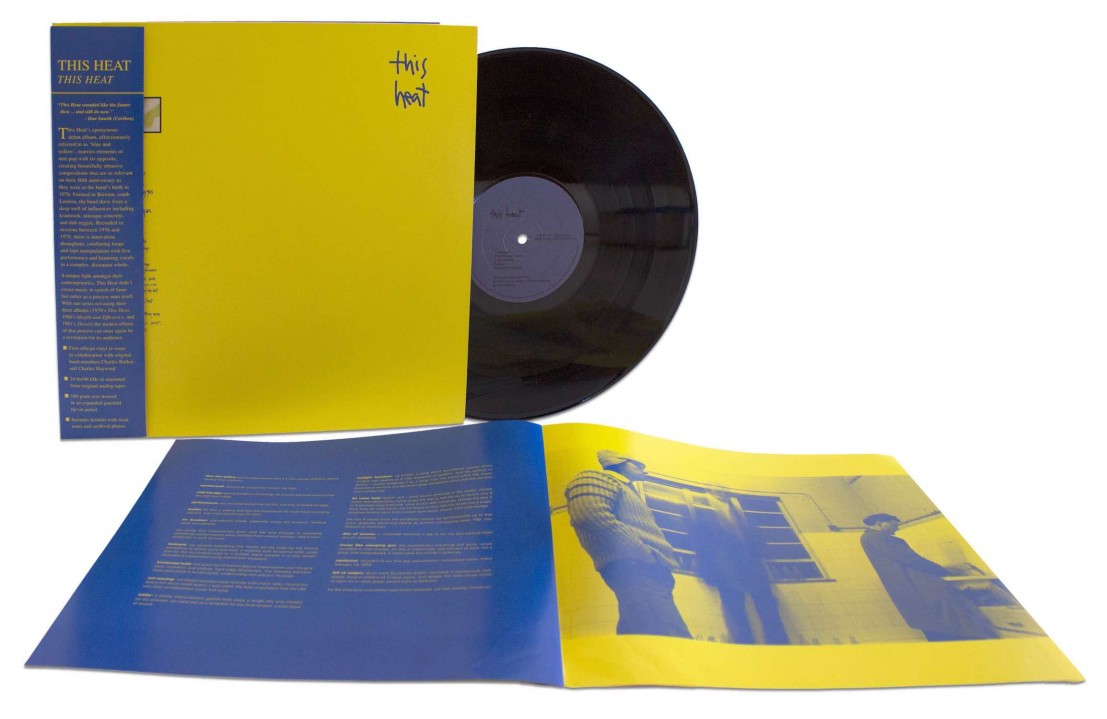 Much of the credit for that has tended to fall on Deceit, but it should be shared with their self-titled debut. The viscid, clamorous birth of post rock can be heard in "Horizontal Hold" much as one can hear the ocean in a seashell. Numerous groups from the heyday of Touch & Go/Quarterstick owe at least a small debt to its stop-start series of stomping drum beats, alternating proto-industrial and frayed jangle guitar riffs, and melting rubber bass lines.
Then there is the notorious "24 Track Loop": a booming, clapping, steel coil precursor to jungle, electronica and beyond. All of that in a mere six minutes of a heavily processed and manipulated drum loop. This Heat didn't just inspire people to build on its ideas; it accidentally invented genres.
Those who were there proselytize their live power, but This Heat is a headphone album, or at least one best listened to with your ear against the speaker to best hear every cough, ghostly backing vocal, and fingernail scratching against a worn-out string -- and that's only "Music Like Escaping Gas". Capturing the unit's dramatic capabilities in full, "Not Waving" is like a scene from a radio production; a spoken word lament recited from what sounds like the bow of a creaking ship adrift in a thicket of fog. The stark environment conjured by the track compliments the poet Stevie Smith's "Not Waving but Drowning", which This Heat were apparently only made aware of after the recording was made (they believed it to be the title of an Edwardian music hall song).
Surfacing in the fall of a year that would begin with the death of Sid Vicious and end with the release of London Calling, This Heat floated outside of its time, but it didn't just suddenly appear. The album was recorded piece by piece between 1976 and 1978, in both live and studio settings, and subsequently would not reach record shop shelves until musician and artist David Cunningham put it out on his Piano label in September of 1979. This is where Rough Trade entered the picture, taking on part of This Heat's distribution. Those brown rice devotees of Ladbroke Grove stepped up their involvement from there, aiding the release of the Health and Efficiency EP in 1980, and subsequently putting out Deceit on their label the following year.
Like opposed magnets, the two extended improvisations on Health and Efficiency faced off from their respective sides, the tension keeping the 12" in perpetual, unstable motion. The title track A-side revs up on guitar interplay like Television trying to cover the Ramones, resembling almost nothing else This Heat laid down. "Here's a song about the sunshine/Dedicated to the sunshine" goes their salutation, before Hayward takes his foot off the brake and "Health and Efficiency" barrels forward with intense, competing dual vocals and agitated, overdriven guitars indicative of post hardcore traits that were a ways off yet. All of that in two minutes flat.
From there, the song sharply pivots into proto punk-funk augmented by melodica and field recordings of glass bottles rolling along floors. That section then fades into a skronky denouement, making way for "Graphic/Verispeed", which Hayward describes in the track notes that accompany these reissues as "a spin-off from ['24 Track Loop'] on the first album." The title says it all: "Graphic/Verispeed" is a tape of a wordless, improvised drone put through graphic equalization and various playback speeds. Where the A-side was physical, side B was cerebral, taking the listener through 'the process itself' at whatever turntable speed they chose.
This Heat resulted from the band gradually piecing together a puzzle whose final image was undetermined. By comparison, Deceit arose from a more focused process, taking only half as long to coalesce. It has the quality of lightning captured in a bottle – or an abandoned meat fridge, as it were, plus half a dozen other locations. In his notes, Hayward succinctly describes their re-direction as making "a shift towards song." Still, some of the tracks, such as "Paper Hats" and "Cenotaph", dated back to sessions for their previous releases. The melody for "Sleep" was written by Hayward at the worldly age of 12.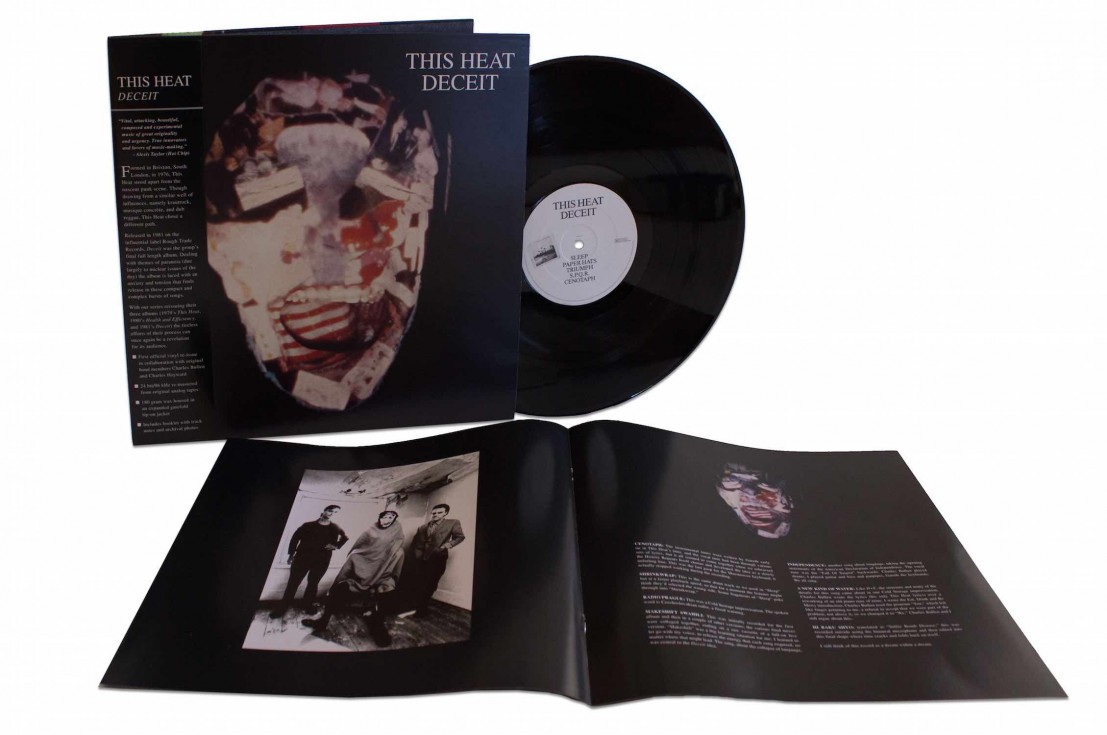 Deceit is angry and hallucinatory, direct and refracting; a coolly impassioned protest transmission from a Cold War peak ascended by Thatcher and Reagan. In 2016, Deceit's sustained relevance and commercial reemergence is a reminder that a few walls may have come down since, but the missiles remain in their silos. Not only did This Heat have a "desire to commit violence to accepted notions of music", as Simon Reynolds recalls in his oft-cited Rip It Up and Start Again, they also wanted jolt any complacency out of their audience, so that they be alert to the numerous ills committed both against them and in their name. This reissue helpfully provides all of Deceit's lyrics, and their poetic ferocity makes them well worth reading through.
Again, the band fill in the grooves with signposts to the next era: the wiry goth stomp of "Cenotaph", with its fret-board-leaping bridge, the nimble and howling "Makeshift Swahili", and the anxious pounding drone of "A New Kind of Water". There are also plenty of smaller Easter eggs tucked away in the corners. Take the group doom-chant of "we are all Romans" in "S.P.Q.R.", which 'evil math rock' masters Botch would eerily echo on the title track of their We Are the Romans in 1999. Or even just appreciate how "Sleep" and "Shrink Wrap", the opening tracks on side A and side B, begin identically on purpose in order to temporarily confuse the listener.
Neil Taylor's Document and Eyewitness: An Intimate History of Rough Trade quotes Hayward: "Later on what we did was called postmodernism but for me This Heat was about a sort of true anarchy, an anarchy that would really work." Theirs was not the anarchy of speed-addled pub rock riffs and put-on snarls. This Heat didn't fight for control; they relinquished it, unearthing new possibilities in the abandon.