Björk's story is that of the unique, of the visionary, of the artistic pursuit that manifests in so many unexpected and defining ways. She has propelled forward with a narrative that builds upon itself unlike any other figure in modern music. That it's taken this long for a book (of sorts) to pay a tribute to her in a manner appropriate to this isn't that surprising. Were it not for the catalyst - a mid-career retrospective that opens this month at New York's MOMA - then it's doubtful that Björk: Archives would have reached us as it is: an eccentric but effective package of texts.
The wider world has struggled to get a handle on her: the swan dress, the airport freakouts, vocal shrieks and the odd appearance among high class metropolitan nightlife still feed tabloids while Kristen Wiig's SNL impressions saw her reduced to a giggling ball of surreal twee. Only David Bowie has really managed to inspire something near in terms of misplaced parody (not to mention artistic sleight-of-hand) and it's fitting that Archives has shades of the V&A's Bowie Is... exhibition.
It's not a biography. If anything, Archives feels as much a part of Björk's output as the Hacienda was to Factory records. Her career - solo, it should be noted - provides the scope and Archives is placed firmly as a companion piece to her musical productivity; a surrealist and sometimes demanding Cliff's Notes to her output over the last twenty-three years. The "complex, multifaceted" characters she has created on her first seven albums, exhibition curator Klaus Biesenbach tells us, form the heart of this "exploration".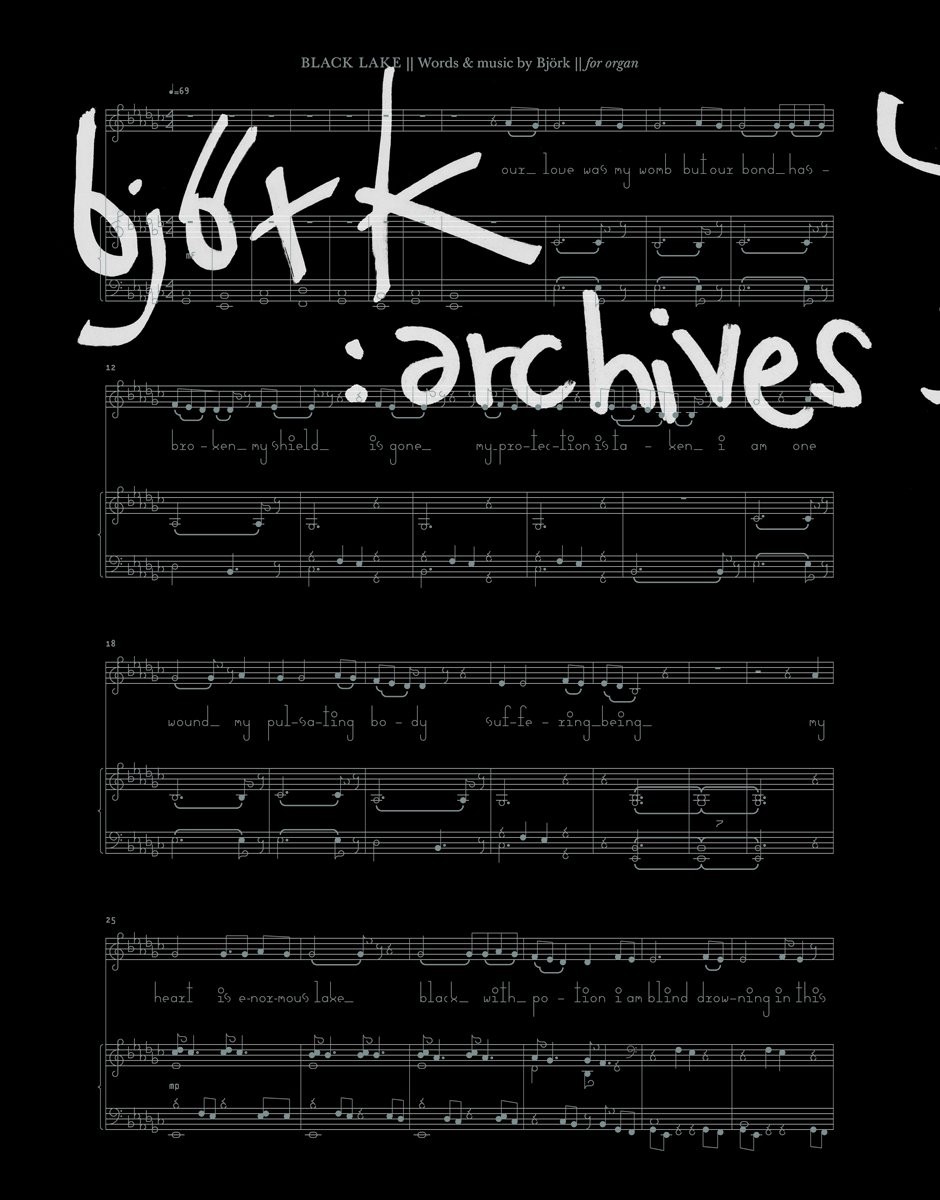 "Björk is a groundbreaking pioneer in connecting many different creative practices in and around her work," clarifies Biesenbach. "[She] is driven by instinct and intuition, but at the same time methodical and scientific in her ways of exploring new form and character." His introduction to Archives provides an illuminating backstory that picks up many of the ideas Nichola Dibben centralised in her 2009 Icons of Pop Music book. Dibben returns to contribute an essay to Archives but Biesenbach's focus isn't really the cultural significance of Björk but the creation of a collaborative event that reinforces her creative processes. Indeed, while Vulnicura lies out of scope, a commissioned work for the exhibition - "Black River" - connects it thematically.
"The cult of the solitary genius is alien to her," writes New Yorker music critic Alex Ross - the most illuminating line in his essay Beyond Delta: The Many Stream of Björk. "Something in her work rejects a cultish fiction," he adds, "…as a performer, she does not strive to dominate." His point about Björk, the collaborator is pushed hard but it's well made and related with warmth, intelligence and clarity. Dibben picks up on collaboration for her feminist reading Björk Creating: Myths of Creativity and Creation, expounding on the the threads that place nature, technology and gender central to her creative process and output.
Some previews of Archives have called it impenetrable and obscure - it's neither. While the final two texts provide a foray into less traditional territory, Björk aficionados won't struggle to enjoy them.
Taking metaphysics professor Graham Harman's Object Oriented Ontology (OOO) as a reference point, This Huge Sunlit Abyss From The Future Right There Next To You… records an email exchange between Björk and academic Timothy Morton. "I have been doing a little reading and trying to find folks who could help me define what "ism" I am," she explains to Morton. What follows is both a fascinating insight into the thought processes of Björk as much as her personality. A generous, childlike warmth permeates her enthusiasm and undercuts pretension throughout, with the effervescent Icelander bouncing off Morton's take on the animist philosophy. "Earth needs more magicians", suggests Morton early on in their exchange and by the time his correspondent is rhapsodising over Russian minimalist Vladimir Martynov we have a very clear picture of the shared passions that unite these two bright sparks.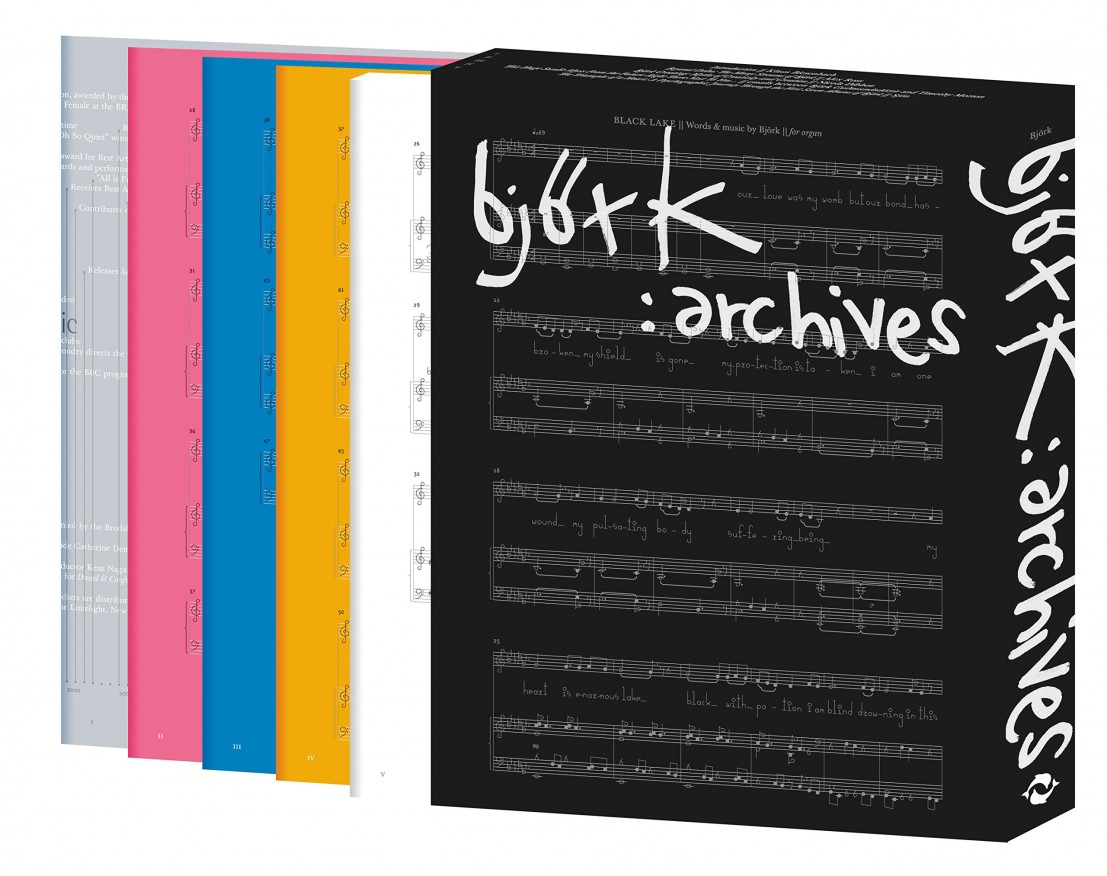 Occasional collaborator Sjón provides the text for Archives' main event. The Icelandic poet's relationship with Björk dates back to the eighties and as the lyricist on some of her best known songs (including Post's "Isobel" and Biophilia's "Cosmogony") it's poetically fitting he's involved here too. A long form poem acts as a "Psychographic Journey" through her work from Post to Biophilia and read like a parallel reality to Biesenbach's introduction. Sjón's description of Björk as "nature's participating audience" sets the scene for his own interpretation of the artistic and life events that have shaped her output. A photo scrapbook of video stills and defining (and now iconic) images place the narrative.
Archives is bold and ambitious and it's easy to forget we're reading something that has its roots in an exhibition catalogue. The presentation is immaculate and crucial to the impact. Weaved around the involving writing is are timelines, sheet music and a kitsch poster pull-out of perforated stamps that record her physical output, release by release. There's no doubt the work here supports the real world experience of the MOMA event but the greater impact is another artefact of Björk work. One can't imagine a similar undertaking as transformative and impressive as this.
Bjork: Archives is out now via Thames & Hudson. MOMA's retrospective of Bjork runs from 8 March – 7 June 2015.