For many people today was all about Bruce Springsteen or Fiona Apple. I didn't get into see The Boss but by all accounts his performance was amazing. Despite the jealously I felt towards everyone who was at the ACL Moody Theatre at least it removed the question of who to see and I could not have been more thrilled to make it into The Central Presbyterian Church for the fragile, endearing, dark and playful Manhattan chanteuse' second come back show and final SXSW performance.
Bleached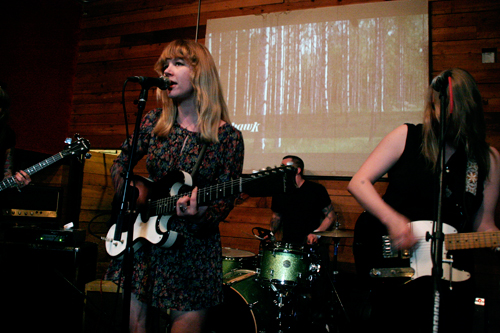 Shaking Austin out of its collective hangover with scuzzy, grunge guitars and surf pop sensibilities Los Angeles' Bleached exceed expectations. On record their sound is a little too listless, lacking the dynamism to separate them from their peers but live their jagged rhythms, smooth grooves and strong doo-wop like harmonies are intoxicating.
Fiona Apple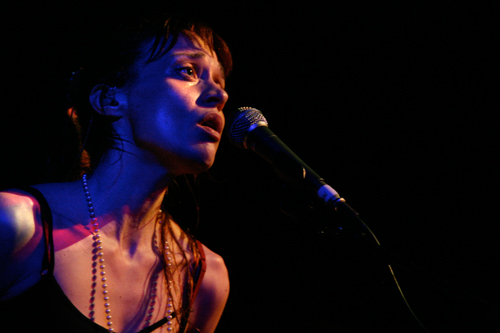 Expectations could not be riding higher for the Manhattan songstress' show this evening, a queue to get into The Central Presbyterian Church began forming around 4pm with 3 and a half hours to go until doors. Returning from a seven-year absence, this is Fiona Apple's second and final performance at SXSW following her comeback debut at Stubbs last night.
Spinning onto the stage she pours everything of herself into tonight from the very start with When the Pawn featured number 'Fast as You Can.' A nervous anxiety on her part creates an overwhelmingly tense atmosphere as she clutches her hands, swivels her skirt and twitches more than dances. It feels like an emotional exorcism of sorts: a struggle and a catharsis. Her glimmering eyes, reflecting her voice, flit from despair to joy and in set highlight 'Carrion' from the most heart breaking fragility to utter defiance.
Between songs she is coy and funny, sipping tea, apologising for swearing in a church and explaining how her hair band comes from the waistband of a baby's sweatpants but when the music starts up she is intense, neurotic and just utterly captivating. If I see anything better this week I would be surprised.
Purity Ring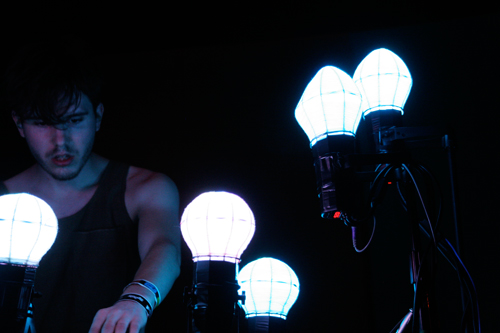 Montreal natives Megan James and Corin Roddick, aka Purity Ring delivered a tight set of bittersweet electronica from behind their elaborate light set up at Pitchfork's showcase. Stammering percussion, chiming beats and ghostly vocals wrap themselves around their skittering, dream pop hooks creating an aloof yet involving sonic landscape.
Grimes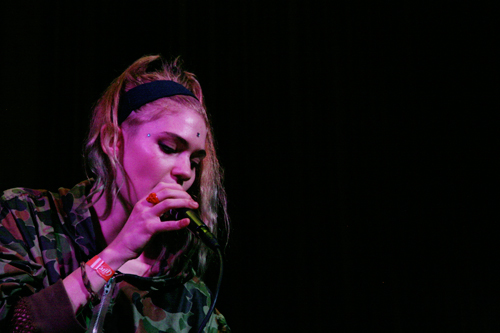 With such highly stylised press shots it was a real surprise to see Grimes' Claire Boucher saunter on stage in an oversized coat, a high ponytail and fresh face. Distilling a swirling, intelligent electronic sound from the generated sounds of her bedroom pop beginnings the Vancouver born, Montreal based 24 year old has people dancing to Visions featured tracks 'Oblivion' and 'Genesis.' A few synthesiser stumbles and timing mishaps can be forgiven when the results are still stunning.
Sharon Van Etten
In the very first hours of the morning Sharon Van Etten played an absolutely epic set at Mohawk that largely delved into numbers from her recently released album Tramp. 'Warsaw' and 'Serpents' were particularly rousing with Dinosaur Jnr's J. Mascis joining her on stage for the encore.
Close But No Cigar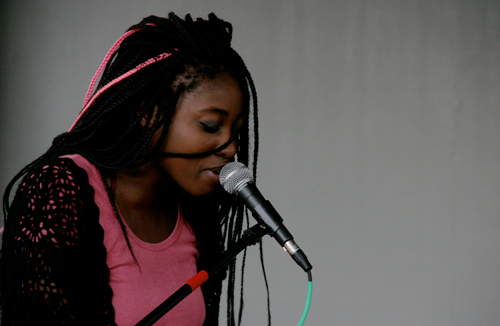 Body Language's calypso rhythms and pop hooks were the perfect accompaniment to a blisteringly hot Thursday afternoon but their softer, hazy nuances were lost to the sun and the screeching feedback.
Disappointment of The Day
Getting an email telling me I definitely hadn't won tickets to see Bruce Springsteen.
More from Best Fit