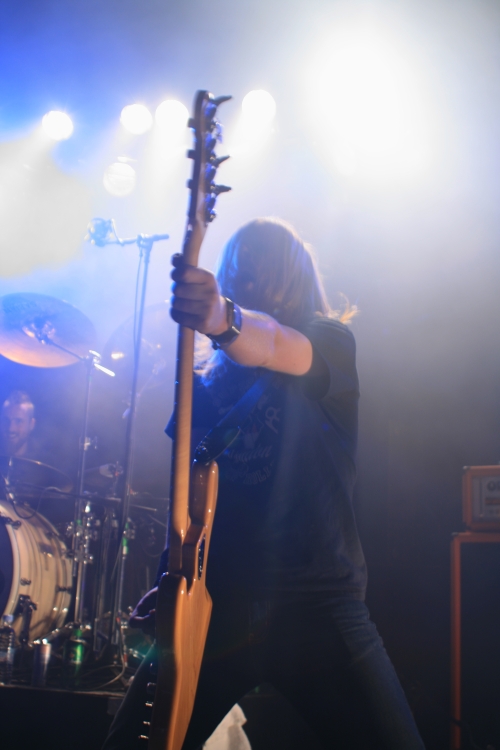 Last year, the inaugural Sonisphere, held at Knebworth, proved to be a massive success and dispelled fears that the UK might not be able to support another major heavy festival to run alongside the monster tha Download, at Donington Park, has become (especially when you take into account the clutch of minor heavy festivals that have cropped up recently). Offering much the same layout as last year's event (still with opposing main stages taking it in turn to play), but now having been boosted to a three-day event, rather than the quick-stop two, it's surprising to see so many folks milling aimlessly around. There's no time to ponder such frailties of organisation, however, because my ears are beginning to swell to the sounds of battle metal.
Over on the Saturn stage, lacking its polar companion, the Apollo, today, the face-painted, pelt-wearing Finnish troupe, Turisas, are hammering out rousing folk-tinged tales of yore, like 'To Holmgard And Beyond' and the drinking song 'One More'. Vocalist Warlord Nygard is having a little trouble rousing the crowd from their slumber, but then they've been banging the same drum for quite a while now.
It's never long before this reviewer finds himself being drawn away from the established acts of the main stages and into the tents, where this year's line-up is fit to bursting with raw talent. Upon approach, the Bohemia tent appears to have a great, hulking storm cloud crammed inside its folds – well, there's enough thunder cracks and rumbles coming from inside to warrant such a premise. It's the Black Spiders on stage and they're ritually demanding their audience raise their middle fingers at them and curse their name. "Fuck you, this one-horse town", they scream in response as they pitchfork a sequence of sludge-encrusted chugs and finger-sliding leads into the mix.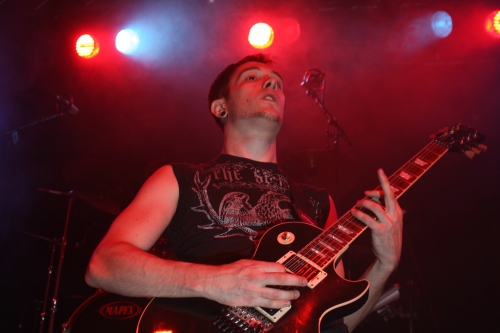 Sylosis are quick to jump on the back of their dark mood and the tent fills out even more. Sweaty bodies are soon piling onto each other as volleys of thrash and jagged metal slew out into the mob. Tracks like 'Conclusion Of An Age' and 'Reflections Through Fire' trigger a buoyant round of crowd singing and fist-throwing and, having stepped up to take on lead vocals, Josh Middleton could do with as much help as he can. There's definitely something missing from the floorshow, with little lateral movement taking place, and it's quite clearly the unerring presence that former member, Jamie Graham, took with him when he left. However, there's still much to admire here and the new frontman obviously excels in inspiring his audience to cause mayhem.
Watching Alice Cooper fall victim to his Theatre Of Death – he's repeatedly killed over and over again in various staged murders – is fun enough, but the lure of seeing 65daysofstatic bang out thumping dance music proves too much and my time with Alice, much like the man himself, is split into two sections. After seeing him guillotined to 'The Ballad Of Dwight Fry' I head off to catch the ritualistic thump, thump, thump of electrobeats as 65days tear through 'Tiger Girl'. The Bohemia may not be rammed anymore, but those who have showed up are clearly here to dance and the band don't disappoint as they hammer at synths, bang at skins, and wrench at guitar strings to bully us with vast walls of sound. I even have time to cool off afterwards as Alice sends us caterwauling into the night with a genuinely vitriolic delivery of 'School's Out' and 'Poison'.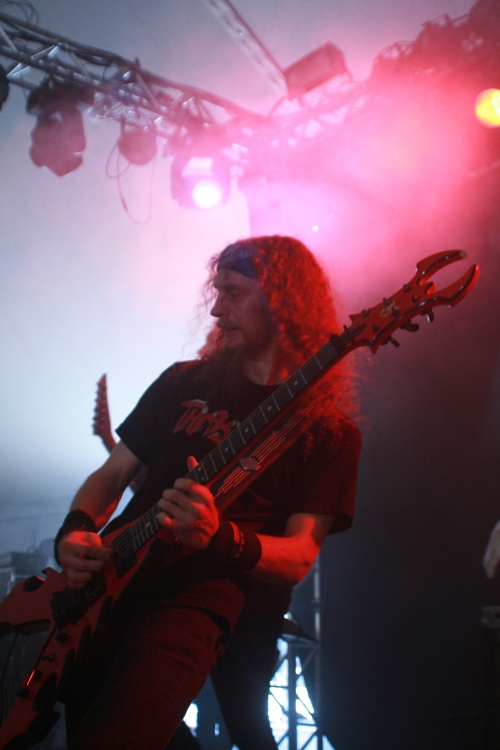 Saturday starts with a bang of ramming speed thrash as first Enforcer and then Evile threaten to blow the roof off the Bohemia. Today is going to involve a lot of walking between stages so headbanging yourself almost blind is not necessarily the ideal way to kick off but, hell, it's fun. Soulfly, over on the main stage, are keen to keep us moving and their explosion of tribal rhythms have no trouble in shaking any remaining hangover cobwebs off. Frontman Max Cavalera is in cajoling mood and he soon has the majority of the crowd repeating the title 'Blood Fire War Hate' as fists hit the air. 'Roots' is such an inevitable favourite that, even at this early hour, the pit is prepared to start tossing bodies.
Last year, Anthrax staggered Sonisphere with a career-defining performance as John Bush popped into the rotating lead vocalist slot and blew us all away. This year, they've dragged Joey Belladonna out of hiding and his incredibly precise, wickedly melodic delivery promises to do the same thing all over again. 'Got The Time' is impressive enough but it's 'Antisocial' that truly sells it.
Fear Factory's Burton C. Bell is an absolute powerhouse when he wants to be and today he seems capable of anything. He spends the majority of their set tottering on the edge of the stage, slowly destroying his neck muscles, rising to gesture to those amassed before him, seemingly entertaining the idea of throwing himself into the boiling mosh pits. At his side, Dino Cazeres rips out vast riffs (on a guitar that is dwarfed by his girth) as he ambles along the front of the stage, grinning out at us demonically. 'Mechanize' shakes our bones, 'Powershifter' claws at our ears and 'Demanufacture' stomps on every doubt we ever had that Fear Factory would disappoint.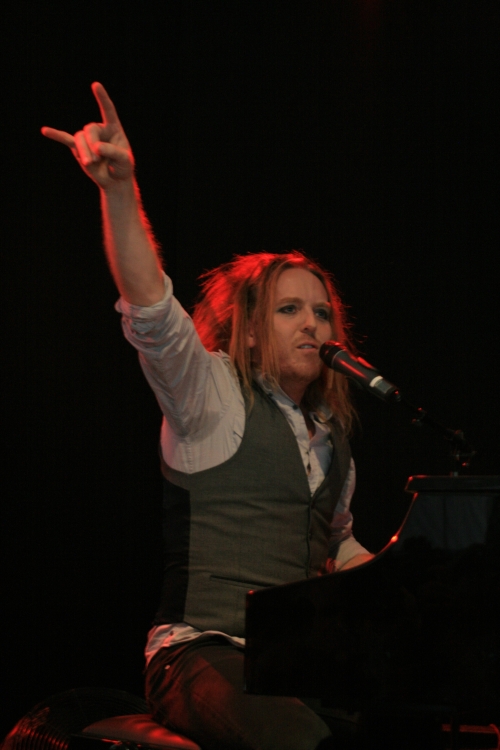 Pause, recover. There's a tent bulging with people, all crammed in so tight that they're spilling forth onto the grass outside. The big-haired comedian Tim Minchin is inside, unconcerned, singing hilarious lullabies and causing ripples. 'You Grew On Me', his most recognised number (yes, "like a tumor"), has us reeling, 'Ginger' has us in stitches, but it's 'Rock N' Roll Nerd' (with Evile's Ol Drake on guitar) that proves the ultimate crowd-pleaser.
We almost forget where we are for a moment, but then the kings of NYHC, Sick Of It All, remind us that they invented what is now known as "The Wall Of Death" and proceed to leap about with the energy of teenagers as their fans run headlong into each other. Over on the Jagermeister Stage, Malefice are doing exactly the same thing on a smaller scale. There are plenty of takers for this side-show, some even have a bird's eye view from the JagerTower, and frontman Dale Butler is keen to show his appreciation as he gathers us up in the palm of his hand and wrings out all the sweat left in our bodies.
Thank heavens for the timing of Corey Taylor. A chance to take a breath again as he shifts gear into a cover of 'Wicked Game' and a dreamy 'Bother' before illiciting a series of handclaps to accompany 'Snuff'. All are achingly beautiful in their delivery and perfect preparation for the onslaught of Motley Crüe and Rammstein.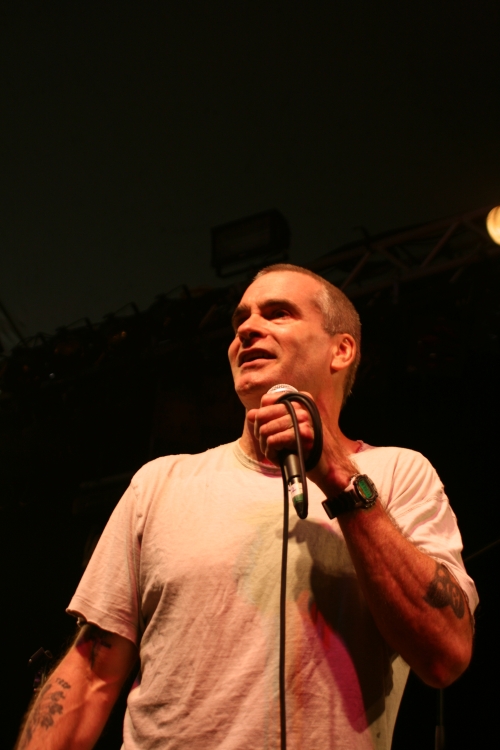 Motley Crüe, the ultimate Marmite band (you either love or hate them), provide a gut-churning amount of cheese amidst a deluge of self-promotion. Frontman Vince Neil, sporting an advert for his tattoo parlour on both his t-shirt and his guitar, proves he hasn't lost his startling vocal talent just yet and Mick Mars shows he can still rip out some wicked riffs – even if he does look like a rapidly-decomposing zombie.
Rammstein on the other hand – a band I'm hardly familiar with – appear to be attempting to cook themselves alive. Vast columns of fire are flung about with gay abandon, outwards from the stage floor, down and inwards from the ceiling rigs and down ziplines from an adapted bazooka – they even burst forth from the band's own mouths as they sing. Hell's teeth, there's a lot of pyro going on! Amidst it all, Till Lindemann staggers about, covered in grease, muttering succinctly in German. A friend poses the question "Is this the first foreign-language band to headline a major UK festival?" That gets us wracking our brains at a time when we should be revelling in watching a band at their peak. There's no denying Rammstein hit paydirt with just about everything they try. The methodical 'Du Hast' and the climactic 'Ich Will' promise to live long in the memory and even the mind-bogglingly crass 'Pussy' gets a mighty roar – when you hear it live whilst being fired upon by a straddled foam-spurting cannon it all finally makes sense. Go forth, Rammstein fans, and multiply!
Sunday dawns to a sea of bleary-eyed ne'er-do-wells. Mocha Mania coffees are downed, bacon rolls are purloined, semi-naked girls and leather-clad guys on stilts are ogled and several hours later we gather our energies for the final assault. No rest for the wicked, and all that. Rise To Remain have been waiting for us and they proceed to tear the Bohemia a new arse. Austin Dickinson, son of the legendary Bruce of Iron Maiden, scales the scaffolding, vaults about the stage like a maniac, and opens the biggest wall of death/circle pit seen so far. Not one person leaves without a smile on their face. The boy done well.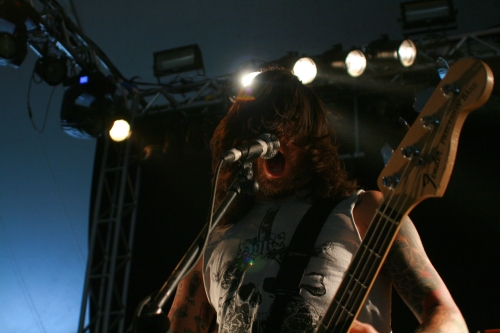 By comparison, Skindred seem a little lacking in energy, despite the devilish Benji Webbe working us relentlessly with a hilarious series of tall tales and motivational tools wedged in between the crushing ragga metal of songs like 'Pressure' and 'Roots Rock Riot'. We'll put it down to the lengthy stop-gaps that ultimately ruin the flow of their set. When they finish, I manage to catch one of the most incredible vocal displays I've ever seen. Dir En Grey's Kyo is clearly a tortured soul and it comes through in spades through a series of back-bending monkey howls, crouched foetal exhortations and pig squeals, all rounded off with sequences of the most pure, feminine singing. Both staggering and disturbing.
Slayer are just doing what Slayer do best, piling on the satanic thrash, with 'World Painted Blood' and 'Raining Blood' proving, predictably, to be the highlights, but it's Alice In Chains that give us the performance of the festival. With a setlist that is shot through with a simmering, blissed-out grunge vibe, they deftly weave their magic. It's not until halfway through that we notice we've been drooling for the last five minutes. 'Check My Brain' and 'Rooster' are merely the glowing cherries on the mind-blowing space cake.
Why Grandma, what a big stomach, you have…Ian Astbury has certainly grown over the years, but he can still belt it out like he used to – he may be on a different notch but he still fits The Cult's dimensions. 'L'il Devil', 'Rain', 'Fire Woman', She Sells Sanctuary' – the crowd swallow them all up, wave like schoolgirls and sing-along like they're at an Abba musical. Astbury's tendency to drift away from the recognized lyric patterns is probably influenced by the crowd providing the lead vocal, but when he's harmonizing his parts through a loud-as-fuck mic it doesn't come across all that well.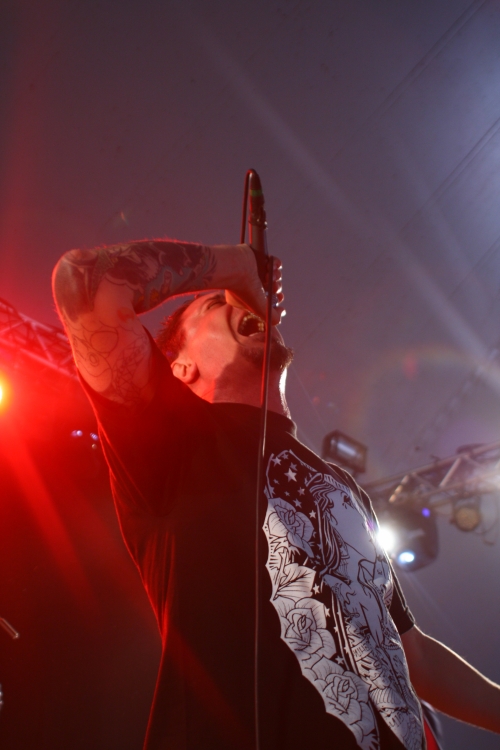 Pendulum, on the other hand, continue their metamorphosis and, in a similar fashion to last year, they divide their set into uplifting, back-breaking stonkers, like 'Tarantula' and 'Witchcraft', and deflating lightweights, like 'The Vulture' and 'Watercolour', that just need too many bully-boy tactics to fire them up.
Waiting in the wings are Iron Maiden and the anticipation for them is so mighty that they surely can never hope to live up to it – there must be at least 60% of the crowd wearing Ed The Head t-shirts all showing them the horns as they step out. However, by concentrating the majority of their set on their post-millennium material they are taking a bit of a risk by axing so many crowd favourites. There is definitely mixed emotions as they replace 'Aces High' with 'Ghost Of The Navigator', 'Run To The Hills' with 'Blood Brothers' and 'Powerslave' with the insipid 'No More Lies'. New track 'El Dorado' definitely goes down well and they throw 'Number Of The Beast' and 'Running Free' into the encore almost apologetically. Their new futuristic mascot makes a welcome appearance but, in general, their whole set is, sadly, lacking in fireworks – and I mean literally as well as metaphorically. At the end of the day, it's great to see them up there but when they fail to match Rammstein sonically and pyrotechnically, you can actually hear the Sonisphere ball deflating.
Photos by Thym Reynolds
More from Best Fit