ATP vs The Fans Strike Back – Minehead, 8th-10th May 2009
Aaaaaah our favourite time of the year has loomed yet again. All Tomorrow's Parties. The one event in the calendar year where geeks mingle with beardies and hipsters hold hands with hippies. There really is no other festival like it, and for those of you who couldn't make it or even for those out there who want to re-live the shenanigans we like to give you the best coverage that's humanly possible.
We've already published John Brainlove's diary and even 'twittered' our way through last weekends events.. But as ATP round 2 kicks off this afternoon we're pleased to unveil our bumper review!
Two perspectives. Boy and girl. Adam Elmahdi and Kate Price give a detailed look at last weekends The Fans Strike Back event accompanied with the photographs of Lucy Johnston and Rich Thane.
Enjoy! And if we've missed anything out – don't forget to tell us about it in the comments thread below…
Look out for a full review of The Breeders weekend, plus a massive photo feature of both events. All that's to come next week…
~~~~~~~~~~~~~~~~~~~~~~~~~~~~~~~~~~~~~~~~~~~~~~~~~~~~~~~~
Perhaps Grouper wasn't the best choice to start proceedings. True, Liz Harris had to be on a plane that very evening, but her uncompromisingly sombre ambient noise was too mellow and esoteric for a Friday afternoon slot, as evidenced by the rapid audience shrinkage throughout her set. Casiotone For The Painfully Alone's Owen Ashworth fared a little better, although his melancholy lo-fi indietronica was little augmented by a backing band that too often came across as an afterthought. Very heavy on new material, the lack of old favourites like "Jeane, If You're Ever In Portland" was disappointing although when he hits the spot, he's as quietly charming as ever.
Thank the Lord for Jeffrey Lewis to get things back on track. His monotonal drawl may bear little relation to the melody at hand, but that's all part of his ramshackle charm- more important are his sharp, self-depreciating wit and his hilarious, deftly surreal cartoons. More polished but less engaging were M83, whose hazy synth-pop seemed a little lost in the Butlins food-court. The new raved-up coda to 'We Own The Sky' was a nice touch, but their reduced line-up made them more reliant on backing tracks, detaching them further from their audience and leaving even their most euphoric tracks uncharacteristically hollow.
But then- BAM! From the darkness of the Centre stage, a hero- nay, messiah- for our times emerges. Long of hair, earnest of speech, he preached a message of deep philosophical import; an ethos for all men to live by- to be happy, to have fun and most of all, to PARTY HARD! Yes, I witnessed the oddly charismatic legend that is Andrew WK, the musical equivalent of a Jason Statham film- objectively awful and yet at the same time, totally awesome. "Bad Brilliance," a man with a balloon for a head came on stage and repeatedly rapped his own name, some guy from Current 93 made a cameo appearance and despite the set consisting primarily of AWK karaoke-singing over various permutations of 'Party Hard', I couldn't help but be carried away by his sheer enthusiasm. Let's just hope he never decides to start a cult…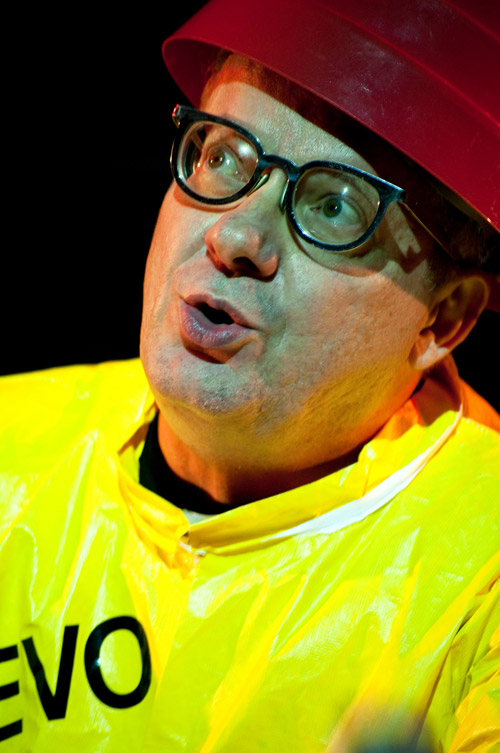 Fittingly, he was followed by fellow madmen Devo who, despite looking like a bunch of crazy bachelor uncles clad in their boilersuits and trademark flowerpot hats were perhaps the tightest band of the whole weekend, their jagged grooves much heavier than the uninitiated would expect. They've had 36 years to hone their showmanship and it shows- they know how to work an audience, and what's more, they still genuinely come across as a band that love what they do. All in all, a fantastic set- a sentiment that, alas, cannot be levied at Pink Mountaintops. As great as their grandiose new album is, the dodgy mix at Reds rendered any subtlety imperceptible and within fifteen minutes the sledgehammer sound had me retreating back to the bar. Ah well- you win some, you lose some.
Now Saturday, *that* was a textbook example of how to curate a festival. Low side-project Retribution Gospel Choir provided the scintillating rock 'n roll start Friday so sorely lacked, despite some tedious scrote heckling "throw us your guitar" at Alan Spearhawk. Perennial underachievers live, The Acorn seemed to have finally found their feet- with a new line-up and tighter sound, they do well to counter general hipster indifference ("could I have a little more audience in the monitor?") with their luscious balladry and Rolf Klausener's soaring vocals. But even they couldn't hold a candle to the sublime Grizzly Bear. Fleet Foxes comparisons are to avoid, as both bands furrow similar harmonic veins, but whilst Robin Pecknold's harmonies are clean, well-scrubbed and immediate, Ed Droste's have a more wistful, delicate quality that's ultimately much more gratifying. Balancing the new (and rather superb) Veckatimest material well with old favourites like 'Knife' and 'Lullaby', their mesmerising hour-long set seems to be over in a blink of an eye, a testament to their understated genius.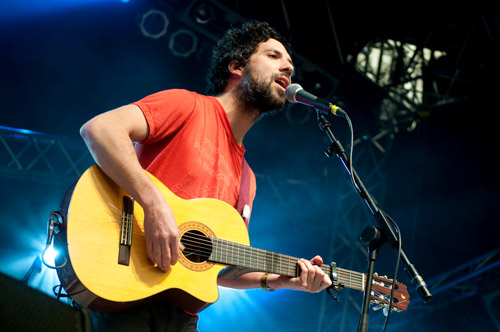 They even overshadowed Pavillion headliners Beirut, whose strong set nonetheless seemed to be lacking a little something (not least the violinist I used to have a bit of a crush on). Without a doubt, it's amazing to see how far Zach Condon's evolved as a live performer over the last couple of years- no longer does he stand there like a deer in the headlights, and his Morrissey-esque croon, whilst still a tad wavery at times has gone from strength to strength. Alas, the same can't really be said for his song-writing, which peaked at Gulag Orkestar and has rarely achieved the same brilliance since. Whilst the Balkan swing of 'Elephant Gun' and the like still have the old magic, the newer tracks blend into one and it's hard not to crack a smile when someone responds to Zach's call for requests with, "something that sounds a little different!"
And on the subject of "something a little different", cult noise-rockers The Jesus Lizard's first show in a decade certainly lived up to the fevered expectations surrounding them. As a statement of intent, ripping off your shirt during the intro to the first song and taking a running jump into the audience is pretty hard to beat and David Yow, a balding, slightly sinister middle-aged guy resembling The Yellow Bastard from Sin City had no intention of letting the pace slacken from there on in. On stage, he paced around menacingly, barking ferociously down his mike, but more often than not he could be seen swimming aloft on a sea of hands whilst his ever-proficient band nonchalantly watched on. What a comeback.
Alas, Sunday ultimately seemed a little anti-climatic in comparison. Shearwater seemed unsuited to Pavillion stage, Jon Meiburg's hauntingly powerful falsetto and their intricate orchestration dissipating in the sterile surroundings. !!! delivered an energetic, funk-fulled set, but were wasted in their early-evening time slot- they're a band best experienced in a state of mild-to-excessive inebriation, and even the feckless alcoholics of ATP hadn't reached that stage so early in the day. The ubiquitous Parts & Labor, spotted anywhere and everywhere throughout the weekend seemed knackered by the time it came to their own performance, which suffered from a chronic lack of volume and almost inaudible synths. When they're on form, they're a breathtaking live experience (they nearly eclipsed the mighty Battles when they supported them in '07) but they seemed to squander this vital opportunity to win over a larger audience with a competent, but rarely genuinely impressive set.
Spiritualized's performance really seemed to divide people- some found it deathly dull and meandering but their mix of the ear-obliterating fuzz of My Bloody Valentine combined with the gospel-tinged euphoria of Screamadelica-era Primal Scream ticked all my boxes. Static to a fault, they're not the most visually arresting band and their interaction with the audience is non-existent, but in this case there was no harm in letting the music do all the talking, with an extended "Come Together" being my musical highlight of the whole festival. School of Seven Bells were rockier than expected, tweaking their arrangements for a punchier vibe whilst retaining the dreamy shoegazey production of Alpinisms, but after a while I felt the need for something a little more…energetic, a desire well-served by LA electro-punks The Mae Shi. Previously shambolic to a fault, the mentalist four-piece have finally tightened up enough to deliver a proficient set, but without losing the sense of scrappiness that lies at the heart of their appeal. 'Run To Your Grave' may have been the single best singalong of the weekend, and although the new noisecore-orientated material lacks the spark of old, they still know how to rouse a mosh-pit. Indeed, the Mae Shi could be a metaphor for ATP as a whole- schizophrenic, surreal, a little poncey but nevertheless a hell of a lot of fun.
Adam Elmahdi
~~~~~~~~~~~~~~~~~~~~~~~~~~~~~~~~~~~~~~~~~~~~~~~~~~~~~~~~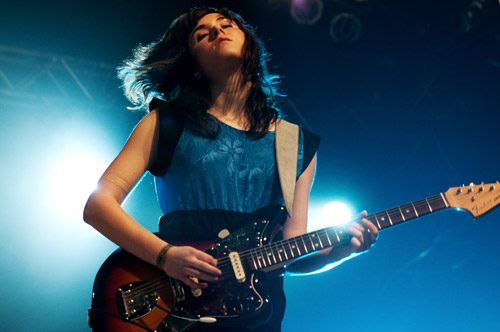 As stragglers flow through the sun-scattered gates of Butlins for this year's first All Tomorrow's Parties muso geek-off, the first real drops of sweat hit the Centre Stage floor. HEALTH are a eardrum shattering, frenzied and seductively brash statement of intent, smashing the weekend from a pleasant seaside outing into full pelt beatfest.  Meanwhile, downstairs M83 are one of many bands this weekend to fall victim to the vacuous expanse of the Pavilion Stage, their shimmery effervescent pop floating up towards the rafters and failing to truly engage.
For Devo however, no room is too big and no face too glum. As the sun sets and the Pavilion darkens, their awkward and infectious anthems have even the most severe minds in agreement that jumpsuits, ridiculous masks and funny over-priced red hats will never go out of style. Wheeling out the hits, from 'Gates of Steel' to the classic 'Whip It', it's alarming how many songs even the most passive of Devo fans will unwittingly know the words to.
Jesu calm things down a bit but before long it's time for Fuck Buttons' much anticipated premiere road test of their new material. Despite fear that 2008′s Street Horrsing would be too tough an act to match, all anxiety is soon relinquished by a deliriously absorbing and fever-pitched set. Embodying the spirit of ATP, Fuck Buttons' magic isn't brashly flaunted but quietly creeps up and enraptures, making it impossible not to dance – and dance we do.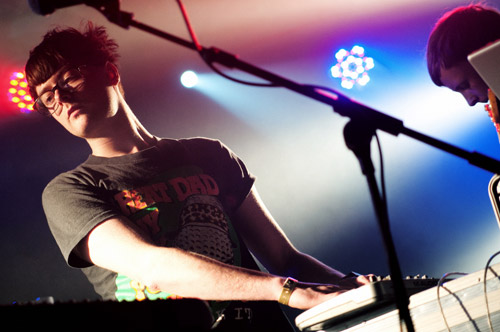 Saturday's hangovers are eased mid-afternoon by Nico Muhly, if only because his illustrative soundscapes seem to lull the majority of the audience into a much needed extra half hour snooze. Later on the same stage Young Marble Giants win the award for biggest disappointment of the weekend, delivering the most turgid renditions of Colossal Youth classics, serving only to prove why some bands should never be allowed to reform. Thank the lord (or indeed ATP), then, for the appearance of Grizzly Bear whose intertwining vocals, bracing swathes of sound and journeying melodies set a precedent for the rest of the day. The 1-part stoner-metal 1-part-balls-out-rock'n'roll of Harvey Milk, explosive Balkan wanderings of Beirut and invigorating post-rock disco of Errors make for an unlikely but scrumptious trio, leaving things only to be pissed upon by Marnie Stern's tiresome yelping. Still, that's nothing that a bottle of whisky and a good chalet party can't remedy, right? Right!
Tearing oneself away from the free fairground on Sunday afternoon, Shearwater enchant with their ambient acoustic beauty before the usual witty banter and caustic riff-pounding of Future of the Left makes a stand-out on an otherwise quite soothing stage line-up. However, it's the Centre Stage that plays hosts the weekend's true gems. School of Seven Bells serve both musical and physical beauty in matching plentiful bouts with their beat-laden eerie prog-pop, wowing the crowd before gracefully leaving the stage to this weekend's true heroes.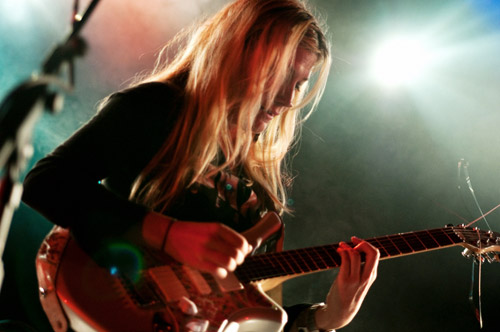 It's been 11 years and David Yow is still… well, David Yow (The Jesus Lizard) and the fact that simply shouting his name out loud feels so great is surely something telling. Clambering around, intrusively rooting out every bit of space onstage and off he physically might, age has not diminished a man who simply represents everything a front man should and could possibly be. Stage diving, crowd surfing, not to mention song upon song ofgob-smacking, eye watering punk rock meat – this is live performance at it's very best.
Closing what, whilst perhaps not the strongest ever ATP line-up, is certainly one of the most varied and eclectic, Sleep rise to The Jesus Lizard's bait and hold their own. Earplugs prove pointless as the room trembles and lungs rattle in chests with the sheer velocity and poweremanating from the stage. Sleep are (arguably) THE defining stoner rock band of all time and, holding a drunk and exhausted crowd in their hypnotic grip for over an hour and a half, prove how escapist and cathartic sound can be. The perfect wind-down from yet another successful Minehead adventure. ATP, we salute you.
Kate Price