ATP vs Pitchfork – Camber Sands, 9th-11th May 2008
-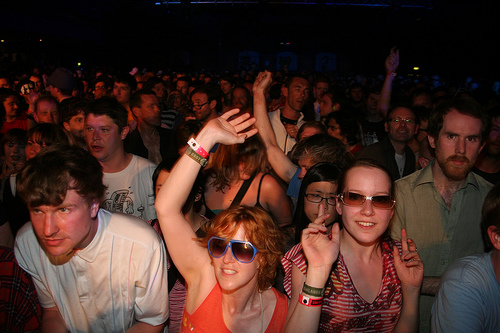 Photgraphs by Shannon McClean
Camber Sands Pontins, the site of the ATP vs Pitchfork Festival, is a wonderfully shabby monument to the British seaside holiday, perched out on the edge of the salt flats in the remote hamlet of Camber. Ranks of 'chalets', actually more like leisure-orientated council flats than any wooden-beamed taste of European living, flank the complex itself – a windowless Modernist block painted hyperlink blue. Just over a tall dune lies an expanse of sand leading to a wide, sweeping bay. When the sun is shining and there's a weekend of free time and amazing music ahead, there's no place quite like it.
Going inside the venue itself is like plunging into a dark cave. Within the minute the eyes take to adjust to the darkness, you're surrounded by hundreds of steaming people in the smaller of the two rooms in which the performances take place, squinting as things start to come into focus.
Seeing Vampire Weekend is enough to drive this audience member not just back out into the sun, but down to the beach and into the sea. I don't think I could ever be quite far away enough from this limp-wristed, charmless, tuneless drivel.
Thank the gods for Fuck Buttons, then; the darlings of the ATP community, the most recent addition to the label and a constant fixture at ATP events. This one hour set gives them a chance to stretch their legs with some new material alongside their expansive, mind-blowing 'rainbow-rock' sound, including the introduction of an old-school brick Gameboy to trigger bass sounds and some pleasingly erratic, chitinous marching beats. They are, as ever, essential viewing.
Glass Candy are much more complex than they initially seem, presenting a selection of paradoxes and contradictions. Candy herself has a disarmingly warm and confident permagrin, taking the audience through a yoga lesson and looking like a San Francisco hippy channelling a new-rave Adam Ant. There's an eerie crystalline perfection in her performance, her well practiced dance moves and the almost robotic precision with which she places her little punk rock yelps. Candy's neu-goth partner for the evening, billed as a DJ, is a keyboard-playing, button-pressing, sample-triggering showman that resembles a post-millenial Brandon Lee in NYC-dance-party-meets-The-Crow mode, complete with stadium rock handclaps and black tears.
Glass Candy present a perfect and perfectly modern take on dance music that incorporates 80′s pop, disco, electroclash, Ed Banger basslines and, of course, their inimitable party-girl chanteuse. As the night wears on, the dancing intensifies to the impressive, pulsating conclusion of their trademark cover of Kraftwerk's "Computer Love". Ida looks worn out, and she asks for more air – "not this air, other air" – her make-up drips from her face, and her impenetrable smile slips for a moment. And with that, a very human crack appears in the facade of this perfect band, and suddenly my mind moves to a hundred morning-afters.
Deerhunter play an impassioned, widescreen take on shoegaze, all lush textures and crashing climaxes, drifting in and out of song structures with dynamic fluidity. The towering frontman teeters on the monitors, his huge frame seemingly about to crash into the ceiling, thrashing away at the strings as each song ebbs and flows with both a ringing clarity and an embracing warmth. With shows like this, the bands critical stature should soon match that of their giant singer
If there's a revelation of the Pitchfork ATP, it's Bon Iver. Because his album, great as it may be, doesn't come close to capturing the magic of his singing voice. From the simple setup of guitar, bass and drums and voice springs an entrancing sound, sparse but rich, humble but other-worldy. These spacious, gentle ballads carry an affecting weight of experience, like those of David Thomas Broughton. And similarly, this is a musician for whom everything has clicked into place – the result is a wonder to behold.
Yeasayer singularly fail to capture the majesty of their blockbusting African-influenced AOR record "All Hour Cymbals". Their live sound is stripped back and spare, losing the lush, layered studio treatment and with it much of their ability to hold the attention. I feel short-changed, and wonder if it's just an off-day.
The Meat Puppets and Red Kross are two aging bands playing to roomfuls of worshippers, and it's great to catch the Meat Puppets playing their minor classic "Oh Me" (as performed on Nirvana's "Unplugged") even if it underlines the superiority of the cover version. Dirty Projectors fail to make much of an impression despite holding a teeming crowd rapt. I found their obvious quality to be lacking in a certain kind of heart.
Sunday morning is spent selling 7 inches in the impromptu(ish) record market that springs up every year, and lamenting Man United's Premier League win as much as the pop quizmaster is lamenting the timing of the quiz to coincide with the match.
But I catch the end of Los Campesinos' set and witness a singer endearingly stupified with emotion and excitement to be playing ATP. Los Camps' chaotic music-room approach to tweecore indie-rock wins over the crowd and by the end they're going crazy, the venue barely able to contain the band's freshness and exuberance.
Of Montreal look like the front of a carnival float, sporting a bizarre range of panto-cast-off costumes that are, I guess, an attempt to capture some glam rock spirit. Who knows, maybe the Spiders From Mars also suffered sagging velour and the eye-wateringly unflattering combination of heavy stubble and eyeliner; but with tunes this good, who the hell cares. Of Montreal play most of their dazzling "Hissing Fauna, Are You The Destroyer?", rounding off with a rousing version of the epic "The Past Is A Grotesque Animal". Indie hype fully justified: Of Montreal are awesome.
At this point the festival is reaching it's peak and Harmonia's gentle pulsing drone seems to offer only an unwanted early night nodding off in a corner of the steaming upstairs hall, so I glance off their show making an internal promise to check them out later and head out under the bright stars, feeling full of excitement and possibility, for another blissful ATP party night.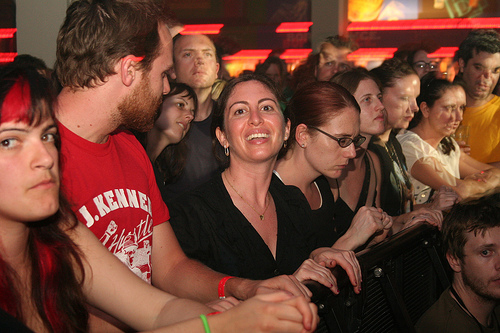 Click for our ATP vs Pitchfork photo special.