Charli XCX – Islington Academy, London 19/06/13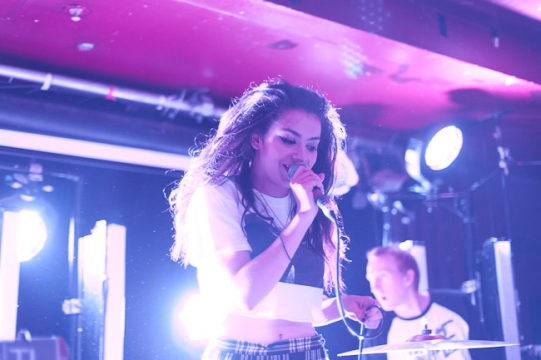 Photo Credit: Paul Broomfield
Charli XCX is like the Houdini of modern British artists. Just when you think you've put your finger on who she is and what she's about, the twenty-year-old alt-pop princess throws you a curveball.
A small but intense crowd of fans have legged it to her over 14s gig at the intimate 250-capacity O2 Islington Academy Upstairs tonight, which had previously been slated for the slightly larger Cargo.
Before she's even hit the stage, a small band of fans fervently chant her name (while others up the front take the opportunity to charge their iPhones on her band's equipment's powerboards), and when Charli does materialise on-stage it's with full force – launching into her infectious gloom pop single 'You're The One'. Showing off her svelte midriff in a typically '90s-inspired crop top and pleated skirt circa Empire Records, she's jumping and body-popping all over the stage and you can't deny Charli's giving a 110 percent in terms of enthusiasm tonight.
A few songs in, Charli – who first earned her stripes playing East London's infamous warehouse parties from just 14 years of age – performs her luscious synth-driven electro-pop hits 'Nuclear Season' and 'Stay Away' – her first singles to garner major critical attention way back in 2011 and cement her as a formidable 'one to watch' for 2012, alongside the likes of Grimes and Sky Ferreira.
Though her debut album was hotly anticipated to drop that year, Charli pushed it back in the twelfth hour to re-work some of the tracks and the result, True Romance, was confounding to some: less dreamy electro pop and more of a dark and industrial affair, replete with her unique take on rap-talking.
Tonight she sings to backing tracks, and is accompanied on-stage with a keyboard/synth player and a live drummer (I'd half expected a drum machine), which gives her songs a slightly rockier and less electro edge.
Over her energetic 40-minute set, Charli performs everything from her mega single 'You (Ha Ha Ha)' with the Gold Panda sample to the Gwen Stefani-vocals sounding 'Black Roses', a rendition of Icona Pop's mischievous global smash hit 'I love It', which she co-wrote, and unexpectedly closes with a stripped back and not-in-the-least-bit-ironic (or re-worked) rendition of Backstreet Boy's 'I Want It That Way' (originally released when she was 7!).
All that's missing is her pulsing emotive heartbreaker 'Cloud Aura', featuring LA badass Brooke Candy (first known for guest starring in Grimes' 'Genesis' video clip), though of course it'd be a weird one to play live without the controversial stripper-turned-rapper present.
Charli's eclectic sound, and her ability to borrow, sample and collaborate with a wide range of artists (that otherwise have nothing in common) is admirable and no-doubt typical of an artist from the Tumblr Generation.
As a listener, it can be alienating and hard to keep up with and I can't help but think that, although Charli is a powerhouse songwriter, her bold versatility is both a strength and a weakness.
Photograph by Paul Broomfield. See the full gallery here.