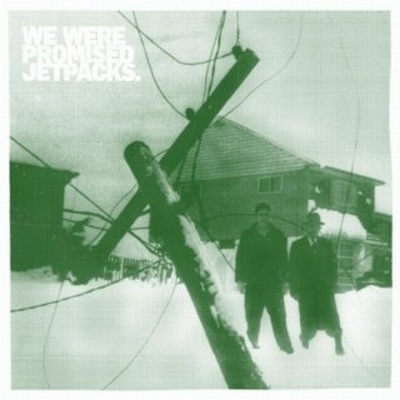 Off the back of last year's These Four Walls – which lots of people were very impressed with – We Were Promised Jetpacks are back to bridge the gap between albums with The Last Place You'll Look. What marks this release aside from a mere stop-gap collection of B-sides that didn't make it and live tracks cobbled together is that it's a proper session. Handed a two-week deadline and their sound engineer Andrew Bush, the band set to work on recording a handful of tracks – both new and old.

'A Far Cry' starts proceedings and sets the tone early on. This is a darker, sinister, mournful WWPJ. Some may draw comparisons with label mates and fellow countrymen The Twilight Sad. Adam Thompson's vocals are distant, sitting low in the mix "You cried like a child who'd just seen their own blood for the first time." Out of a sparse arrangement of guitar melody and feedback the tracks slowly arrives with a military rhythm which shows the band exorcising the penchant for the post-rock styling of Explosions In The Sky that they hinted at on their debut.
Sticking with the new material, 'The Walls Are Wearing Thin' is a claustrophobic instrumental full of pops, crackles and what sounds like the din of background conversation looped back on itself until it becomes unintelligible. 'With the Benefit of Hindsight' follows suit with more moody guitar lines, thick with reverb and distortion. Strings and brass add flavour under the din of pounding drums, wall of guitars and chorus of shouted vocals.
Making the jump from These Four Walls are 'Short Bursts' and 'This Is My House, This Is my Home'. Both tracks are reworked into more poignant incarnations of their former selves. Tempos are slowed and, again, the addition of both brass and strings lifts the tracks into their own. With the addition of orchestration and a wall of voices 'Short Bursts' is erring toward the more orchestral-led Sigur Ros. It's magnificent stuff. On 'This Is My House…' Thompson delivers the line "Something's happened in the attic, there's no way I'm going up there" with a feeling of resignation and defeat. Couple this new sombre tone with weeping strings and distant pianos and this would have worked well as a reprise on the LP proper.
This EP may only include three new tracks – one of which is an instrumental – but to criticise it on that would be short-sighted. The material we're already familiar with hasn't just been given the "acoustic" or "stripped down" treatment, they're fully realised reworkings. We Were Promised Jetpacks exhibit a maturity here that is quite unexpected. If this stop-gap marks a progression for the band rather, than just an experiment, then their next full length effort could be very interesting indeed.
More from Best Fit