Alexander Wolfe - Morning Brings a Flood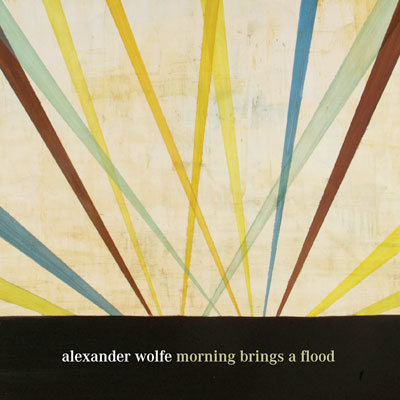 Born as Alexander Gordon de Menthon on Christmas Eve '81, Alexander was fortunate enough to be left a Rembrandt lithograph by his French grandfather, the Count de Menthon. When the time came he sold his lithograph and used the proceeds to fund this, his debut album, Morning Brings a Flood, and it sounds like money well spent.
Opening with a harmonium and string drone that any of the Constellation Records stable would be proud of, "Prague Song" kicks things off with an elglaic eulogy to the need to get lost and, as the track progresses, it moves from haunting chimes to intense string drones and a pentatonic blues freak out. Wolfe's morning after vocal recalls, in equal measure, Guy Garvey, Nick Drake and Mr Pearce, moving effortlessly between breathy whisper, soaring call and fractured falsetto. "Lazy Bones" picks up the pace with a mouth organ line and country twang that calls to mind Neil Young, Harvest period. "Till Your Ship Comes" In carries on the Nick Drake/Guy Garvey vibe, with a classic Brit folk finger picking guitar part and sweeping string backing.