Pussy Riot member withdraws early release appeal to support fellow detainee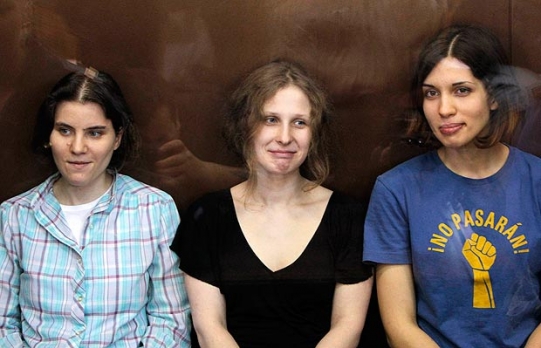 Jailed Pussy Riot member and political activist, Maria Alyokhina has dropped her plea for early release, citing support for her fellow imprisoned counterpart Nadezhda Tolokonnikova as the reason for her decision.
"I have no moral right to take part in this court hearing at a time when my friend and fellow convict Nadezhda Tolokonnikova does not have such an opportunity," Alyokhina said during a recent hearing – according to Reuters.
She continued: "It is extremely strange and disgusting to me that a convict in Russia is no more than the profit-making property of the authorities. I declare my protest against this, and I declare this protest from the inside, from this pit they are pushing us all into."
Tolokonnikova is said to be in poor condition after undergoing a hunger strike recently, which resulted in hospitalisation.
Last year, three members of the band were found guilty of "hooliganism motivated by religious hatred" and were sentenced to two years in jail following the performance in the Cathedral of Christ the Saviour. The song requested that the Virgin Mary drive Russian president Vladimir Putin from power.
Tolokonnikova, 22, Alyokhina, 24 and Yekaterina Samutsevich, 30, have been named prisoners of conscience by Amnesty International. Samutsevich was released last October.