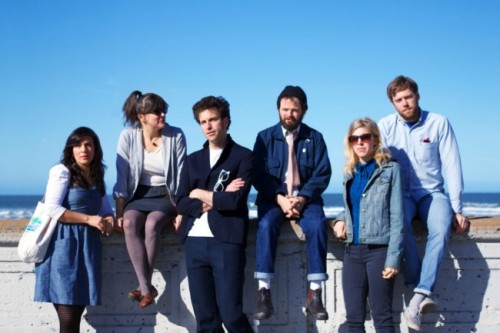 Sean Rawls is a man who knows his 80s music. Leader of San Francisco collective Still Flyin', he is a man that can distinguish his Hall from his Oates and his Parsons from his project, and as such, he's compiled a list of ten crucial tracks… from 1982.
Still Flyin's second album On A Bedroom Wall is out now on Highline Records, and you can check them out by listening to single 'Travellin' Man' and watching their latest video for 'Spirits' but for now, we'll leave you in Sean's very capable, very knowledgable hands as he transports you back to the sounds and vibes of 1982.
"My task was to make a list of my ten fave 80′s tracks. Hardest task ever. Pick ONLY ten songs from an entire decade of music? ONLY TEN FROM THE EIGHTIES!?!? Impossible. My first move was to narrow it down to one year. 1982 seemed like a nice round number – 30 years ago. I started looking into what was released in the year 1982 and it soon became apparent I could easily make a list of my favorite 200 tracks from 1982. Apparently it was a very good year for music that I enjoy. I started going down a wormhole and decided to cut myself off before I spent three days researching and inevitably listening to music that was released in 1982. So this list is not my ten fave tracks from 1982 – it's just ten crucial ones. I'm sure I'm forgetting some all-time faves." - Sean Rawls
10. Hall & Oates – Did It In A Minute (single released in 1982)
This one is close to my heart because my bandmate Bren made an edit of this song a couple years ago for our van rides. YOU DID IT YOU DID IT YOU DID IT YOU DID IT YOU DID IT YOU DID IT YOU DID IT YOU DID IT WHOA YOU DID IT YOU DID IT YOU DID IT YOU DID IT YOU DID IT YOU DID IT YOU DID IT YOU DID IT. Just a two second loop over and over again. We'd listen to it for hours. It takes you into uncharted territory when you do that.
9. Michael McDonald – I Keep Forgettin'
A thunderjam in its own right, but I had to include it on this list merely because it was responsible for one of the greatest songs of all time: Warren G and Nate Dogg's 'Regulate'.
8. Bruce Springsteen – Atlantic City
Opens with the fascinating line "Well they blew up the chicken man in Philly last night". Who's that? A half man, half chicken mutant? Or a guy that sells chicken? Dark song, but it tickles the brain.
7. Alan Parsons Project – Eye In The Sky
One night my buddy and I were listening to this jam over and over again and then we took the 12″ off the player and started playing frisbee with it in his apartment. The apartment was too small to get a good game going, so we walked to a nearby park and played frisbee with the record over there. It was at night so the record went missing pretty much after each throw. The record got all muddy and chipped and we took it back to his apartment and resumed playing the song over and over again. Sounded weird, but still really good.
6. New Order – Temptation
A total juggernaut. Forget 'Blue Monday'! I feel like a lot of music is based on this song. So many legendary aspects of this song – from the "ooohs" to the sequencing to the guitar lead to the crescendo. These dudes and dame were firing on all cylinders.
5. The Beat – Save It For Later
Such a good feeling for a song. I love the vocal delivery. Has a good string part without making it feel too dainty. The video is great too. It was the inspiration for the bar section in our newest video ('Spirits').
4. Fleetwood Mac – Hold Me
My dad is a huge Fleetwood Mac fan so my childhood was nonstop Mac all the way to now. This is probably my top jam of theirs. My favorite drummer. Such great vocals and a killer breakdown/outro.
3. REM – Wolves, Lower
One of my favorite songs from one of my favorite bands. I love how urgent everything is on this. All the parts – the guitar, the bass, the drums, the backing vocals, the lead vocals – fit in so nicely together. LOVE IT.
2. The Clean – Anything Could Happen
I love the message of this song. Sometimes I gotta put this one on to give myself a pep talk. Sometimes I gotta put this one on to listen to one of my favorite songs.
1. Queen and David Bowie – Under Pressure
The pinnacle of pop anthems?
More from Best Fit